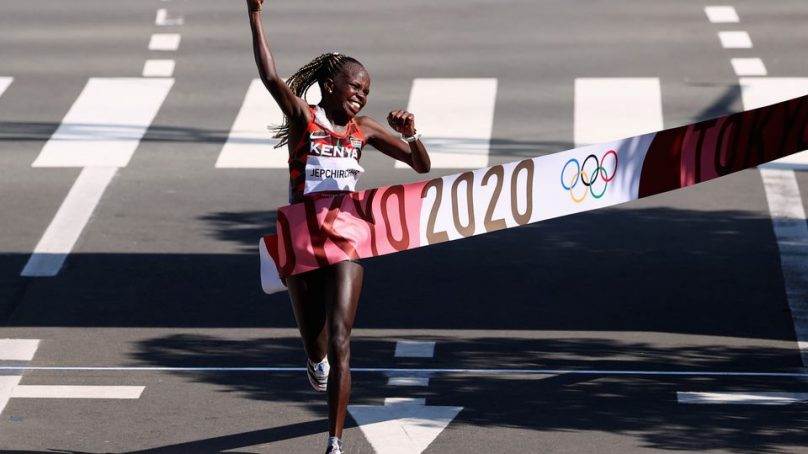 Kenya's Peres Jepchirchir won the Olympic women's marathon in Sapporo on Saturday, claiming the country's second consecutive gold medal in the event.
The gold, the third for the East African nation on the penultimate day of the Tokyo Olympic Games, came as a relief to a country that has watched in disbelief as its athletes failed to win medals in events considered traditionally theirs to lose, including the men's steeplechase, which it had not lost since 1984.
Jepchirchir's compatriot Brigid Kosgei took silver and Molly Seidel of the United States took bronze. Kosgei, the world record holder and world champion Ruth Chepngetich had been favourites to win on Saturday.
But it was two-time world half marathon champion Jepchirchir who came out on top after breaking out of a virtual tie with Kosgei at the 40km mark. Jepchirchir finished with a time of 2:27:20, 16 seconds. Seidel, competing in just her third marathon after moving up from shorter distances, finished 26 seconds behind.
Battling hot and humid conditions, Chepngetich dropped out around the 30km mark, while Israel's Lonah Chemtai Salpeter – originally Kenyan – dropped out at the 38km stage after looking like a strong contender for bronze.
Jepchirchir wasn't the only Kenyan to medal in the women's marathon; teammate Brigid Kosgei finished less than half -minute behind. Kosgei earned a silver medal, finishing in 2:27:36.
Jepchirchir and Kosgei's performances gave Kenya at least one women's marathon medal in six consecutive Olympic Games, dating back to Sydney 2000.
Team USA was well-represented in the race, too, as 27-year-old Seidel accomplished a rather historic feat in the race. She finished in 2:27:46, good for the United States' first medal in the women's marathon since Athens 2004.
Seidel is only the third American to medal in the women's marathon, pulling off her historic performance in what was just her third career effort in the event.
The starting time for the 42.195-kilometer race which started and finished at Sapporo Odori Park was moved up one hour from a 7 am start to 6 am due to heat concerns.
A Tell and Agencies report