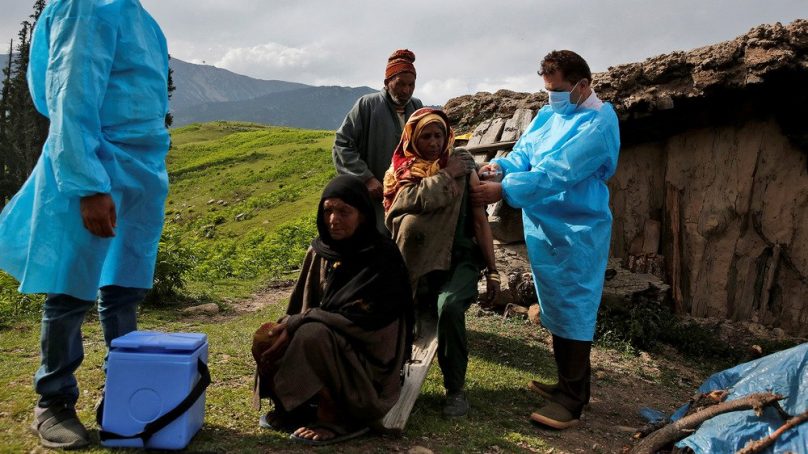 Rashida Jan, a nurse who works in the Covid-19 ward at a hospital in north Kashmir's Baramulla district, treats people suffering from the deadly virus every day. But when it was her turn to be vaccinated, she refused.
"I am getting married in the next few months," Jan said. "My fiancée says that he has read somewhere online and heard from his friends as well that vaccines in India, particularly in Kashmir, are designed to block reproduction and not to prevent any infection."
This opinion is hardly unique in rural parts of Indian-administered Kashmir. Health workers are struggling to address what they say is a worryingly common belief that the coronavirus vaccine can affect women's fertility.
There is no evidence linking infertility to Covid-19 vaccine side effects. But health experts and frontline workers say vaccine hesitancy has been driven by widespread mistrust of the central government in heavily militarised Kashmir, poor health infrastructure, and suspicion of Indian-manufactured vaccines.
"Many patients who are reluctant to get vaccines say that if there will be any side effects, where will they go?"
As a nurse, Jan hears these concerns regularly. "Many patients who are reluctant to get vaccines say that if there will be any side effects, where will they go?" she said. "The health institutions are too far in the rural areas and, in this difficult time, it is quite difficult to access them and visit the city hospitals."
Social media misinformation about vaccine side effects has exacerbated the hesitancy, even through a severe second wave that has overwhelmed India's health systems and triggered vaccine shortages.
Jabbar Khan, a village head in Kokernag in south Kashmir, said poor digital literacy has made many in his village susceptible to misinformation.
"Women don't take any decisions related to their fertility without the consent of the men," Khan said. "The men believe that to risk their fertility will bring shame into their lives."
Considered to be one of the most militarised zones on Earth and a nuclear flashpoint between India and Pakistan, Kashmir has faced decades of conflict and rights abuses resulting in tens of thousands of deaths, a struggling economy, and a battered healthcare system.
In August 2019, the Indian government ended Kashmir's semi-autonomous status in a move aimed at quelling a decades-long separatist insurgency. This was followed by months of renewed curfews, a media and communications blackout, and shortages of critical medical supplies.
The spread of coronavirus has further challenged an already weak healthcare system.
According to the Indian government's official figures, Jammu and Kashmir had recorded more than 312,000 infections and 4,200 deaths as of June 23.
Plagued by supply shortages and registration problems, the nationwide vaccine rollout got off to a rocky start but has been gaining traction in the past month. By late May, some 66 per cent of those older than 45 in Jammu and Kashmir had received at least one dose – a rate twice that of the national average. "People ask us all the time about the vaccines," Mushtaq said. "Most of them trust rumours more than the facts."
But breaking the figures down by age and gender reveals complications. According to Dr Shahid Hussain, a medical officer who helps run Kashmir's immunisation campaign, 62 per cent of men and 38 per cent of women have received at least one dose in Kashmir – a gender divide health workers attribute to stubborn rumours about infertility. He said the majority of women who have received the vaccine are over 45.
Vaccines weren't available to the younger population until May, accounting for some of the disparity, but health workers say that as the vaccines have become more accessible, they're running into a population whose social media habits have made them deeply sceptical of the government-led initiative and Indian-made vaccines.
Basharat Mushtaq, a radiographer at Shri Maharaja Hari Singh, the valley's main government-run tertiary care hospital, said his team sees an average of 300-350 people during its 24-hour shift; up to half are Covid-positive.
"People ask us all the time about the vaccines," Mushtaq said. "Most of them trust rumours more than the facts."
Dilnaz Wani, 28, radiated with pride as she approached her life's happiest moment: engagement with a childhood friend.
But shortly after the April ceremony in Kupwara district in north Kashmir, she tested positive for Covid-19 and had to be hospitalised for two weeks. Despite her first-hand experience with the virus, Wani felt she had little choice but to say no when she became eligible for the vaccine last month.
"My mother-in-law called me and said that no one in our family would go for the vaccine," she said. "I didn't want to take any risk by getting vaccinated. If anything wrong happens after the marriage, I will be held responsible for everything."
"To live or die is in the hands of God," she added. "But to live with the stigma of not having a child is to die every day."
Rumours that the vaccine may lead to infertility are particularly rampant, said Dr Samina Ashraf, an assistant professor at Lal Ded Hospital, the lone tertiary care maternity hospital in Srinagar, Kashmir's largest city.
A paramilitary trooper wearing a face mask stands at a closed market during coronavirus lockdowns in Srinagar on May 30, 2021.
Ashraf is an avid social media user and has tried to combat widespread rumour-mongering that she sees on Facebook, Twitter, and WhatsApp.
"I have seen people posting on social media that women shouldn't get vaccinated during [their] periods," she said. "These are just myths, and there is no proof that the vaccine can cause infertility."
The solution to vaccine hesitancy, say health workers, is to reinforce the facts consistently and through the use of science.
"We counsel people all the time on myths of infertility, severe disease and rumours that vaccinated people will die after two years or… that there would be control by some unknown people over us," said Dr Aamir Lone, a gynaecologist who works at a hospital in Kupwara.
"I tell them to trust God first and then science. Vaccines are safe and can help us to find the exit door from this deadly pandemic."
But those messages have been slow to hit their mark. Anecdotal evidence suggests high rates of hesitancy among women and young people. In an informal survey conducted by Dr Aarthi Kannan, a geriatric medicine fellow at Stanford University in the United States, among about 80 Kashmiris she'd spoken to as part of her work raising vaccine awareness, only 10 per cent had received at least one dose of the vaccine. All of them were older than 45.
Community-level health workers offered similar accounts. One woman, who looks after a population of about 1,200 people in north Kashmir's Bandipora district, said virtually none of her patients have received the vaccine.
She knows of 37 people who have taken a vaccine; all are older than 45 and most are men. None of the 300 women she works with in the 15-45 age group have been vaccinated, she said.
"I tell them to trust God first and then science. Vaccines are safe and can help us to find the exit door from this deadly pandemic."
Collating such information is difficult as Kashmir's Directorate of Health Services in May placed a gag order on doctors and health officials, asking them to "desist from media interactions", claiming it could create misinformation or "panic" the public. The notice warned that violators could face "strict disciplinary action".
Speaking on the condition of anonymity for fear of reprisal, the frontline health worker said that the trust she has built from working in the community hasn't been enough to overcome hesitancy.
"People do trust me. But they are full of doubt about the vaccines, as they say they are locally made and are of poor quality," she said.
"Whenever I try to motivate villagers, they ask me whether I can guarantee them no side effects [of infertility]."
Another Kupwara gynaecologist, who also asked not to be identified for fear of reprisal, said that rural villagers are particularly concerned about female fertility.
"They mostly do not allow or encourage their women, especially below 45, to get vaccinated," he said.
Part of the reason misinformation gained such a foothold in Kashmir is due to early government missteps, said Seema Kazi, a senior fellow at the Delhi-based Centre for Women's Development Studies and author of Between Democracy and Nation: Gender and Militarisation in Kashmir.
"There was no public awareness campaign regarding Covid or the importance of vaccination in the country," Kazi said. "An absence of public information or knowledge breeds misinformation and human fear."
Dr Mir Mushtaq, spokesperson for Kashmir's Directorate of Health Services, said that there was early vaccine hesitancy even among health workers, doctors, and paramedics.
"An absence of public information or knowledge breeds misinformation and human fear. But things are slowly changing," he said. "We are trying our best to debunk the false claims and provide people with the scientific facts."
Amid the misinformation, health officials are trying to ramp up their messaging. They're working with social and religious leaders to raise awareness about the safety and benefit of the vaccines, Mushtaq said.
But even if the campaigns succeed, there are still vaccine shortages in Kashmir, as well as across India. Kazi, for her part, has generally witnessed high rates of vaccine acceptance in Kashmir and believes the public demand for the Covid-19 vaccine will follow suit. "But sadly, the supply is well short of demand," she said.
The New Humanitarian report