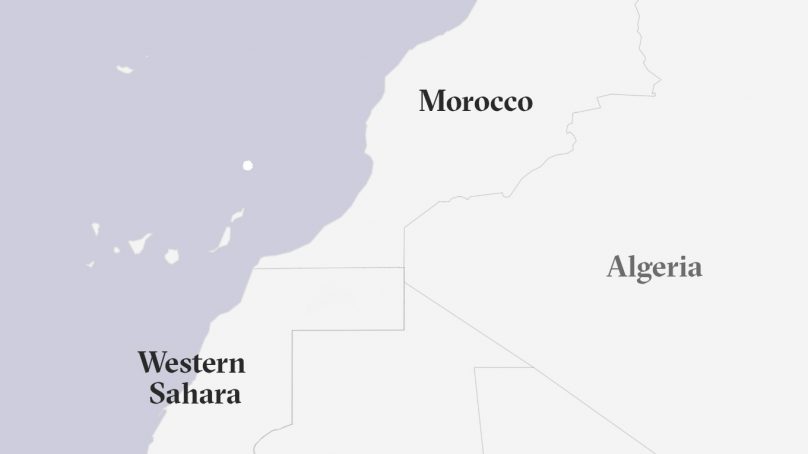 Najla Mohamed-Lamin was at home with her new-born son when she received a call that her youngest brother, Hamdi*, had been hit in a Moroccan drone strike in Western Sahara, a war the international community has effectively chosen to ignore.
"There were eight of them. They were just making tea – they were not in direct confrontation," Najla explained. "[Hamdi] heard the drone coming… then he started running, screaming, calling his friends by their names. And he got no response."
Hamdi is lucky to be alive. According to Mohamed-Lamin, three of his comrades were killed on the spot in the November 2022 attack, and a fourth died en route to a military hospital in a Sahrawi refugee camp in southwestern Algeria.
It's in these camps that Mohamed-Lamin, her family and over 173,000 Sahrawis live – in perpetual exile from their native land of Western Sahara, a former Spanish colony that has been under Moroccan occupation since 1975.
After a 29-year ceasefire, fighting re-erupted in November 2020 as the Polisario Front – a political-military movement that claims representation of the Sahrawi people – resumed its struggle to eject Morocco from the 80 per cent of Western Sahara they control, and which Rabat claims as its own.
As the conflict has intensified, many frustrated Sahrawis have compared the rush of Western support to Ukraine with the neglect of their fight for independence, in what has been dubbed "Africa's last colony".
"Why do we have to go through this as a nation?" said Mohamed-Lamin, a human rights activist living in Camp Smara – the largest of the five Sahrawi camps. "I'm so fed up, and I'm so angry. There is a war and nobody is talking about it. Everybody is talking about Ukraine, and nobody is talking about Western Sahara."
The declaration of a "return to the armed struggle" by the Polisario followed a clash with Moroccan forces in a buffer zone. Morocco has since ramped up the use of drone strikes on military and civilian infrastructure along a 2,700-kilometre wall that separates the "occupied territory" from the remote desert regions controlled by Sahrawi forces.
The wall, known as "the Berm", was constructed by Morocco to keep the Polisario out, and to prevent Sahrawi refugees from returning to their land – territory in which Morocco has resettled hundreds of thousands of its citizens.
In 1975, on the heels of Spain's hasty withdrawal from its former colony, Morocco illegally annexed two thirds of the resource-rich region, claiming pre-colonial ties to tribes in the area – an assertion dismissed by the International Court of Justice in 1974.
The UN intervened in the conflict in 1991 and established a ceasefire agreement that promised a referendum for self-determination for the Sahrawi people. But after years of failed diplomatic efforts, Sahrawis continue to live divided between the refugee camps, the occupied territory, and the diaspora, with mounting anger over the frozen peace process and Morocco's continued occupation.
Morocco, however, has gathered support from a growing number of Western, Arab, and African countries for its autonomy plan for Western Sahara, which would grant the Sahrawis self-governance under Moroccan sovereignty.
In 2021, the UN relaunched efforts to negotiate a deal over the territory. But the conflict remains largely forgotten by the international community, with recent cuts to vital humanitarian aid emblematic of that neglect.
Thirty-one-year-old Fatimalo Mustapha Sayed manages a community vegetable garden in Camp El Aaiún, approximately 30 minutes' drive from Camp Smara. She has witnessed aid cuts for years, but the impact has been particularly noticeable in recent months. "It's become very hard for me to survive," she said.
The World Food Programme (WFP) announced in August that it was cutting monthly food rations to the camps by more than 75 per cent: Refugees now receive less than five of the original 17 kilos per person per month. Rations include only the bare essentials like flour, lentils, oil, pasta, sugar and rice.
"[WFP] used to give us canned sardines and vegetables, but not anymore," said Sayed, who supplements her family's diet with vegetables from the community garden. "We get spaghetti once a year. They also used to give us dates before Ramadan, but that has also stopped."
At least 30 per cent of Sahrawi refugees are "food insecure", according to WFP. A survey of children under-five in the camps by the UN's refugee agency, UNHCR, found acute malnutrition had risen from 7 per cent to almost 11 per cent between 2019 and 2022.
"Morocco kept maintaining their forces, and they improved their technologies. So, we are disadvantaged. But… we have motivated people."
The New Humanitarian report