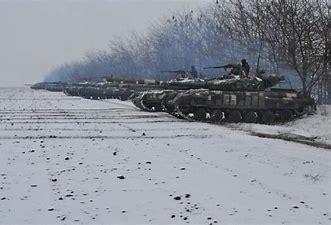 Russian troops launched a wide-ranging attack on Ukraine on Thursday, as President Vladimir Putin cast aside international condemnation and sanctions and warned other countries that any attempt to interfere would lead to "consequences you have never seen."
Hours later, Ukraine's president announced he is severing diplomatic relations with Russia.
As soon as reports of Russian troops rolling into Ukraine became clear, NATO envoys convened an emergency session prepare to bolster defences in allies neighbouring both countries.
Ukrainian border guards released footage of what they said were Russian military vehicles moving in, and big explosions were heard in the capital Kyiv, Kharkiv in the east and Odesa in the west. As the Russian military claimed to have wiped out Ukraine's entire air defences in a matter of hours, Ukrainians fled some cities and European authorities declared Ukrainian air space an active conflict zone.
World leaders decried the start of a long-anticipated invasion with far-reaching consequences, as global financial markets plunged and oil prices soared. Russia's actions could cause massive casualties, topple Ukraine's democratically elected government and upend geopolitics and Europe's post-Cold War security balance.
Governments from the US to Asia and Europe readied new sanctions after weeks of failed efforts for a diplomatic solution – but global powers have said they will not intervene militarily to defend Ukraine.
Los Angeles Times reports that Russia pressed ahead with its assault on neighboring Ukraine on Thursday, with explosions resounding in cities across the country, airstrikes crippling its defences and reports of troops crossing the border by land and sea.
Huge traffic snarls formed in Kyiv as residents tried to flee the Ukrainian capital. Video showed Russian armored vehicles lumbering into mainland Ukraine from Crimea, the peninsula that Moscow illegally seized eight years ago, The LA Times adds.
It said Ukrainian President Volodymyr Zelensky declared martial law in his embattled nation and encouraged his compatriots to take up arms as the US and the West prepared to impose punishing sanctions on Russia for an invasion that they had warned for weeks was coming but that Moscow had denied was planned.
Russian President Vladimir Putin portrayed the incursion, which followed months of Russian military buildup along Ukraine's borders to the north, east and south, as a move to liberate and protect eastern Ukraine, where Moscow-backed secessionists hold sway over a large swath of the region. He warned other countries not to intervene, saying that it would lead to "consequences you have never seen in history."
President Biden is expected to confer with other world leaders Thursday to try to coordinate a response to an act of aggression that drew outcry across the globe and that raised the specter of a catastrophic war in Europe.
"Russia alone is responsible for the death and destruction this attack will bring, and the United States and its allies and partners will respond in a united and decisive way," Biden said.