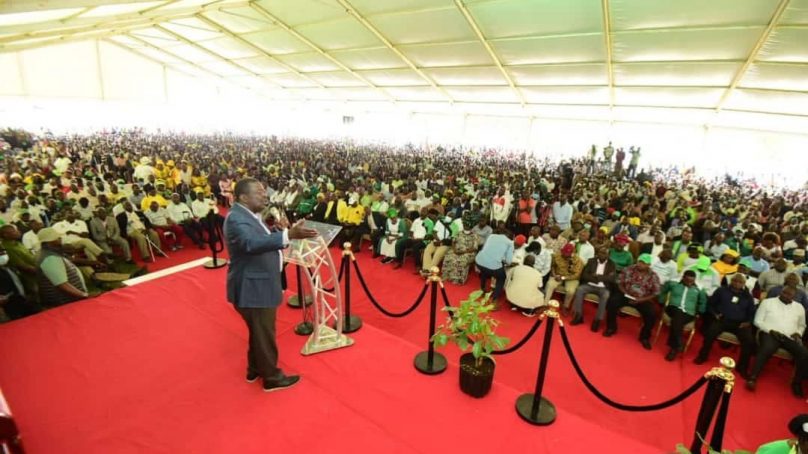 ANC party leader Musalia Mudavadi and Ford Kenya leader Moses Wetangula address opinion leaders at Mululu in Vihiga on how the people of western Kenyatta been taken for granted in the name of democracy. Mudavadi said:
The leaders accused President Uhuru Kenyatta deliberate marginalisation and dictatorship. The leaders also spoke about how the president tried to arm-twist them to support ODM leader Raila Odinga, whom they described the president's project that will used to mask theft of public resources.
"People have been questioning why I and Moses Wetang'ula decided to team up with deputy president William Ruto. This is the truth: People of this region have been supportive of people from other regions (during elections). But those people are the type who respond with ingratitude. I discussed this with my friend Moses Masika Wetangula. We came to the conclusion that in this country, there a few people who have been privileged to lead this country. In our constitution, we have made clear that we want democracy. However, what we have seen show there is no democracy.
There are people who have been privileged for too long and now they have become arrogant. They are now abusing their powers and offices. They think they should determine who should our leaders. Residents of Western Kenya, I want to state here and now that I may have been humble in the past – and I am still – but I am not a fool. And I am not about to have a leader imposed on the people of Kenya.
We know very well that the ballot box determines who becomes the leader from president to the members of county assembly. I must remined President Uhuru Kenyatta that I supported him in 2002 elections. I also supported Raila Odinga in 2007 and 2017. President Uhuru, you went to Sagana and arrogated yourself the role of (over 20 million Kenyan voters). Is it really possible?
We heard you say that you cannot back Deputy President Ruto because he is a thief and uses the same money to bribe church leaders. Let me ask you this very fundamental question: the corruption that has taken place after the handshake, who are behind it? We must ask ourselves serious questions about how we came about the huge foreign debts after the handshake….