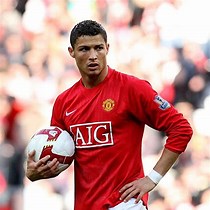 Cristiano Ronaldo is getting a second opinion on his Manchester United future, according to reports in Spain. The Portugal international is eager to leave Old Trafford behind, with super-agent Jorge Mendes working to satisfy his client.
However, at present, he doesn't appear close to jumping ship.
New Manchester United boss Erik ten Hag has repeatedly insisted he wants to keep Ronaldo, having planned for the upcoming season with the veteran in mind. But the 37-year-old still wants out, with the veteran eager to play in the Champions League as his career draws to a close.
That's something United are unable to provide after finishing sixth in the Premier League last term amid a disastrous season under Ralf Rangnick and Ole Gunnar Solskjaer. Yet, when it comes to Ronaldo's fate, there's now been an intriguing update.
Marca say those close to the veteran, not including Mendes, are now urging him to stay put at United for a second season. Ronaldo bagged 24 goals across all competitions last term, establishing himself as a shining light amid the darkness at Old Trafford.
Yet despite the Red Devils regressing, some insiders think their No 7 would be wise not to leave. They're stressing that United remain a great club, despite failing to win the Premier League title since Sir Alex Ferguson's retirement in 2013.
And they're also telling Ronaldo that his goals can help United close the gap on the likes of Liverpool and Manchester City. Ronaldo is being linked with Atletico Madrid, despite previously spending a glittering nine years at Real Madrid.
But any move back to La Liga remains up in the air, with United still adamant their prized asset isn't for sale. United have, of course, been here before. This is now the fourth time Ronaldo has wanted to leave Old Trafford during his career, with the first occasion back in 2006.
Ronaldo angered the whole of England when he helped Wayne Rooney receive a red card at the World Cup that year.
And he immediately expressed a desire to join Real Madrid or Barcelona, only for Ferguson to block a move from happening. In 2008, Ronaldo made it clear he wanted to move to Madrid having dreamed of playing for Los Blancos since he was a child.
But Ferguson, once again, stepped in. However, it wasn't the case the following year with Ferguson reluctantly agreeing to let Ronaldo go. And how this saga pans out, as United's Premier League opener against Brighton edges closer, remains to be seen.
Meanwhile, Ronaldo has missed United's pre-season tour of Australia and Thailand this summer due to a private family matter. And Bruno Fernandes recently opened up on his compatriot and team-mate, insisting they're yet to talk about Ronaldo's current situation.
"Obviously we have to respect the decision of everyone," said Fernandes. "I don't know what Cristiano said to the club, to the manager. I don't know what he's going into his head, but we have to respect his space. From everything we know, he had some family problems, so we have to respect his space, give him some space and that's it."
Fernandes added, "Cristiano was our top scorer last season, he added goals to us, but obviously it's not on me, it's the club that has to make the choices and Cristiano makes his own choice. As I said, I don't know what's going on in his head, if he wants to leave, it's all news, I didn't ask them that. The only thing I asked Cristiano, when he didn't turn up, was if everything was okay with the family, he told me what was going on, that's it and nothing more."