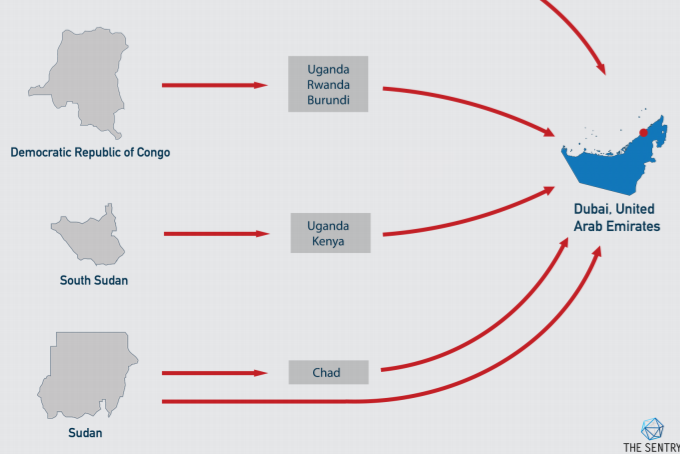 Despite efforts invested licit mineral trade to stifle gold smuggling and money-laundering, East Africa – with Nairobi and Kampala as pivots – still towers other countries in Africa as a major conduit for pirated gold and diamonds from conflict regions in the South and Central Africa.
East Africa is in the company of Cameroon and Chad – itself in conflict – in Central Africa as a major transit route for minerals destined for Dubai in the United Arab Emirates UAE), according to yearlong investigations by The Sentry.
The investigation made public by The Sentry, an international organisation that tracks movement of illicit money from conflict-affected regions says, "Annually, over $3 billion in gold is mined in conflict-affected and high-risk areas in East and Central Africa, including gold from which armed groups and army units profit."
Consequently, the organisation wants the United Arab Emirates to seal loopholes through which 20 to 30 tonnes of illicit gold reach the bullion markets in Dubai and London every year. The Middle East is the intersection of the minerals that are later resold to in Europe, America and Asia.
"The United Arab Emirates, mainly Dubai, imports an estimated 95 per cent of officially exported artisanal and small-scale gold from Sudan, South Sudan, the Democratic Republic of Congo and Central African Republic (CAR), including a significant amount of conflict and high-risk gold. The gold then makes its way to India, Switzerland and the Middle East as well as to Western companies and consumers as jewellery and in cars and electronics," says The Sentry in report published on Friday.
The Sentry is an investigative and policy team that follows the dirty money connected to African war criminals and transnational war profiteers and seeks to shut those benefiting from violence out of the international financial system.
The organisation reports that artisanally mined gold from the DRC, South Sudan and CAR is mainly smuggled or exported to one of six neighbouring countries – Uganda, Rwanda, Cameroon, Kenya, Chad or Burundi – before it is exported to Dubai. Sudan mainly exports directly to the UAE.
The findings rekindle memories of "fool's gold" in Kenya in which, says the US' Federal Bureau of Investigations (FBI), dozens of fortune hunters from Europe, American, Australia, Middle East and Asia have been ripped off by cartels in conflict countries in East and Central Africa.
Kenyan capital, Nairobi, arguably the business hub of the East African economic bloc, is listed by the investigators as a key transit point for illegal money-launders and a gateway for illegal minerals sourced from DRC, South Sudan and Tanzania.
"Gold continues to fuel armed conflict and corruption in CAR, eastern DRC, Sudan and South Sudan, where armed groups, criminal networks and army units that profit from gold have massacred civilians, engaged in mass rape and embezzled hundreds of millions of dollars," says Th Sentry, which recommends sanctioning of governments in the regions, besides compelling UAE to police its bullion ventures.
Millions of men and women work in artisanal mines in the region – an estimated 250,000 miners in eastern DRC alone – and artisanal gold is an important source of livelihood for them and for their communities.
While Kenya recently announced plans to start commercial gold mining in Ikolomani in Kakamega, in the west, Tanzania exports gold valued at approximately $3 billion per year. However, with its porous borders and laxity in law enforcement, it is believed the gold that finds its way out of Tanzania could be two or three times the quantity captured by the central bank – the Bank of Tanzania.
"Tanzania's gold exports accounted for $2.2 billion of total exports in 2019, representing more than 90 per cent of the country's mineral exports. Gold exports increased by 83 per cent over the past five years with $1.2 billion in 2015. Tanzania exports gold mainly to South Africa, India and Switzerland.
The latest chapter in 'Fools' Gold' narrative was a diplomatic spat between Nairobi and Dubai after the UAE crown prince Ali Zandi was last year sucked into a $12 million gold – allegedly – deal that evaporated at the Jomo Kenyatta International Airport.
Africa Report, an online magazine, details how Dubai ruler Sheikh Mohammed Al-Makhtoum dispatched strong-worded protest to President Uhuru Kenyatta demanding the release of a gold consignment in the custody of customs office in Nairobi.
The UAE row came on the back of an earlier standoff between Nairobi and Kinshasa after former DRC President Joseph Kabila made an emergency trip to Kenya to seek audience with retired President Mwai Kibaki to protest the heist of 2.5 tonnes of gold valued at $113 million from eastern Congo in 2011. The heist roped in senior Kenyan and DRC government officials. Nairobi's pledge "to leave no stone unturned" returned nothing with the known gold smuggling criminals walking free in the streets of the capital.
The consignment was headed for Dubai in the United Arab Emirates. Despite DRC officials demanding Kenyan authorities to arrest the perpetrators of the illegal gold trade, no criminal has been brought to book nearly 10 years on. The trail of the gold traffickers has, predictably, gone cold.
In another bizarre case of Fools' Gold scam, a Russian national was scammed out of over $198,000, that was traced to DRC, but the criminals behind the heist have never been apprehended. The lethargic response by Nairobi reportedly attracted the attention of Interpol, with the Kenyan capital being listed as a nexus of money-laundering and gold smuggling, while Kenyan air- and seaports tagged gateways of interest for illicit money and minerals.
Around the same time Uganda arrested arraigned in court a South Sudanese accused of swindling two Ethiopian businessmen of $1.9 million.
Gold scammers in Nairobi, Kampala and Kigali are what Yahoo Yahoo boys are to West Africa. Predictably flamboyant young men with colourful profiles of "business" successes posted on social media – Instagram in particular.
In Kenya, they invest their dirty money to build political clout as insurance against indictment.
The lethargic response to activities well-known criminal rings by governments in East Africa set in motion investigation by The Sentry, which a year earlier had tracked down South Sudanese white-collar criminal rings in Nairobi, Middle East, London, Brussels, Khartoum, Washington and New York.
The investigations that were supported financially and logistically by the Britain's Serious Fraud Office, the FBI raised the alarm over a rapid rise in the number of citizens from conflict countries – South Sudan, DRC, Angola, Gabon, Ethiopian and Somalia – who are acquiring property in high-end neighbourhoods in London, Paris and Brussels. They pay cash.
The Sentry's focus on countries grappling with conflict is informed by the reluctance of mineral-rich countries to fend off the avarice of foreign companies for natural resources.
"African dictators and war criminals, along with their commercial partners and facilitators in Europe, Asia and America use Africa's spectacular resources to enrich themselves beyond imagination and violently crush any who would dare challenge this deadly status quo. The way to change this system is to shut down those who profit from human suffering," says The Sentry.
It adds that, while there is a burgeoning conflict-free, responsible trade, in mineral-rich regions, "miners are also very frequently exploited by corrupt officials, criminal traders, armed units and poor government policies."
In the Democratic Republic of Congo an estimated 10 to 20 tonnes of gold or an estimated $300 to $600 million is smuggled out every year. The
DRC, despite its mineral wealth is one of the poorest countries in the world. According to the United Nations, conflict gold provides the largest source of revenue to armed actors in the conflict in eastern DRC.
"Through raiding of mines, illegal taxation and collaboration with smugglers, these groups capture profits from artisanal mines to keep themselves funded. As of the most recent survey in 2016, 71 per cent of artisanal gold miners in eastern DRC worked at mines controlled by armed actors, including DRC army units and armed militias" The Sentry reports.
It adds that in CAR, "where in recent years gold production has significantly increased to an estimated 5.7 tonnes per year (worth approximately $235 million), various armed groups control the gold mines in the western and eastern parts of the country with little to no state authority."
CAR government agencies estimate that 90 per cent of the gold produced continues to be trafficked out of the country through Chad, Sudan, Cameroon. Some of it finds its way through Kampala and Nairobi.
– A Tell report/JK
https://thesentry.org/reports/conflict-gold-trade/
https://www.standardmedia.co.ke/
https://www.washingtonpost.com/
https://www.theguardian.com/international