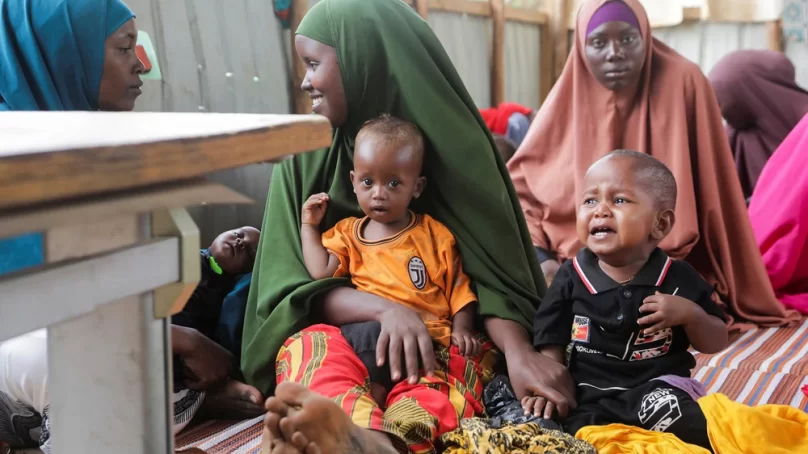 In the more than four months since Russia began its full-scale invasion of Ukraine, aid workers say attention, resources and expertise have been diverted away from crises elsewhere, forcing cuts to life-saving services and interrupting the distribution of vital supplies.
Now, as rates of inflation spike and supply chains falter, many of those working for humanitarian organisations in vulnerable regions say they're unable to assist those in desperate need, while donors look the other way.
Across Africa, Asia and Latin America, the story is largely the same, according to more than two dozen aid workers interviewed. Despite increasingly urgent fundraising campaigns for countries on the brink of disaster, political interest remains fixed on Ukraine, with donor pledges following suit – even though many senior humanitarian figures argue that funds are now more urgently needed elsewhere.
"There is no sensible humanitarian group who would say that they are not, at the moment, fully funded for Ukraine," said Jan Egeland, secretary general of the Norwegian Refugee Council (NRC). "And none of them would say that they have enough funding for, say, Somalia."
Even in Ukraine, the high level of funding isn't necessarily trickling down to local organisations working on the frontlines, Egeland added. And aid workers and displaced people there say assistance still isn't reaching people who need it fast enough, or at times at all.
The gulf in donor support globally is wide. The UN's appeal for Ukraine is more than 80 per cent funded for this year. In comparison, the UN response plan for Afghanistan is around 38 per cent funded, Yemen's is around 27 per cent funded, and Sudan's is around 20 per cent funded.
Such disparity is concerning for Hajir Maalim, Action Against Hunger's regional director for the Horn and Eastern Africa – where this year's rainy season was potentially the driest on record and more than 18 million people are experiencing high levels of food insecurity and rising malnutrition due to drought.
After more than a decade of experience providing emergency aid in countries including Ethiopia and Yemen, it's not the growing crises in the Horn of Africa, Afghanistan, Myanmar, Haiti or dozens of other countries around the world that worry him. "It's the lack of [international] response," Maalim says.
With inflation further stretching scant budgets, aid workers fear additional funding cuts loom on the horizon. "The signals suggest it's coming," said Egeland. "The long-term picture is a bleak one."
That the conflict in Ukraine would affect international humanitarian supply chains was immediately obvious following Russia's invasion, according to Egeland.
Almost overnight, rates of inflation – already climbing following the coronavirus pandemic – skyrocketed, sending international markets spiralling out of control and pushing countries thousands of miles away towards economic collapse.
Global fuel prices doubled and food costs spiked in tandem, the latter worsened by a sudden halt in exports from Ukraine and Russia, both agricultural superpowers that had until February provided 44 per cent of Africa's wheat.
For aid organisations, the repercussions are grave. The cost of transporting emergency supplies to crisis zones has shot upwards, with the supplies themselves now costing at least 20 per cent more than before. Just weeks after the invasion began, many humanitarian groups began to admit they were already struggling to keep up.
In the Horn of Africa, the impact of the war in Ukraine coincided with the worsening drought, to devastating effect. Children are starving, and nobody is sending help, said Ahmed Khalif, Action Against Hunger's country director in Somalia. In recent months, the number of Somalis seeking urgent support has multiplied, while the aid sector's already-limited resources are running worryingly low.
Khalif and his peers have suspended crucial resilience-building programmes to invest their remaining resources in emergency interventions, such as distributing food and water, but death rates are still beginning to climb.
The funding they're receiving is not nearly enough, Khalif said. Somalia's malnutrition centres are full of children who haven't eaten in days – skin loose over sharp bones, their mothers' eyes frightened and wide. Recently, he has started meeting men his father's age who describe losing whole herds of goats to disease and drought. As they beg Khalif for help, they cry.
"I can feel their pain," Khalif said by phone. "There's so much that could have been done to prevent things from deteriorating to that extent."
The soaring cost of fuel also means people are going without emergency medical treatment, with generator-dependent health clinics no longer able to afford to treat patients during the night. At least one large NGO-supported hospital on the outskirts of Mogadishu is only operating for 12 hours a day, down from 24. If a woman in labour needs assistance during the off hours, guards have to turn her away.
Elsewhere, the story is much the same. In Yemen – where more than 23 million people are in need of humanitarian assistance – monthly cash handouts that previously provided between $70-$100 per household are being stretched between four or five families at a time, while sachets of Plumpy'nut, a fortified peanut paste used to treat severe malnutrition, have become so expensive that aid workers report handing it out in half-portions to starving children.
In the weeks that followed the outbreak of war in Ukraine, NGOs in Latin America and the Horn of Africa say numerous attention-raising visits from diplomatic figureheads and leading officials were abruptly postponed.
In May, UN relief chief Martin Griffiths travelled to Kenya on a two-day trip. It had originally been scheduled for February but was delayed by the onset of the Ukraine war. "That's three months of essential time lost," said Maalim.
During the last drought in 2017, the Horn of Africa benefited from multiple visits from senior political figures, each working to mobilise resources to the region, Maalim added. "The level of effort that was put into previous crises compared to the one today is very different," he said.
Now, it seems countries have to reach breaking point in order to receive even a morsel of international attention and assistance.
For example, inflation in Sri Lanka has reached record highs over the past four months, with children dying because their parents can't afford the fuel they need to travel to hospital. Doctors in one government hospital outside Colombo described being forced to perform invasive, painful procedures without anaesthesia, yet they believed the situation still isn't desperate enough to capture the world's interest – nor attract its financial support.
The New Humanitarian report