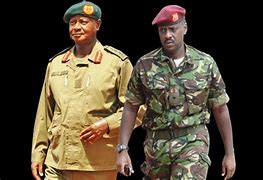 "Uganda from now on will be determined by the relations between Yoweri Tibuhaburwa Museveni, Nobert Mao, Muhoozi Kainerugaba, Paulo Kagame, Ian Kagame, poverty and ethnicity".
This was a topic I posted on my Facebook page on April 24, and which wanted my Facebook friends, all Ugandans and all East Africans interested in national and regional affairs to reflect, and active public intellectuals in Rwanda, Uganda and the rest of East Africa to think about, articulate and reflect on as best as they can.
The theme is not a myth but an evolving reality, which every right-thinking Rwandans, Ugandans and East Africans should reflect on today, tomorrow and beyond. How we relate to one another, in our countries and in East Africa, and most likely, in the Great Lakes Region – environmentally, socially, economically and politically, will be influenced by the personalities mentioned in the theme.
In the last Chapter of my book, Political and Leadership History of Uganda: From British Colonial Era to Movement Era, which is in Press, I predict that three people will dominate the politics in Uganda: Yoweri Tibuhaburwa Museveni, Muhoozi Kainerugaba and Nobert Mao.
Today, Muhoozi Kainerugaba conducts himself as de facto President, while President Tibuhaburwa Museveni more or less cheers him on, and Mao is more or less his minister for justice and constitutional affairs, and has even escorted him to a visit to Rwanda.
In a way General Muhoozi Kainerugaba is like a crown prince in the mould of the crown prince of Saudi Arabia. While he retains his links with the Uganda People's Defence Forces, he has aligned himself with the political party of his father, the National Resistance Movement Organisation (NRMO).
If he were Dr Kiiza-Besigye he would have been committed to prison many times and accused of sabotage, or even high treason. But Muhoozi Kainerugaba is the president's son – the only publicly known son of the president. While opposition politicians continue to be caned and chained, Muhoozi Kainerugaba has over recent months continued to pronounce himself on issues such as the corruption of ministers and to traverse the breadth and width of the country like a president on a campaign trail just as his father does a parallel traversal.
The two seem to have agreed that between now and 2023, Uganda concentrates its collective mind on their political activities and promises, not development, transformation and progress of the country. The two are repeating most of the promises that President Museveni has made for almost 40 years he has been in power.
Those listening to the two are the same ones who have listened to President Museveni all the time since 1986, but numerous young people, who now dominate our population in terms of numbers are also listening. They have presented Team Museveni and Team Muhoozi Kainerugaba as credible enough to be trusted with the tenancy of State House.
Muhoozi Kainerugaba is being sold as Alternative Generator, meaning that if President Museveni leaves power should remain in the family of the president and his kin and kith. Meanwhile the chained Opposition looks on helplessly and play their politics as if they are really competing for power with the two.
Meanwhile poverty and ethnicity deepen in Uganda. One small ethnic group to which the president and Muhoozi Kainerugaba – has it all: money, power, opportunities and future. Apparently, the group historically and politically has its roots in the political Chao of the 1950s and the very early 1960s. It is likely that if President Tibuhaburwa Museveni decided to relinquish power, he would not do so to political parties, which he hates so much because they contradict his power schemes and his designs for Uganda.
He would rather relinquish it to his son, Muhoozi Kainerugaba, whom he has provided with security and the greatest thread of freedom to market himself politically while making sure security disables or pounces on the Opposition every time it tries to actively play politics.
Already some Opposition leaders are realigning themselves, either to the Museveni camp or to the Kainerugaba camp. But where is the difference?
In previous commentaries, I have stated that the politics in Uganda will be interwoven with that of Rwanda, where also the son of President Kagame, Ian Kagame, is more or less a president-in-waiting.
If Ian Kagame and Muhoozi Kainerugaba captured power in Rwanda and Uganda respectively, then the capture of Uganda would be perpetual. All the rest of politicians, mainstream and Oppositional, would realign themselves to fit into the new power equation.
Ugandans now perceive themselves as slaves of the state run by a few closely related families in power or close to power will be complete. Indeed, the reported 1,500 billion billionaires in Uganda belong to this group. Most of this wealth has been primitively accumulated through the new imperialism grabbing everything conceivable.
Since the group is mostly located in the kin and kith of the president, it has adequate money to fund its own choices of leaders of Uganda. Currently, they are temporarily divided between President Tibuhaburwa Museveni and Muhoozi Kainerugaba.
So, if wealth does everything, then wealth will generate future leaders for Uganda. Wealth in Uganda is synonymous with evolving 'leadership industry'. In the near future it will choose between Tibuhaburwa Museveni and Muhoozi Kainerugaba. Just one of them. Uganda is a country of youth.
I will not be surprised if wealth settles for Muhoozi Kainerugaba, who has clashed with General Kahinda Otafiire over his claim that the era of the rule by the elderly is over, and has persistently, continuously and consistently submitted that the era of the youth has come although he is 49.
When Obote and Muteesa II rose to power in the immediate post-colonial period, they were in their 30s.
The test and rest, I leave it to God or to "let Nature take its own case".
For God and my country
A Tell report / By Prof Oweyegha-Afunaduula, a former lecturer of political science, Department of Political Science and Public Administration, Makerere University, Uganda.