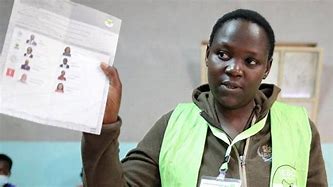 As Kenyans awaited the outcome of Tuesday's presidential election, disinformation linked to the results cluttered multiple social media platforms, prompting warnings from international observers.
In a joint statement, Amnesty International and several other civil society groups voiced concern about "the rising levels of false or misleading information being shared on social media a day after the polls closed".
In particular, they accused the two main presidential rivals of spreading disinformation. The race has pitted Deputy President William Ruto of the Kenya Kwanza alliance against veteran politician Raila Odinga and his Azimio la Umoja alliance.
"Several posts by Kenya Kwanza and Azimio candidates and their supporters have intentionally sought to misinform the electorate and the public on the electoral process and the election results," the statement said.
Observers from the Commonwealth and the US issued similar warnings on Thursday, saying the delay in releasing the results was allowing disinformation to spread rapidly online.
On the day of the poll, an imposter account on Twitter (@IEBC2022RESULTS) claimed to be tabulating results as they were "trickling in", including from the diaspora.
The account, created in 2021, describes itself as "Independent Presidential Tallying Center Results For 2022 General Election". It links to the official website of Kenya's electoral body, the Independent Electoral and Boundaries Commission (IEBC).
However, an analysis showed that the page is not the IEBC's official account, which features a blue verification mark. The hoax account's history shows that prior to the election, it published content ranging from clickbait to videos of campaign rallies and tweets aimed at boosting follower numbers.
IEBC spokeswoman Purity Njeru also told AFP Fact Check the account was fake, adding that "on all our official platforms we have a uniform message".
Screengrabs of the fake account have widely circulated on the popular messaging app WhatsApp. Kenyan journalist, Ian Wafula, said he had to constantly remind his relatives on their family WhatsApp group to be careful about what election content they shared.
"The family group has about 40 members. Both my mum and a cousin posted screen grabs from the fake IEBC account," he told AFP Fact Check.
Doctored lists of alleged election winners have also surfaced online.
One post published on August 10 alleged to show 30 governors allied to Ruto's party who had allegedly already been declared winners in the polls. The claim circulated widely on Twitter and Facebook (see here, here and here).
The list included a gubernatorial candidate of Wajir county where voting was still happening 24 hours after the election, as the IEBC had been forced to cancel voting there due to insecurity issues. In other words, the result could not have been known yet, given that ballots were still being cast.
Another similar list purported to show 20 winning governors from Odinga's camp. Notably, it claimed their candidate for the Wajir gubernatorial race had won the polls.
Kenyans voted in a total of six elections on Tuesday, choosing a new president as well as senators, governors, lawmakers, woman representatives and some 1,500 county officials.
The complicated process of verifying and tallying votes is expected to take days but the IEBC has to declare the results by August 16. Some political running mates have started to claim their victory from unofficial tallies.
Local media organisations are also independently counting votes, which leads to different announcements on various TV stations. The Media Council of Kenya (MCK) on Wednesday expressed worry over the "different election results being transmitted by media houses".
It warned the discrepancies risked raising "anxiety levels" among Kenyans.
"The Media Council of Kenya is in consultation with the media owners and editors to find an urgent solution to this to ensure Kenyans receive synchronized results," MCK said in a statement.
To counter the fake data trend, Twitter has rolled out labels warning users against premature result announcements posted on its platform. Preliminary results broadcast by local media indicate that Ruto and Odinga are neck-and-neck, raising the likelihood of a challenge by the losing candidate.
No presidential poll outcome has gone uncontested in Kenya since 2002, and the disputes have led to bloodshed in the past, either involving ethnic clashes or police violence.