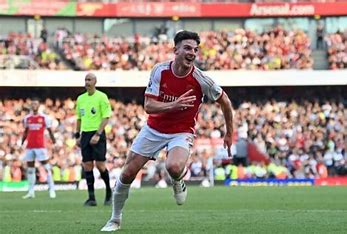 Arsenal are pass-pass-passing the ball across the backline, crab-like, this way and that, halfway through the eight minutes of stoppage time. It feels like they could pass themselves into oblivion. They look weighed down by the situation.
Much of their play has been tentative. Low tempo. Disconnected. They got away with one when Alejandro Garnacho's strike was cancelled out by the VAR. The crowd are a mixture of nervy and a bit desperate. Where is the gamble? Where is the intensity? Where is the will to force a goal? Who wants to bloody know?!
Declan Rice wanted to know. The player Mikel Arteta prioritised as a centrepiece to push Arsenal up a level, the player they obliterated their transfer record for in a £105 million ($132m) deal, seized the moment. In that split second, as the ball he had somehow cushioned off his chin hung in front of him, he had a decision to make. To hook it back across – the easier option – or swivel, wrap his foot around the ball and blast it at goal?
"The old me would have probably sent that back for a cross but last minute of the game, there were fine margins," he said.
In that action, Rice unburdened Arsenal. He turned a long afternoon of tension into happy bedlam. He leapt into the emotion of it all and headed towards the new love of the fans in the North Bank.
This is why they paid the big bucks. It didn't feel entirely coincidental that the person who was able to unblock Arsenal was Rice. He has imposed himself gradually since arriving, but there is nothing quite like a theatrically late match-winner against an old rival to properly introduce yourself.
In difficult situations, when the stress is heightened, summoning the character to force a goal like that comes from attitude and mentality as much as anything else. Arteta suggested there is a big difference between trying things in training and under the world's gaze at the Emirates.
"We did it yesterday, but yesterday your heart rate was at 80 and now it's at 190," said the manager.
"To produce the same level of quality there when the pressure is on in that moment is just unique. You need to have that quality, that sense and that composure. His range when shooting, with accuracy and the power he generates with no space, he can do it with both feet. He's got the timing as well to arrive in the box."
More goals are on the agenda and this was a fine place to start.
The goal was defining, but the all-round display from Rice was just as important. An interception here, a burst to create some space there. Dropping back to help one moment, picking a smart pass the next. His presence in Arsenal's midfield is already strongly felt. He had 85 touches – the second-highest of the match behind William Saliba (86) – and they were spread out all over the pitch as he covered considerable ground.
Rice has impressed everybody around the place since joining Arsenal. He carries himself with confidence and charisma, and wants to make a difference to those around him as well as himself. Arteta is delighted with how he has blended into the group. "Very natural," he says. "He's a great kid. He's got a good mixture between being extremely demanding with everybody and himself, having a bit of banter and being around the staff and the boys in a really humble way. He's fitting in brilliantly."
Rice's positive impact contrasts radically with Kai Havertz, whose contributions at key moments against Manchester United were excruciating. It is not always simple to slot easily into a new team, or new system, and Havertz looks shorn of the kind of belief that comes so easily to Rice.
Havertz's fresh air shot was met with disbelief. For a technician to scuff something so elementary is like a lead violinist dropping their bow. It is hard not to be acutely aware of their struggle and embarrassment in the glare of intense scrutiny. One thing is certain: Arteta is in no mood to criticise and intends to put metaphorical arms around the player until he finds his groove.
The finale, with Gabriel Jesus's breakaway third ramping up the celebrations, put so much shine on the afternoon, but Arteta needs this international break to take stock of a start to the season that has a different tone to last season.
Arsenal have work to do to rediscover their verve and cohesion over longer periods. They were more balanced with Gabriel back in the line-up (and how the Brazilian was needed to grapple with the aggression of Rasmus Hojlund late in the game). Because of the injury sustained by Thomas Partey, we will never know whether or not Arteta would have continued his bullish ploy using the Ghanaian as a partial right-back. But overall, Arsenal were better served to reunite the centre-back partnership of Gabriel and Saliba.
In the coming weeks, Arsenal must address the habit of gifting chances to their opponents. Fortunately, in Martin Odegaard, as well as Rice and Jesus (with nods to Gabriel Martinelli, Bukayo Saka and Fabio Vieira for the assists), they had the individuals to turn this game around. Rejoicing how a near-defeat turned into a rambunctious win, the crowd went off merrily singing Vanilla Ice and, in some cases, exhibiting some enigmatic dad (or mum) dancing.
That is the Rice effect for you.