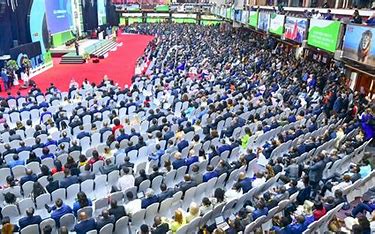 Billions pledged for green energy as Africa climate talks enter second day in the Kenyan capital, Nairobi. The three-day Nairobi summit, which began on Monday, is meant to define a shared vision for green development in Africa.
The United Arab Emirates has pledged $4.5 billion in clean energy investments in Africa at a landmark climate summit aimed at showcasing the continent's potential as a green powerhouse.
Kenyan President William Ruto has sought to use the Africa Climate Summit in Nairobi to shift the narrative on the continent, presenting the clean energy transition as a unique opportunity for Africa – if it can attract the financing to realise its potential.
On Tuesday, the conference saw its most significant pledge so far, with $4.5 billion announced by the UAE, which will also host the COP28 summit in Dubai in November-December.
Sultan al-Jaber, who heads the UAE's national oil company ADNOC and government-owned renewable energy company Masdar, said the investment would "jumpstart a pipeline of bankable clean energy projects in this very important continent".
Al-Jaber, who is also president of the COP28 climate summit, said a consortium including Masdar would help develop 15 gigawatts of clean power by 2030. Africa's renewable generation capacity was 56GW in 2022, according to the International Renewable Energy Agency.
The three-day Nairobi summit, which began on Monday, has attracted heads of state, government and industry, including leaders from Mozambique and Tanzania, as well as United Nations head Antonio Guterres, European Union chief Ursula von der Leyen and United States' climate envoy John Kerry.
It is billed as bringing together African leaders to define a shared vision for green development on the diverse continent of 1.4 billion people and set the tone for a flurry of international diplomacy leading up to the COP28 meeting.
But the continent faces steep challenges, particularly in the form of mounting debt costs and a dearth of finance. Despite an abundance of natural resources, just 3 percent of energy investments worldwide are made in the continent.
Guterres urged the international community to help "make Africa a renewable energy superpower".
"Renewable energy could be the African miracle, but we must make it happen," Guterres told government and industry leaders.
With the world falling far short of its global goals to limit warming, Guterres spoke directly to the Group of 20 nations, whose leaders are meeting in India at the weekend, and told them to "assume your responsibilities" in the battle to reduce planet-warming emissions.
A clean energy transition across the world's developing nations will be crucial to keep alive the Paris Agreement goal of capping global warming "well below" 2 degrees Celsius (3.6 degrees Fahrenheit) since pre-industrial times, and 1.5C (2.7F) if possible.
To make that happen, the International Energy Agency says investment will need to surge to $2 trillion a year within a decade – an eightfold increase.
Speakers at the summit have doubled down on calls to reform global financial structures to align with climate and green development goals. Al-Jaber called for a "surgical intervention of the global financial architecture that was built for a different era", urging institutions to lower debt burdens.
On the opening day of the summit, President Ruto said trillions of dollars in "green investment opportunities" would be needed as the climate crisis accelerates.
"Africa holds the key to accelerating decarbonisation of the global economy. We are not just continent rich in resources. We are a powerhouse of untapped potential, eager to engage and fairly compete in the global markets," Ruto said.
The summit's focus on some climate finance proposals has drawn opposition from some environmental quarters, with hundreds of demonstrators protesting near the conference venue in Nairobi on its opening day.
A coalition of civil society groups has been urging Ruto to steer global climate priorities away from what it perceives as a Western-led agenda that champions carbon markets and other financial tools to redress the climate crisis.