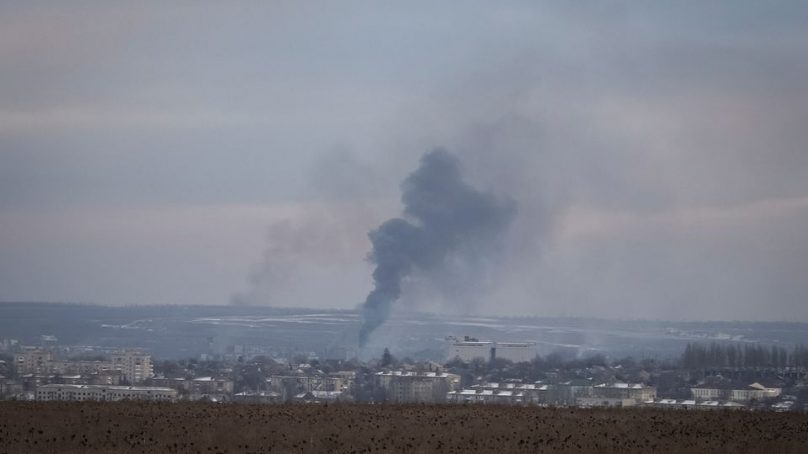 Russia launched a wave of attacks on Ukrainian infrastructure in the cities of Kharkiv and Zaporizhzhia on Friday morning as Ukrainian officials said a long-awaited Russian offensive was under way in the east.
At least 17 missiles hit the south-eastern city of Zaporizhzhia in an hour, acting mayor Anatolii Kurtiev said, and the state grid operator said high-voltage facilities across the country had been hit and electricity supplies shut down.
Russia has repeatedly struck civilian infrastructure far from the front lines over the last four months, leaving millions of Ukrainians in major cities without power, heat or water for days at a time in the middle of winter.
Air raid sirens blared across the country during the morning rush hour and local officials urged weary civilians to heed them and take shelter. Kyiv's city administration said air defences were working as explosions were heard in the capital.
Kharkiv regional governor Oleh Synehubov reported about 10 explosions and said power had been cut off in some areas.
Critical infrastructure was also hit in Khmelnitskyi in the west and the Dnipropetrovsk region in central Ukraine, regional officials said. Air force spokesperson Yuriy Ihnat told Ukrainian television that Ukrainian air defences had shot down five of seven drones and five out of six Kaliber missiles.
However, the air force also said Russia had launched 35 S-300 missiles, which Ukraine's air defences are unable to shoot down, at the Kharkiv and Zaporizhizhia regions.
Ukraine has been bracing itself for a new Russian offensive in the belief that, after months of reverses, President Vladimir Putin wants to be able to tout a battlefield success before the anniversary of the invasion he launched on February 24.
Russia's main focus has been the town of Bakhmut in the eastern Donetsk province, a region whose capture has been one of Moscow's declared priorities since the start of the war.
After months of static artillery battles that have become known to both sides as the "meat grinder", Russian forces, including the Wagner private army, which has recruited tens of thousands of convicts with a promise of pardons, have finally begun to encircle the town.
Britain's Defence Ministry said Wagner forces appeared to have advanced two to three kilometres around the north of Bakhmut since Tuesday – a remarkably rapid push in a battle where frontlines have barely moved for months.
It said they were now threatening the main western access road to Bakhmut, a now largely deserted town with a pre-war population of about 70,000, although Ukrainian officials said their supply lines had not been cut.
While Wagner has bolstered its numbers with prisoners, Russia's regular army is now able to deploy many of the 300,000 or more men enlisted in a forced mobilisation late last year. Britain also said Russian forces had made some advances near Vuhledar, a strategically important Ukrainian-held bastion at the intersection of the southern and eastern fronts.
The British report said the limited Russian gains there had most likely come at a high cost in inexperienced units, including at least 30 Russian armoured vehicles abandoned in one failed assault.
Reuters could not verify the battlefield reports.
Asked on Ukrainian television if he agreed that the Russian offensive had already begun, Pavlo Krylenko, governor of the Donetsk region, said on Thursday: "Yes, definitely."
Ukraine has made clear it plans its own major counteroffensive in the coming months to reclaim more of the roughly one-fifth of Ukrainian territory that Russia occupies. But it appears likely to wait until it has received at least some of the main battle tanks and longer-range missiles that the United States, Germany and other NATO allies have promised.
Ukrainian President Volodymyr Zelenskiy on Thursday night met Polish President Andrzej Duda to brief him about his tour to London, Paris and Brussels to ask for more weaponry, notably fighter planes.
None of the leaders he met gave any public undertaking that they were ready to offer the jets, a step certain to be seen in Moscow as further evidence of direct Western involvement in the war. Britain promised to help train Ukrainian pilots to fly NATO jets but stopped short of offering to provide them.
French President Emmanuel Macron said he did not rule out sending combat aircraft to Ukraine at some point but that, in the short term, artillery would be more use to Kyiv. President Volodymyr Zelenskiy suggested that he had, however, received some form of commitments on planes.
"Europe will be with us until our victory. I've heard it from a number of European leaders…about the readiness to give us the necessary weapons and support, including the aircraft," he told a news conference after attending a European Union summit in Brussels.