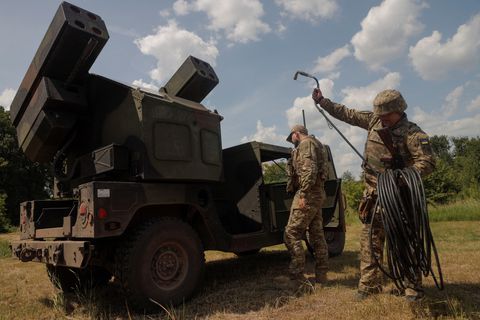 Ukraine is seeing "significant results" from US and German air defence systems, President Volodymyr Zelenskiy said on Sunday, despite waves of Russian air strikes that Kyiv says targeted civilians and residential buildings.
Russia reported it had shot down a drone heading for Moscow in the third such attack in a week, while officials on both sides said Ukraine had struck two bridges linking Crimea to the mainland.
Both countries have stepped up attacks on each other's troops, weaponry and infrastructure supporting the war as Ukraine seeks to dislodge Russian forces that have dug in across southern and eastern Ukraine since their invasion last year.
The Moscow-appointed head of Crimea said the Chonhar bridge to the peninsula, which was annexed from Ukraine by Moscow in 2014, had been damaged by a missile strike. Another of the three road links between Crimea and Russian-occupied parts of mainland Ukraine, near the town of Henichesk, was shelled and a civilian driver wounded, a Moscow-appointed official said.
In his nightly video address on Sunday, Zelenskiy said advanced air defence systems, including the US-built Patriot and Germany's IRIS-T, were proving "highly effective" and had "already yielded significant results."
Zelenskiy said Ukraine had shot down a significant part of Russia's attacks over the past week, which included 65 missiles of various kinds and 178 assault drones, including 87 Shaheds. Ukraine's military said later that Russia had launched 30 missiles and 48 air strikes.
"Unfortunately, there are casualties and wounded among the civilian population. Residential buildings and other civilian infrastructure suffered destruction," the military said in a statement.
The attacks followed what Zelenskiy said was a bomb attack late on Saturday on a blood transfusion centre in the town of Kupiansk, around 16km (10 miles) from the front in the eastern Kharkiv region. He described the strike as a war crime. Reuters could not immediately verify the report.
Russia denies deliberately targeting civilians or military hospitals in its full-scale invasion of Ukraine, which has killed thousands of people, uprooted millions and destroyed cities. In Russia, Moscow's Vnukovo airport suspended flights on Sunday, citing unspecified reasons outside its control. Moscow Mayor Sergei Sobyanin said a drone had been shot down south of the capital.
Russia's defence ministry said earlier it had conducted successful strikes on Ukrainian air bases in the western Rivne and Khmelnytskyi regions and southern Zaporizhzhia region. It said its military launched a group strike using long-range and sea-based precision weapons and all the targets had been neutralized.
The deputy governor of the Khmelnytskyi region, Serhiy Tiurin, said a military airfield in Starokostiantyniv was among the targets. He said most of the missiles were shot down, but explosions had damaged several houses, a cultural institution and the bus station, and a fire had broken out at a grain silo.
Ukraine is two months into a gruelling counteroffensive to try to push out Russian forces occupying almost a fifth of its territory. Zelenskiy aide Mykhailo Podoliak characterised the weekend Russian missile attacks as a response to Ukraine's overtures to Global South countries that have been reluctant to take sides in a conflict that has hurt the global economy.
Senior officials from some 40 countries including the United States, China and India held talks about the conflict in Saudi Arabia on Saturday and Sunday, but the meeting ended with no concrete action beyond a commitment to further consultations.
The meeting was part of a diplomatic push by Ukraine to build support beyond its core Western backers. Zelenskiy's chief of staff, Andriy Yermak, said the discussions had been very productive, but did not give details.
Russia did not attend. Its deputy foreign minister, Sergei Ryabkov, said the meeting reflected the West's "doomed efforts" to mobilise developing nations behind Zelenskiy.