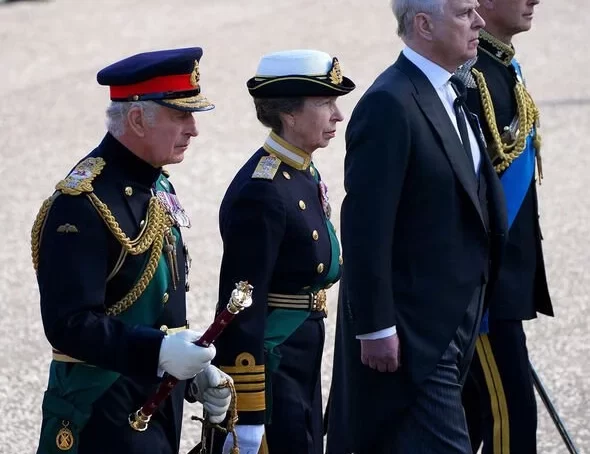 A man was seen pointing at and heckling Prince Andrew as the Queen's coffin made its way through the streets of Edinburgh on Monday afternoon. The protester who made it to the barricades was seen on live television shouting at the disgraced Duke of York. He appeared to shout: "Andrew, you're a sick old man."
However, several onlookers quickly drowned out the protester by chanting 'God Save The King'. Others in the crowd also appeared to push the protester to the ground before a police officer escorted him away. He has since been detained by police in the Scottish capital.
In one clip, the heckler can be heard shouting out "disgusting" after he was pulled away.
Tensions between Prince Harry and Meghan Markle and Prince William and Princess Kate remain high, despite Saturday's walkabout, insiders have claimed.
Sources have said Harry's upcoming book is to blame, saying, "It's quite hard to spend too much time with someone you know is about to publish a tell-all book about you."
The BBC anchor James Naughtie addressed the protest during the live broadcast, saying: "There is a little bit of shouting in the crowd, but for the most part it is quiet and contemplative."
Andrew joined his brothers King Charles III and Prince Edward and sister the Princess Royal on the walk to St Giles' Cathedral in Edinburgh.
The four children of the Queen followed the hearse carrying the Queen's casket as it slowly moved down the Royal Mile.
Many viewers noted that Andrew was the only royal wearing a suit after being banned from wearing his military uniform to mourn Her Majesty. Instead of a uniform, Andrew wore a black morning suit for today's sombre occasion.
Despite not wearing a uniform for the procession, the Duke of York's mourning suit still displayed eight medals.
Andrew has been barred from wearing a military uniform to most events remembering the Queen, including the state funeral. However, an exception is understood to have been made for the final vigil in Westminster Hall as a special mark of respect for the Queen.