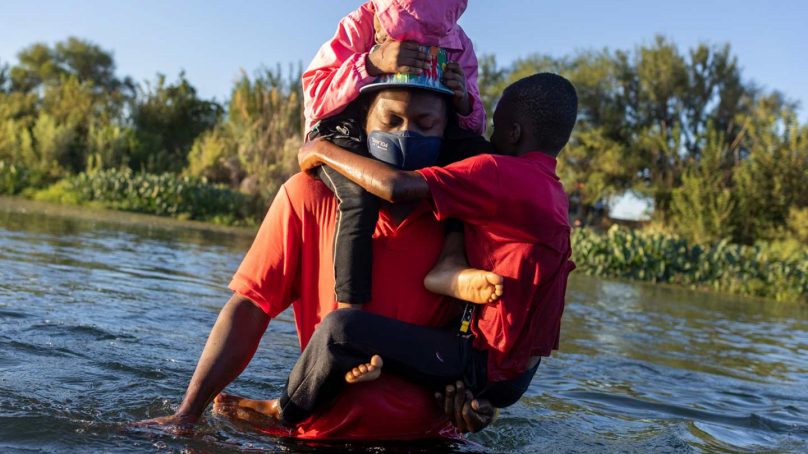 Hundreds of thousands of migrants to the United States of America have made the dangerous trip since 2010. According to a March 2021 report from Duke University, three-quarters of these migrants are from Cuba and Haiti, with increasing numbers coming from the Indian subcontinent and African countries, notably Eritrea, the Democratic Republic of Congo, and Cameroon.
Even without knowing about the Darién Gap's dangers in the Panamanian jungle, Julliana Essengue, a Cameroonian travelling to the USA via Latin America, was instinctively afraid.
"We were going and going to where there was no end," she said. "When I saw that it was frightful and dangerous, I was thinking, 'I want to go back, but am I going back alone?'"
Essengue said they crossed waters so dark they couldn't see the bottom. They had to step from rock to rock across the river, holding on to trees for balance, each person moving in a slow follow-the-leader system.
She and other asylum seekers from Haiti and other Caribbean islands trekked for days before they saw Panamanian military personnel and realised they had arrived in the country. The soldiers, who entered the area by helicopter, gave them rice and warned that thieves from Colombia often crossed into the Panama side to target migrants.
"They said the Colombian guys come there, rape people, shoot people, take people's money," she said.
Shortly after that meeting, Essengue's group came across Colombian men who fit the Panamanian soldiers' description. "They did not rape us, I thank God," she said. "Instead, when they saw us, they were afraid."
Because Dalmacy and two other men in their group were tall, Essengue believes the suspected bandits thought they were part of the Panamanian military. The group informed the Colombian men they were migrants looking for help with their route, but they didn't receive any guidance.
That night they made camp. But they heard strange noises and, fearing it was a wild animal, ran back the way they came, only to bump into the Colombians again. This time, for $10 a person, the Colombians let Essengue and her group sleep near them for safety. But when another migrant group showed up in the morning, the Colombians again demanded money, and when the new migrants refused to give them anything, the men began shooting at them. "We were afraid. We started running," Essengue said. "We left them there."
Essengue and her group spent a week walking in the forest. Although no one she travelled with was killed, Panamanian authorities say more than 50 people died in the Darién Gap in 2021, compared with an average of 20 to 30 in previous years.
The group finally reached a camp near a Panamanian military base. They stayed there for a week and a half, and then at two other camps for a total of about a month, before boarding a bus to Costa Rica, having obtained a laissez-passer – a travel permit issued under special circumstances, such as seeking asylum.
At the border between Costa Rica and Nicaragua, they jumped a fence, only to run into immigration officials. The authorities in Nicaragua asked each of them to pay $150 before letting them go. Dalmacy again provided Essengue's funds. Then the group left for Honduras, where coyotes guided them through the bush at night.
Essengue said she remembers a constant movement of people and horses. "We were seeing horses coming and going, coming and going. I don't know if it's trafficking or what they are doing," she said. "In that darkness, there are so many things happening."
The coyotes arranged for a car to take Essengue and the group to the Honduras-Guatemala border, where Honduran immigration officials organized their transport to Guatemala.
The hardships the group faced were no accident. In a 2021 report co-authored by the National Immigrant Justice Center (NIJC) and FWD.us, a bipartisan group focused on immigration and criminal justice reform, Azadeh Erfani and Maria Garcia conclude that the migrant relationship between rich countries and poor countries is designed to keep those in the latter from seeking asylum in the former.
FWD.us's Garcia pointed out that for Black migrants in particular, these policies prolong their trek, because they often must travel through many more poor countries and dangerous sites to get to safety. For migrants coming from either Africa or the Caribbean, racially prejudiced policies may keep them longer in each place they pass through before reaching their final destinations.
"I think Guerline Jozef from Haitian Bridge Alliance has said this several times, but if you are a Black migrant, you can't hide," Garcia said. "And Black migrants are targeted because of the color of their skin."
Fortunately for Essengue and her group, the informal and seemingly isolated connections that made up the network that was in place to transport them from Guatemala to Mexico accomplished their goal. In March 2020, the group reached Tapachula, Mexico, which was supposed to be their last major stop before the United States. But just as they arrived, the coronavirus hit.
The pandemic forced Essengue and Dalmacy to spend much longer in Tapachula than they had anticipated, the income from working on the plantation barely meeting their needs. As Essengue's pregnancy progressed, she and Dalmacy became increasingly anxious to reach the United States, desperately hoping to avoid travelling with a baby.
Meanwhile, the Trump administration was issuing sweeping denials for migrants at the border using Title 42, a section of US health law that grants the government the right to block entrance into the country during public health emergencies.
Title 42 coincided with another policy of which Essengue and Dalmacy were unaware: the Migrant Protection Protocols, sometimes referred to as the "Remain in Mexico" policy, in which certain asylum seekers who pass a credible-fear screening are forced to stay in Mexico to await their asylum hearing. (A credible-fear screening is an interview in which an asylum officer establishes whether an individual's fear of persecution in their home country is legitimate.)
While there is some data collected on the national origin of asylum seekers, there are no government statistics on how race affects asylum determinations, and assumptions based on national origin alone would fail to identify migrants from minority racial groups in their home countries. The NIJC's Erfani said the exclusion of statistics about race may be by design.
"We're lacking the data in part because the system is pretending to be colour-blind and not tracking by race, when, in effect, we're seeing that…people are being treated disparately on account of race," she said.
Adopted from The Nation, USA