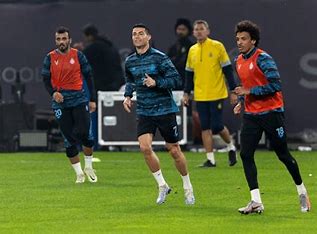 The arrival of football superstar Cristiano Ronaldo in Saudi Arabia on Tuesday as the newest member of the state-owned club Al Nassr marks an enormous step forward in the desert country's foray into top-level sport.
The five-time winner of the Ballon d'Or and five-time winner of the European Champions League signed with the Saudi club until June 2025 for an estimated $212 million, following an acrimonious exit from his former club Manchester United after he harshly criticised the team's owners and coach, Erik ten Hag, in a TV interview.
"I'm a unique player. It's good to come here, I broke all the records there (in Europe) and I want to break a few more here," he told reporters at Mrsool Park Stadium. Indeed, his new team's ambitious owners hope to set up a repeat of Real Madrid's storied "Galactics" of the 2000s, which was stacked with such global stars as England's David Beckham and France's Zinedine Zidane.
Ronaldo's presence could well encourage other big names to play in Saudi Arabia. According to a club official who wished to remain anonymous, Al Nassr also has its sights on Croatian playmaker Luka Modric as well as Chelsea's French midfielder N'Golo Kanté.
At Al Nassr, led by Frenchman Rudi Garcia, Ronaldo will be rubbing shoulders with former Ligue 1 players such as Colombian goalkeeper David Ospina, Brazilian midfielder Luiz Gustavo and Cameroonian striker Vincent Aboubakar.
But more than breaking local football records, a star of Ronaldo's stature also represents a spectacular coup in the Gulf kingdom's sporting and diplomatic offensives.
Like recent World Cup host Qatar, which also owns Paris Saint-Germain, Saudi Arabia has already invested heavily in football. Notably, in October 2021, a Saudi consortium snapped up the English Premier League club Newcastle United, despite an initially hostile reception from its fans.
Ronaldo's signing, however, represents "a new and unprecedented strategy", says Karim Sader, a political scientist and specialist of the Gulf countries.
"It's not about buying a club that will shine in a foreign league, but about buying a star player whose brilliance will make your own league shine. It's about becoming a football powerhouse in one's own right rather than asserting one's power through football," Sader said.
While the Portuguese striker is not the first aging football star to end his career in a Gulf country, a player of his calibre has never before signed in the region. Off the pitch, he is also a fashion icon, an influencer and a social media celebrity, with some 570 million followers on Instagram. His mere presence in the modest Saudi league draws a global spotlight to both league and country.
"Asia has never seen anything like this," reported the Dubai-based English-language daily Gulf News. "Wherever he goes, he will capture attention and if only 10 per cent of his followers are interested in his new club, the Saudi League will become one of the most watched in the world."
With Ronaldo's name recognition, Saudi Arabia is also securing a luxury ambassador in its bid to host the 2030 World Cup. Fifa will designate that year's host country or countries by 2024.
"This is the beginning of the operation to seduce the world football authorities, as the presence of Crown Prince Mohammed bin Salman had already shown at the opening match of the World Cup in Qatar. They come to seek a sacred anointing with Ronaldo," Raphael Le Magoariec, a specialist on the geopolitics of sport at the University of Tours, told AFP.
Saudi Arabia's national team created a sensation in their opening match at the Qatari World Cup by beating Lionel Messi's Argentina. Riyadh is considering a joint Asia-Africa-Europe bid to host football's biggest tournament with Egypt and Greece.
The awarding of World Cups has long been subject to the sacrosanct principle of rotating continents and confederations, but observers say there is no reason why Saudi Arabia could not win over football's governing body so soon after Qatar, the first Middle Eastern country to host the event.
"There was a lot of criticism of Qatar, but in the end it was a great success and it reflected well in terms of image. The world of football is not limited to Western eyes," Sader said, pointing out the Arab world's enthusiastic support for the historic semi-final journey of the Moroccan team or, indeed, Saudi Arabia's opening win over the eventual winners, Argentina.
"All this was felt as a victory for the Middle East," he said.
But Saudi Arabia's sporting ambitions go beyond football. Ronaldo's arrival comes against the backdrop of a push into golf, tennis, boxing and Formula 1. The Gulf kingdom's Dakar rally is a global event and the Saudi Cup is the world's richest horse race, with a purse of $20 million.
The Kingdom was also awarded, controversially, the 2029 Asian Winter Games in October 2022, to be hosted in its yet-to-be-built "city of the future", Neom.
Long criticised for its record on human rights, Saudi Arabia intends to use sport as a means of changing its image in the West as an ultra-conservative petro-monarchy.
Crown Prince Mohammed Bin Salman has been a pariah on the international stage since the murder of journalist Jamal Khashoggi by Saudi agents in October 2018.
"The Crown Prince Mohammed Bin Salman needs to restore his image. It's only recently been rehabilitated by the helping hand of the US, thanks to energy issues," Sader said.
But, according to Sader, Ronaldo's signing is also a wise move on the domestic level. "There is a lot of talk about 'soft power' on a geopolitical scale, but from an internal point of view, by offering the country a football league worthy of that name, [signing Ronaldo] is also a good way [for the royal family] to consolidate its power."