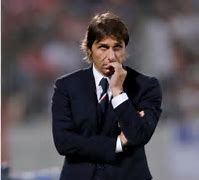 Antonio Conte describes Manchester United as a "powerful monster". Nevertheless, the Tottenham manager feels his team have precisely the weapons needed to slay the giant beast in its Theatre of Dreams.
"Manchester United always have the power," Conte said. "Even in the last 10 years, every season, they had the power to go into the transfer market and to invest big, big money.
"Two years ago, when they finished second, they went into the transfer market to sign Cristiano Ronaldo, Jadon Sancho and Rafa Varane from Real Madrid. This power is never finished at Old Trafford. Maybe the results were not at the same level as the investment. But United for the present and the future will always be a monster that you have to go to fight."
And those weapons? At times they have been rather to concealed for the purists' liking as Tottenham have counter-attacked their way to results. But in a call to arms which reflects the club's "To Dare is to Do" motto, Conte wants his side to head into Old Trafford brandishing "personality, football and ideas".
"It's not a good place for the opponent, there is a fantastic atmosphere," he warned. "But at the same time, it's a big theatre. You have to go there and play with personality, play your football, show your ideas. So, I'd like my team to go there and play with personality, with the desire to get three points. This will be a good step for us."
Big enough to lift them up behind Arsenal, whose only failure this season came at Old Trafford at the start of September.
"We know very well it will be difficult, Conte said. "United won against Arsenal and Arsenal are top of the league. They lost only that game at Old Trafford. At the same time, I want us to go there and aspire to have a good performance and try to have a good result."
Since Sir Alex Ferguson left, Spurs have actually clocked up 651 Premier League points compared to United's 630.
"We are talking about a top club with an amazing history," he said. "I lived as a player at Juventus during their best period. I saw this fantastic period at United. I knew through my agent that Mr Ferguson appreciated me a lot at that time – although you never know if the agent can tell you the truth or the lie!
"I didn't speak to him because then I wanted to stay in Juventus and to finish my career in Juventus."