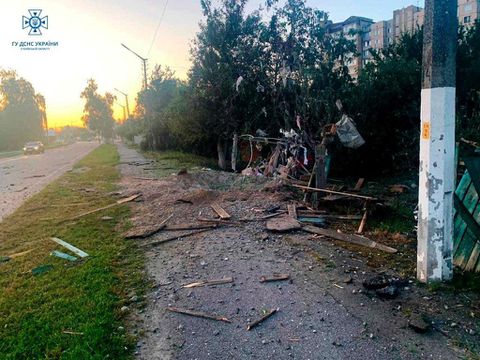 Russia launched 28 kamikaze drones on the southern port of Odesa and Kyiv in early hours of Tuesday, Ukraine's military said, just hours before the start of a Nato summit in Lithuania that will focus on how to tackle security threats from Moscow.
Ukraine's Air Force said that air defence systems shot down 26 of the Iranian-made Shahed drones that Russia launched. Over Odesa, 22 were downed and two drones hit an administration building in the port, the local governor said.
A grain and another terminal near the Odesa port caught fire, which was quickly extinguished causing no "critical damage" or injuries, Governor Oleh Kiper said on the Telegram messaging app. All drones sent towards Kyiv were intercepted, but debris damaged a number of houses in the region, the military said.
"The enemy attacked Kyiv from the air for the second time this month, Serhiy Popko, a head of Kyiv's military administration, said in a post on the Telegram channel. Reuters' witnesses in Ukraine's capital heard blasts resembling the sound of air defence systems intercepting targets during the air raid.
In the Kyiv region that surrounds the capital, 12 residential houses and one multi-storey building suffered minor damage by falling debris, the military head of the region, Ruslan Kravchenko, said on his Facebook page. There were no injuries reported.
The summit in Vilnius, which starts on Tuesday, will be dominated by the repercussions of Russia's invasion of Ukraine, with leaders set to approve Nato's first comprehensive plans since the end of the Cold War to defend against any attack from Moscow.
Russia berated the alliance and its leading power, the United States, over their support for Ukraine and has warned that Kyiv's potential membership of Nato would be met with a "clear and firm" reaction.
The Russian invasion on its neighbour, now in its 503rd day and with no end in sight, has killed thousands of people, displaced millions and turned many cities in Ukraine's east and south into piles of rubble.