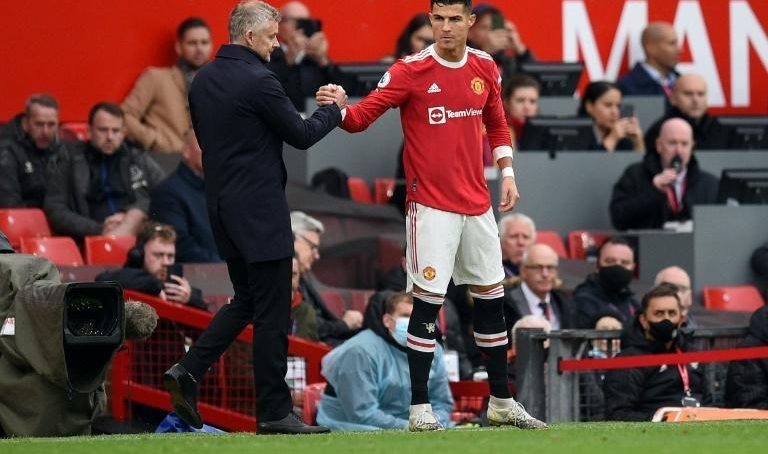 Take one look at Manchester United's Twitter account these days and supporters could be forgiven for thinking Cristiano Ronaldo's public relations team had staged a permanent takeover.
United's social media team are capitalising on the return of the most followed footballer on earth, with Ronaldo bringing goals and 600million loyal followers with him back to Old Trafford.
On the field, where it matters, things are running less smoothly. While Ronaldo's netted five times in six appearances since his return from Juventus, United's results have been mixed at best and they've accumulated just 14 points from their opening seven matches, having been handed a favourable-looking fixture list.
Beyond the results, the most worrying aspect of United's early season form is the collapse of the side's style of play. Although there's been a longstanding criticism of Solskjaer's failure to implement a consistent pattern, there's no doubt Ronaldo's arrival has exacerbated that problem.
Since replacing Mourinho in December 2018, Solskjaer has repeatedly stressed his desire for his side to replicate teams of the past. Solskjaer's words can often seem romantic and lacking in detail but he'd ideally like a fast-paced starting XI that could dominate possession by boxing opponents in and press man-for-man all over the pitch to win back the ball quickly when it's lost.
He has emphasised the need on countless occasions for his team to be the "fittest in the league."
Solskjaer compromised many of those beliefs with the signing of Ronaldo. United acquired Jadon Sancho for £73 million ($100.3 million) at the start of the window in a move that epitomised the club's refined transfer strategy. But the signing of Ronaldo was not planned, and a decision was only made once United got wind that rivals Manchester City were closing in on a deal.
The 36-year-old is no longer the swashbuckling winger that lit up Old Trafford during his first stint and while his scoring feats remain astonishing, he offers little outside of the 18-yard-box. No striker has completed fewer off-the-ball presses this season than Ronaldo, while the Portuguese is consistently bottom of the outfield players for distance covered over 90 minutes.
Clearly, Solskjaer feels that Ronaldo's scoring exploits offset those issues but it's his selections elsewhere that have worsened the problem and the Norwegian could learn a lot from a look at how Sir Alex Ferguson accommodated his prize asset.
In basic terms, Ronaldo was moved closer and closer to the goal during his first stint at Old Trafford, finishing his final season at the club as a centre forward having played on both flanks previously. The Portugal captain had become too potent in front of goal to keep him any distance away from it and playing him alone up front meant Ferguson could select more workmanlike players around Ronaldo to compensate for his lack of running.
Wayne Rooney – at the time one of the best players in world football – was played out of position on the left wing because Ferguson knew he would do the running that Ronaldo wouldn't. The former England captain was happy to give up personal glory because he knew Ronaldo would produce for the team.
In Ronaldo's final appearance of his first stint, Ferguson selected Rooney and Park Ji-Sung on the flanks to cover Ronaldo, leaving the likes of Dimitar Berbatov and Carlos Tevez on the bench in a 2-0 defeat to Barcelona in the European Cup final.
While United lost in Rome, it's worth remembering that they were favourites going into the final and that it took one of the finest performances in the tournament's history to stop the Red Devils winning a second consecutive Champions League.
Ferguson was happy to make alterations to the most successful side in United's history in order to accommodate Ronaldo, picking an extra man like Darren Fletcher in midfield against tougher opponents when his instinct would have been to remain with two in the middle of the park.
United had won the league playing scintillating football in 2007 and 2008 but the 2009 team that made it three in a row was more economical and more measured. It was a result of building the side around Ronaldo and it nearly paid off, with United coming within one game of becoming the first side in the modern era to retain the Champions League.