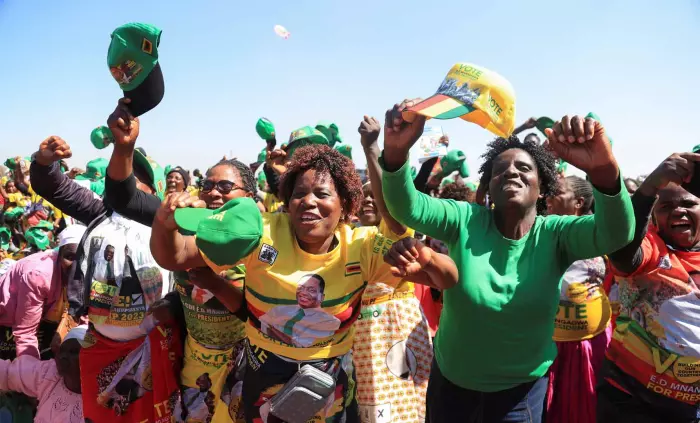 Zimbabwe went to the polls last week, weighed down by a cost-of-living crisis and rural food shortages, but the ruling party's 40-year grip on the electoral process suggested it was unlikely to lose power, analysts had predicted.
That's despite Zimbabwe's inflation rate being one of the highest in the world. It touched more than 175 per cent in June – boosted by a sharp depreciation of the local currency against the US dollar – before falling back to just over 100 per cent after the government took emergency action, including the introduction of a market-based exchange rate.
In the first week of August, the Consumer Council of Zimbabwe – a price monitoring watchdog – calculated the cost of a food basket for a family of six stood at ZW $2.6 million (about $570 at the official exchange rate) – twice the average salary of a teacher.
Ahead of last Wednesday's poll, the government had been releasing a steady stream of upbeat financial reports, touting the success of its economic stewardship. There are, however, questions over the reliability of the data.
In particular, it has trumpeted a bumper harvest – always a sensitive issue since land reform in the early 2000s disrupted agriculture and triggered a drop in private investment.
Although the government dished out free seed and fertiliser ahead of the planting season – firming up its rural support base – some farmers in parts of dry southern Zimbabwe have already exhausted their harvest and face "crisis" conditions, according to USAID's Famine Early Warning Systems Network (FEWS NET).
The World Food Programme has calculated that more than four million Zimbabweans – a quarter of the population – are currently not meeting their nutritional needs. The Global Hunger Index, a peer-reviewed annual report, ranks conditions in Zimbabwe as "serious" and the 13th worst globally.
Eddie Cross, an economist and former opposition legislator, questions the government's harvest numbers. "The commercial crop [this season] was well below the previous year, and the small-scale crop – while significantly larger – will not meet demand," he told The New Humanitarian.
At the Russia-Africa summit in St Petersburg last month, Russian President Vladimir Putin pledged 50,000 tonnes of free grain to Zimbabwe. While accepting the gift, Zimbabwean President Emmerson Mnangagwa insisted Zimbabwe was "food secure" and Putin was "just adding to what we already have".
In June, the well-regarded polling outfit Afrobarometer found that only two out of 10 people in Zimbabwe were "optimistic that things will improve in the near future". That chimes with a global happiness index released in May that listed Zimbabwe as "one of the most miserable countries" due to economic conditions.
Zimbabwe's main opposition party, the Citizens Coalition for Change (CCC), capitalised on that discontent. In the run-up to the elections, it made the cost of living crisis a central plank in its campaign, blaming the ruling ZANU-PF – in power for more than four decades – for running down a once-thriving, agriculture-driven economy.
Formed in 2022 by the telegenic Nelson Chamisa, CCC ("triple C" as it's known), had solid urban support. Chamisa, 45, however faced an uphill battle in trying to unseat Mnangagwa, an 80-year-old former spy chief, who had a direct role in some of Zimbabwe's most contentious elections.
Local rights groups have documented the trail of violence and intimidation aimed at CCC supporters. ZANU-PF also allegedly wields extraordinary influence over both the electoral commission and judiciary – fingers on the scale that have "grossly diminished" the chances of a free and fair election, according to Human Rights Watch.
Ibbo Mandaza, the convenor of the Sapes Trust think tank and policy dialogue forum, said there are additional serious concerns over both the accuracy of the voters roll, and the delimitation of constituencies that favours the ruling party. "It's so clear the process is flawed," he told The New Humanitarian. "The presidential vote is already stolen."
A shadowy pro-Mnangagwa NGO, the Forever Associates Zimbabwe, is also playing a high-profile role in voter registration – that many see as manipulation. Believed to be connected to the security services, it doles out free food at campaign rallies, and lets it be known it keeps tabs on would-be voters.
A dour Mnangagwa is, meanwhile, cultivating a cult of personality, with a raft of professional groups popping up to extol their support for him. However, he faced a serious challenge from within ZANU-PF before the courts intervened and ruled out the candidacy of former ruling-party stalwart Saviour Kasukuwere.
ZANU-PF has resources that CCC does not. "The capture of state structures means this election is not going to be a walk in the park," said Rashweat Mukundu, a media rights researcher. "CCC [was] working on the assumption that everybody is fed up with ZANU-PF and will vote for them, but people could very well just stay at home."
Zimbabwe's long-drawn-out economic collapse means millions of skilled Zimbabweans have already emigrated or are trying to find work abroad. "Young people have lost faith that anything will change," Mukundu says. "Their only plan is to get out of the country, and not come back."
ZANU-PF blames "sanctions" imposed by Western governments for its human rights abuses in the early 2000s, for much of the country's economic woes. It also has nearly $8.3 billion in arrears on bilateral and multilateral debt, blocking it from accessing concessional financing to fund desperately needed recovery.
An initiative is underway to try to end the country's isolation. Facilitated by Joaquim Chissano, former Mozambican president and the head of the African Development Bank, Akinwumi Adesina, the aim is to negotiate Zimbabwe's re-engagement with the international finance system in return for reforms on governance, land tenure, and compensation for former commercial farmers dispossessed by land reform.
The plan harkens back to 2017 and the tentative warming of relations between Zimbabwe and Western governments following the ousting of former president Robert Mugabe in a "military assisted transition" in 2017 – the coup that brought Mnangagwa to power after he had fallen out with his former boss.
There was dancing in the streets at the time, with the military greeted as heroes. Mnangagwa stood in the 2018 elections under a slogan the country was "open for business", buoying hopes for change and that a more democratic ZANU-PF – less hostile to domestic opposition – would emerge.
The honeymoon didn't last. When protests erupted over the results of the extremely close election, the security forces opened fire and killed at least six demonstrators.
Then, as now, the conduct of the poll is likely to determine Zimbabwe's relations – both regionally, and with the rest of the world. The election, which has already been adjudged by regional and international observers as rigged is likely to set back Chissano and Adesina's initiative, leaving Zimbabwe mired in hyperinflation and economic crisis.
Neighbouring countries such as South Africa had already raised concerns that political instability in Zimbabwe could trigger a fresh influx of refugees. That would have a bearing on South Africa's own elections next year – a contest in which migration from Zimbabwe is already deeply politicised.
For Mandaza, whatever the outcome of Wednesday's election, ZANU-PF will struggle to remain united. Whereas Mnangagwa had the support of the military to propel him into power in 2017, relations with the military hierarchy are now far more fraught, and there are deep fissures within a faction-prone ZANU-PF.
"I never imagined Mnangagwa would ever be able to turn things around [after 2017]," he said. "The system cannot reform itself; that's the bottomline."
A Tell / The New Humanitarian report