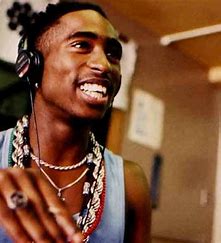 Tupac Shakur's suspected murderer is said to be facing "imminent charges" after the gangster boasted in a book he killed the rapper.
Las Vegas homicide detectives are now reportedly "optimistic" they have built enough evidence against Compton Crip gang leader Keefe D, 60, to finally close the Tupac case almost 27 years after the rap icon was fatally wounded and died six days after being shot four times on the Las Vegas strip aged 25 on September 7, 1996.
Insiders told The US Sun on Friday – August 18, 2023 – that "leading officers, with the backing of the district attorney", have "allegedly built a strong case against Keefe D", who has previously confessed to helping hunt down and assassinate Tupac.
The district attorney's office is due to present their case to a Las Vegas grand jury, two sources confirmed to the publication. One insider said a criminal case will be brought "imminently" and the district attorney "is looking at first degree murder potentially for Keefe D" based on Nevada law.
Keefe has given multiple interviews and written a memoir called 'Compton Street Legend' confessing to his role in the shooting of Tupac, and claims he rode in the car and handed nephew Orlando Anderson the murder weapon before he fired the fatal shots that killed the rapper.
If a grand jury decides that the evidence supplied is strong enough for them to suspect Keefe of being criminally guilty in any capacity for Tupac's death, the case will be able to proceed.
One source said: "The homicide team did not enter into this investigation lightly. They knew that the world would be watching if they took any action against Keefe. They do not want to make any missteps. One key aspect was building a strong case and file of evidence detailing how Keefe was one of the four suspects in the car, was pivotal in the actual murder, then the destruction of critical evidence.
The source explained further, "Keefe's own words and comments in his interviews and memoir obviously have him as potential murder suspect. But there is a lot more to the case than simply showing a jury those statements. The detectives have been piecing together as much information, evidence and witness statements about Keefe's role that night and actions afterwards."
Keefe has gloated so much about this that he has effectively talked himself into huge legal trouble, the source, who may have been part of the investigators, said.
"They have spent months pulling it together and continue to hunt down corroborating evidence and other possible witnesses for the grand jury."
Keefe claimed in his memoir Tupac appeared to be reaching for a weapon before the execution, but his side fired first, essentially killing the rapper.
A Tell and Agencies report