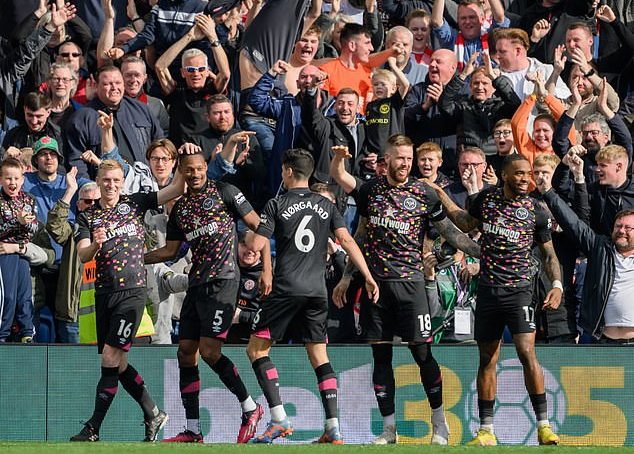 Brentford are the Premier League club overachieving the most while Chelsea and Liverpool are getting very little value for money, according to their wage bills in the latest accounts released for the past financial year.
Top flight teams had until the end of March to file accounts for the previous 12 months, which essentially covers the 2021-22 season. These figures have been collected via Companies House information and also from football finance expert Kieran Maguire.
Wage data for all teams bar Southampton and Leeds United was available and therefore their figures from the financial year covering the 2020-21 campaign have been used. It must be highlighted how this data covers last season and since then, Chelsea are one of several clubs to spend significant amounts in the transfer market with a Todd Boehly-backed splurge to the tune of almost £600 million.
Meanwhile, Newcastle have continued to invest heavily since being taken over by a Saudi-led ownership group, spending an estimated £170m on players like Nick Pope, Alexander Isak, Sven Botman and Anthony Gordon this season.
At the bottom of the table, Nottingham Forest have the lowest wage bill, but this is likely to have risen significantly after owner Evangelos Marinakis sanctioned spending of £160 million on 30 new players since they returned to the top flight.
To begin with, we collated a table of the league's wage bills with Forest's ranking 20th at £51 million, while Man United had the highest, spending a whopping £384 million salaries.
Out of teams that competed in last year's Premier League, Brentford had the lowest wage bill at £68 million, which ranked at 18th including the promoted sides Forest, Bournemouth and Fulham. Thomas Frank's side had the highest positional difference compared to their wage bill, as they currently sit ninth, meaning theirs was plus nine.
Brighton – who have plenty of similarities with Brentford having come through the leagues with a distinct style of play and gone onto upset the established elite – also perform well, with a plus eight positional difference as they sit sixth after having the 14th highest wage bill. Both sides continue to impress and are in the running for European football after fine campaigns. Fulham are also performing admirably in 10th compared to having the 17th highest wage bill.
However, the figures for promoted teams are slightly skewed with their wage data taken from their time in the Championship – with the amount they're spending on salaries likely to have increased significantly since promotion.
The figures are much more damning for Chelsea, with Frank Lampard's side having a wage bill of £333m – the fourth highest in the league as per last year's accounts – but they are languishing in 11th after a dismal season, giving them a minus seven positional difference.
These figures for the Blues are likely to be even worse when their accounts for the current season are released given their heavy spending. It is also grim reading for Liverpool who are down in eighth despite having the second highest spend on wages of £366 million – a minus six difference. It has been an expensive season for both clubs, with each point they've earned costing them £8.5 million.
Elsewhere, Leicester are enduring a tough campaign with Brendan Rodgers's former side in real danger of relegation in 19th, despite having the seventh highest wage bill. However, it must be acknowledged they have lived up to this high wage bill over recent years with fifth, fifth and eighth place finishes in the past three seasons.
The Foxes posted a loss of £92.5 million last year, which has no doubt been increased by the fact they've spent the equivalent of £7.3 million per point this year.
Using this metric of pound-per-point, Brighton and Brentford's success can be demonstrated again, with the Bees the best-performing side as they have an outlay of £1.6 million per point, while for Roberto De Zerbi's outfit it is £2.5 million.
Within the current top six, Arsenal's impressive season is evidenced even more as despite having the fifth highest wage bill, each of their 72 points have cost just £2.9 million.
Manchester City's wage bill is £142 million more than the Gunners, costing them a whopping £354 million – the third highest amount – and this means they are splashing out £5.5 million for every point they earn – almost £3 million more than their title rivals.
Newcastle are another one of the biggest overachievers with Eddie Howe's side in third while having the ninth highest wage bill, although as acknowledged earlier, these figures only cover one transfer window under their new owners and significant investment has since been put into the team.
Nevertheless, their £3 million per-point spend and positional difference of plus six are among the standout figures. Tottenham sit fourth, which is impressive given their wage bill is the sixth highest. Although for supporters who are critical of Daniel Levy's prudent spending, this is likely to only add fuel to the fire.
Their £4.2 million per-point is close to the average cost of a Premier League point across all 20 clubs which is £4.5 million. Moreover, in spite of their progress under Erik ten Hag this season, United's position in fifth is below par, given they have the highest wage bill in the league of £384 million – almost twice as high as leaders Arsenal.
Overall, the figures provide several fluctuations between wage bills and actual position. Crystal Palace are the only team to be in their 'expected' position, with the Eagles having the 12th highest wage bill and sitting in 12th after the weekend's victory against Leicester.
This gives hope to smaller clubs that in spite of bigger spenders elsewhere, it won't always guarantee success – and there are no better examples of that than Brentford and Brighton.