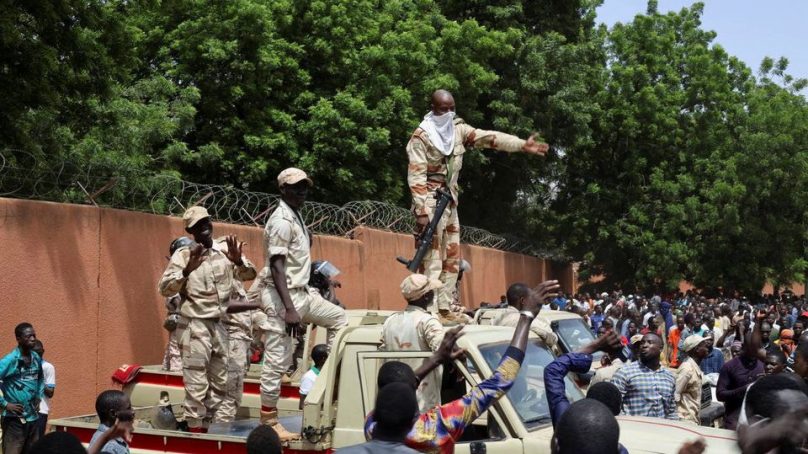 West African nations imposed sanctions and threatened force on Sunday if Niger's coup leaders fail to reinstate ousted President Mohammed Bazoum within a week, while supporters of the junta attacked the French embassy in Niamey.
The 15-nation ECOWAS bloc's response to the Sahel region's seventh coup of recent years came as crowds in Niger's capital Niamey burned French flags and stoned the former colonial power's mission, drawing tea gas from police.
At an emergency summit in Nigeria to discuss last week's coup, leaders of the Economic Community of West African States called for constitutional order to be restored, warning of reprisals if not.
"Such measures may include the use of force," their communique said, adding that defence officials would meet immediately to that effect.
Chad's President Mahamat Idriss Deby, who came to power in 2021 after a coup, met his Nigerian counterpart Bola Tinubu on the sidelines of the summit and volunteered to speak to the military leaders in Niger, two presidential aides told Reuters, asking not to be identified.
ECOWAS and the eight-member West African Economic and Monetary Union said that with immediate effect borders with Niger would be closed, commercial flights banned, financial transactions halted, national assets frozen and aid ended.
Military officials involved in the coup would be banned from travelling and have their assets frozen, it added.
Niger's prime minister under Bazoum's government, Ouhoumoudou Mahamadou, said ECOWAS sanctions would be disastrous because the country relies heavily on international partners to cover its budgetary needs.
"I know the fragility of Niger, I know the economic and financial context of Niger having been the finance minister and now prime minister," Mahamadou, who was abroad when the coup occurred, told France24 television from Paris.
"This is a country that will not be able to resist these kinds of sanctions. It will be catastrophic."
US Secretary of State Antony Blinken welcomed ECOWAS's action on Sunday.
"We join ECOWAS and regional leaders in calling for the immediate release of President Mohamed Bazoum and his family and the restoration of all state functions to the legitimate, democratically-elected government," said Blinken in a statement.
Similar sanctions were imposed by ECOWAS on Mali, Burkina Faso and Guinea following coups in those countries in the past three years.
Although the financial sanctions led to defaults on debt – in Mali in particular – such measures have tended to hurt civilians more than the military leaders who seized power in some of the world's poorest countries, political analysts say.
Timelines to restore civilian rule have been agreed in all three countries, but there has been little progress implementing them.
The military coup in Niger, which began unfolding on Wednesday, has been widely condemned by neighbours and international partners including the United States, the United Nations, the African Union, the European Union and former colonial power France.
They have all refused to recognise the new leaders led by General Abdourahamane Tiani.
Niger has been a key ally in Western campaigns against insurgents linked to al Qaeda and Islamic State in the Sahel, and there are concerns that the coup could open the door to greater Russian influence there. Thousands of French troops were forced to withdraw from neighbouring Mali and Burkina Faso following coups there.
Niger is one of the poorest countries in the world, receiving close to $2 billion a year in official development assistance, according to the World Bank.
The United States, France, Italy and Germany have troops there on military training and missions to fight Islamist insurgents. Niger is also the world's seventh-biggest producer of uranium, the radioactive metal widely used for nuclear energy and in nuclear weapons, as well as for treating cancer.
Ahead of the summit, Niger's junta had warned that ECOWAS was considering an imminent military intervention in collaboration with other African and some Western nations.
"We want to once more remind ECOWAS or any other adventurer, of our firm determination to defend our homeland," junta spokesperson Colonel Amadou Abdramane said.
At their invitation, thousands of people rallied in the capital on Sunday, some heading to France's embassy.
"We are here to express our discontent against France's interference in Niger's affairs. Niger is an independent and sovereign country, so France's decisions have no influence on us," said protester Sani Idrissa.
Similar to events in neighbouring Burkina Faso in September last year following a coup, some protesters tried to climb the embassy walls, while others stomped on burning French flags.
They were dispersed by Niger national guard.
France condemned the violence and said anyone attacking its nationals or interests would face a swift and stern response.
"The era of coups d'etat in Africa must stop. They are not acceptable," French foreign minister Catherine Colonna told RTL radio, adding that the situation had calmed by the afternoon and no evacuation of French citizens was planned.
The European Union and France have cut off financial support to Niger and the United States has threatened to do the same.
Sunday's ECOWAS communique thanked nations in line with the bloc's stance but "condemned the pronouncement of support by foreign governments and foreign private military contractors."
Russia's Wagner mercenary boss Yevgeny Prigozhin, who remains active despite leading a failed mutiny against the Russian army's top brass last month, has hailed the coup as good news and offered his fighters' services to bring order.
– A Reuters report