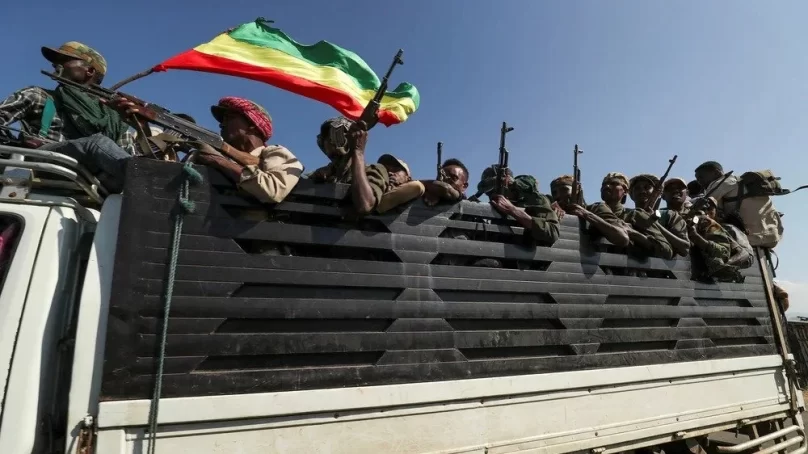 A month ago, there was hope for a peaceful resolution to Ethiopia's Tigray conflict. A truce in place since March had allowed sorely needed aid to reach the region's beleaguered population, and both sides were indicating their willingness to negotiate.
That truce now lies in tatters. On 24 August, fresh fighting erupted between forces led by the outlawed Tigray People's Liberation Front (TPLF) and Ethiopia's federal military in the Raya Kobo area of the Amhara region, south of Tigray.
Since then, the fighting has spread to other fronts. There have been clashes in Amhara's Wag Hemra zone and battles along the Tekeze river that separates western Tigray from the rest of the region.
The most significant escalation came last week, when neighbouring Eritrea launched a full-scale offensive into north Tigray after mobilising its reserves and massing its troops for weeks. In response, the TPLF called on "every single Tigrayan" to make themselves "fully available for the all-round war we are waging".
Earlier this month, Eritrean and Ethiopian forces captured Sheraro, in northwestern Tigray, although a Tigrayan counterattack to reclaim the town appears to be underway, with heavy fighting reported in the area. According to diplomats in the Ethiopian capital, Addis Ababa, Eritrean troops are also present in the Afar region, near Berhale, east of Tigray. And there is a build-up of federal Ethiopian units in the Afar-Tigray border town of Abala. Both Berhale and Abala are within striking distance of Mekelle, Tigray's regional capital, which has been pounded by air attacks.
Voices urging peace have been muzzled. A meeting of civil society groups calling for a truce was broken up this month by security forces, and journalists have been locked up for questioning the public's appetite for more war.
The renewed conflict has also deepened Tigray's humanitarian emergency. Half the 5.5 million population were already in "severe" need, and aid deliveries into the region have been halted since August.
On Monday, the World Food Programme said one of its trucks had been hit by shell debris while transporting aid supplies to newly displaced people in the Zana district of Tigray. A few hours later, the federal government, which has long accused the WFP of supplying the TPLF, issued a statement claiming that the rebel group has been transporting its fighters in trucks "illegally painted" with UN logos.
At least 300,0000 people have been newly displaced by the fighting, a UN official told The New Humanitarian. Aid workers have been able to carry out small-scale distributions in areas away from the battle-zones, using food that was already in the region, but these supplies are close to depletion.
"The humanitarian situation was already dire before the resumption of hostilities," said the UN official, who asked not to be named so they could speak freely. "It is hard to get information out, but now we assume it is only getting worse."
This briefing explores what we know so far about the resumption of hostilities, and the chances of finding a way back to the negotiating table.
What was the status quo? The Tigray conflict first broke out in November 2020, with federal Ethiopian and allied Eritrean troops quickly taking Mekelle and occupying the region. Faced with this offensive, the TPLF melted into the mountains and launched a hit-and-run guerrilla campaign that ground down the federal military. The group was eventually able to recapture most of Tigray in June 2021.
The TPLF then went on the offensive, pushing into the Afar and Amhara regions and coming within 200 kilometres of Addis Ababa late last year. But drone strikes against their overstretched supply lines, combined with a counterattack by the federal military and allied regional militias, forced the TPLF to withdraw to Tigray in late December.
Much of that fighting took place beneath the blanket of one of the world's tightest communication blackouts. This round is no different. Phone lines and internet connections are down in the areas affected by the war, making it hard to track its course.
Despite this, it appears that the Tigray forces have so far largely been able to resist the offensives against them. "They have dug in and were ready for this," said a diplomat, who spoke on condition of anonymity. It is unclear, however, whether they have the arms, ammunition, and other supplies needed to sustain their efforts – and to beat back Eritrea's new offensive.
On September 11, the Tigray leadership issued a statement to mark Ethiopian new year that said they were ready to abide by an immediate ceasefire and enter peace talks under the African Union (AU). The federal government has yet to respond.
The truce in March was declared unilaterally by Ethiopia's federal government at a time when the international community was distracted by the outbreak of Russia's war in Ukraine. The TPLF reciprocated with a statement committing to abide by what it called a "cessation of hostilities".
Crucially, however, no formal deal was ever struck. The truce existed as a gentleman's agreement: nothing was written down; no monitoring mechanisms were put in place; and no venue was agreed for proper talks.
The federal government insisted on a process mediated by the AU's Horn of Africa envoy, former Nigerian president Olusegun Obasanjo. But the TPLF rejected Obasanjo as too close to Ethiopian Prime Minister Abiy Ahmed. Instead, they called for talks in Nairobi, overseen by Kenya and the United States.
Obasanjo previously led the AU monitoring mission that certified the results of Ethiopia's June 2021 election – which excluded Tigray – and gave Abiy's newly formed Prosperity Party a landslide victory.
"It's an opportunity that has been squandered."
The New Humanitarian report