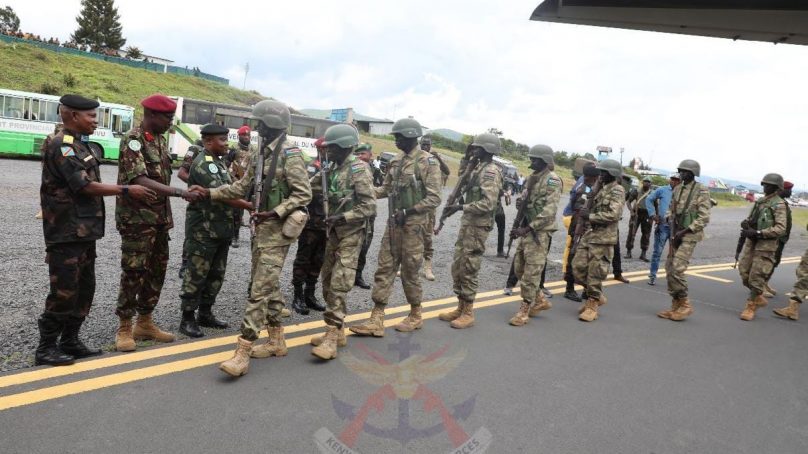 Kenya Defence Forces airlifted and provide other logistic support to a South Sudan contingent of troops bound for Democratic Republic of Congo (DRC) as regional co-operation in the quest for peace in the central African nation.
An advance party of the South Sudan People's Defence Forces (SSPDF) troops and logistics, under the East African Community Regional Force (EACRF), were flown to Goma aboard two Kenya Air Force Spartan CJ27 military aircraft.
In Juba, where the airlift tasking originated, South Sudan President Salva Kiir, in a statement read by Minister of Defence and Veteran Affairs General Chol Thon, expressed confidence in SSPDF troops under EACRF, carrying out their mission professionally, as they are well trained and oriented.
A day after the South Sudan contingent touched down in Goma EACRF Deputy Force Commander Brig-Gen Emmanuel Kaputa in the company of Kenyan Contingent Commander Colonel Daniel Rotich and force headquarters staff officers received additional troops at the same airport.
The deputy force commander implored them to work closely with colleagues in the joint operations area toward realising peace and stability.
"We have a mandate and mission as EACRF and must work toward its accomplishment," said Kaputa said.
The SSPDF deployment marks the final deployment phase for EACRF troops in eastern DRC as directed by an EAC Heads of extraordinary summit in February.
The SSPDF will deploy to Rumangabo forward operating base where they will be co-located with the Kenyan contingent.
The full deployment of EACRF will enhance sequenced and orderly withdrawal of M23 to designated cantonment areas a Kenya Defence Forces statement said with protection of civilians and opening up main supply routes as priority taskings.
Supporting the disarmament, demobilisation, community recovery and stabilisation programme (P-DDRCS) of all armed groups in Eastern DRC is also on the to-do list for EACRF.