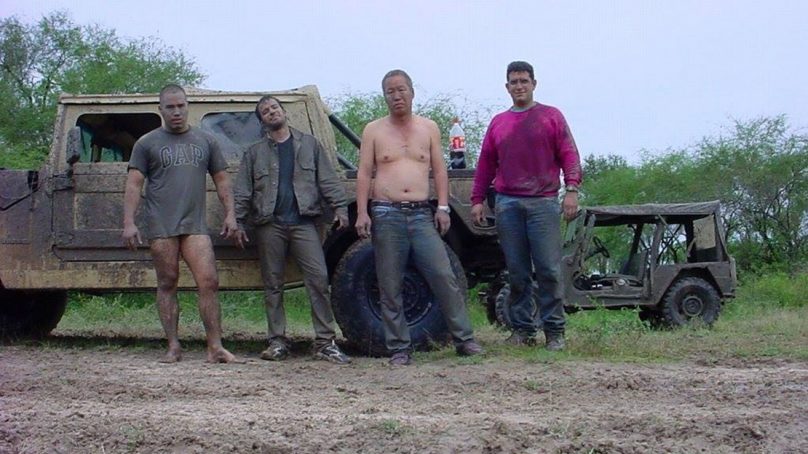 The church grew quickly after its founding in the 1950s, expanding into the United States in the 1970s amid a wave of alternative religions. Moon and his wife Hak Ja Han Moon – known as the "True Parents of all humanity" – became famous for their mass weddings, in which they would marry thousands of believers, many of whom had just met for the first time.
Moon built a global empire, investing in everything from fishing and gun manufacturing to real estate and media. Some businesses failed, but many thrived. He grew rich.
In 1982, he was convicted of US tax fraud for failing to declare $162,000 as personal income. He served about a year in prison. The conviction soured Moon on the United States. In a 1995 speech, he described it as "a nation in decay," and said he was instead betting on "the glory-filled days of Latin America that lie ahead in the 21st Century."
In 2000, after snapping up assets in Uruguay and Brazil, Moon purchased the Chaco terrain from Carlos Casado SA, an agricultural giant named after its founder, a 19th-century Spanish-Argentine magnate.
The acquisition handed the church full control of Puerto Casado, a small company town built to house Carlos Casado employees who for decades had toiled in semi-feudal conditions processing tannin from the Chaco's native quebracho trees.
Overnight, everything in Puerto Casado – its houses, roads and cemetery – all belonged to Moon and his church. Anger quickly mounted as the town's 6,000-odd inhabitants realised the homes they had lived in their entire lives, but never owned, now belonged to a self-proclaimed messiah from Korea.
When church executives flew in to close the deal, locals formed a human chain to block their plane from leaving, forcing them to sleep the night in the aircraft. Early church gestures to assuage tensions, such as an offer to hand back control of the cemetery to the town's inhabitants, only caused greater outrage.
Its administrators also stoked resentment. Locals recalled one church official, Lorenzo Myung, who would walk around town armed with a shotgun. His son, known as Lorenzito, "was even worse … because he was more aggressive," menacing locals if they looked him in the eyes, said Martin Rodriguez, an 87-year-old Spanish priest who first arrived in Puerto Casado as a Salesian missionary in 1980.
Rodriguez and other locals accused the Myungs of involvement in a 2005 blaze that burned down the local radio station, housed in the town's Catholic Church, which served as the main mouthpiece of opposition to the Korean ownership.
Dora Irrazábal, a prosecutor who led the probe into the blaze, said the townspeople and church management were "at war" when she arrived in Puerto Casado. She said Lorenzo Myung, whom she recalled as an "aggressive" man, accused locals of stealing church property but provided no evidence. Locals, meanwhile, accused Irrazábal of being a church stooge after she flew in on a church plane.
"It was a tense moment," she said.
Irrazábal said investigators found signs of arson but did not have sufficient evidence to charge anyone. The case remains unsolved.
Neither of the Myungs responded to requests for comment sent to their Facebook accounts. Byun, the church lawyer, acknowledged the tensions with locals in Puerto Casado but declined to comment on the Myungs or the fire.
The town's early squabbles with the church have evolved into a fraught, two-decade land dispute.
In 2005, Paraguay passed a law to expropriate 52,000 hectares of unproductive church land, but the measure was overturned two years later by the Supreme Court. A 2007 law obliged the church to donate nearly 30,000 hectares back to the people of Puerto Casado and the Paraguayan government, but the transfer has yet to take place.
One protester of the church's ownership of the Chaco terrain is Alberto David Gauto, who is currently in jail as authorities investigate him on accusations of illegally invading and occupying Moon-owned land.
A police intelligence report obtained by Reuters shows Gauto is also suspected of moving cocaine, marijuana and explosives across northern Paraguay, another sign of the growing drug trade on church land. Gauto, the document says, claimed to a police informant that he had received training from Colombia's FARC guerrilla force.
Gauto didn't respond to a Facebook message. His lawyer, Emilio Camacho, also didn't respond.
The church's problems in the Chaco were symptomatic of broader hurdles it has faced over the last two decades.
In 2009, a dynastic war over the future of the church led Moon's eldest surviving son, Hyun Jin (Preston) Moon, to form the break-away Global Peace Foundation. Moon had originally named Preston as heir, but that choice was rejected by his mother, Hak Ja Han Moon, and brother Hyung Jin (Sean) Moon, who forced him out. Hak Ja Han then elevated Sean to senior positions, only to later fall out with him, too, according to Massimo Introvigne, director of the Centre for Studies on New Religions, in Turin, Italy.
Following the death of his father in 2012, and amid growing tensions with his mother, Sean Moon left the church to form the Pennsylvania-based World Peace and Unification Sanctuary, also known as the Rod of Iron Ministries, a pro-gun sect with an extreme right-wing ideology.
The schisms have impacted operations in Paraguay, where the branch led by Preston Moon has been embroiled in a complex legal battle to wrest full control of the Chaco plot from the church's Paraguayan chapter, affiliated with his mother. Currently, both branches own separate portions of the property.
Preston Moon declined to comment.
Sean Moon said in a statement that his father meant for him to inherit "his entire foundation, including the Chaco property." He said he was unaware of the drug-running in the Chaco but called it one of the many "tragic consequences" of his mother's "usurpation of the worldwide foundation built by my father."
Byun, Hak Ja Han Moon's legal representative in Asunción, said the church had been unfairly "demonized" by local media. But she said it was "undeniable" that the family feud had had "a negative impact" on Rev. Moon's "futuristic vision" for the Chaco.
"Unfortunately, the internal family crisis between the True Parents and one of the sons, namely Preston, projected a bad image of the church that it has not been able to improve," Byun said.
While the Moons tussle for control of the Chaco property, drug traffickers increasingly encroach on the territory, according to residents of Puerto Casado.
Virgilio Chamorro, a foreman at the town's sawmill, said cocaine trafficking in the region was an open secret. Puerto Casado, he said, "has become the heart of it."