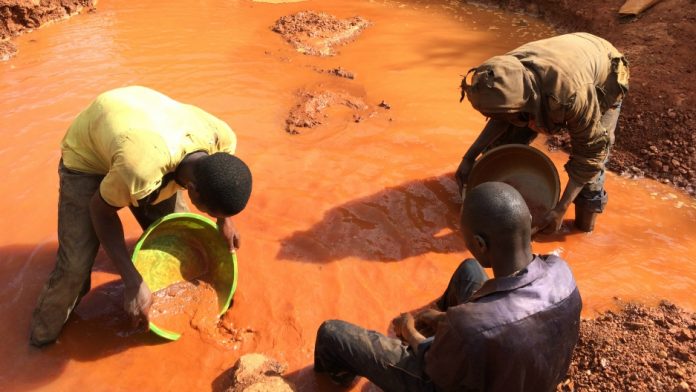 Under US law, gold from the Democratic Republic of Congo (DRC) and its neighbours is considered a "conflict mineral," meaning companies publicly traded in the US are required to report to the Securities Exchange Commission if they might be using gold mined in conflict areas, but there's no sanction for doing so.
A June report by UN experts found that much of the illegal gold trade in Congo is overseen by armed groups or soldiers, who traffic it across the borders or fly it directly to Dubai using forged documents to obscure its origin.
Sasha Lezhnev, policy consultant for Washington-based anti-corruption group, The Sentry, said that refiners trading in conflict gold aren't being held publicly accountable by the UAE.
"Dubai is the linchpin for change in the gold trade in East and Central Africa," he said.
Smuggling is also troubling the government in Nigeria, where most minerals are extracted by at least 100,000 informal miners whose operations are difficult to regulate and tax. Formal gold production totalled just 1,288 kilogrammes last year, almost all of which went to Dubai, according to Nigerian government data.
Efforts are being made to formalise the industry. Fatima Shinkafi is head of the Presidential Artisanal Gold Mining Initiative, which has registered 10,000 informal miners and is developing a supply chain whereby their output will be sent to LBMA-certified refineries in Europe, processed and transferred to the central bank to boost Nigeria's foreign reserves.
Adegbite, the mines minister, wants to work with the UAE to combat smuggling, and says he even proposed to his government that it split the proceeds "50-50" with the Emirati authorities of any undeclared Nigerian gold recovered. The UAE Ministry of Economy and the Ministry of Foreign Affairs and International Cooperation didn't respond to emailed requests for comment on the minister's proposal.
In Sudan, more than two million small-scale miners produce some 80 per cent of the nation's gold. They are paid about a quarter less for what they extract than it would fetch on international markets and are charged a $64 tax on each ounce of output, which encourages some to bypass official trading channels.
Some of Sudan's internal trade happens in a dank six-story building in downtown Khartoum, the capital, where men melt rough nuggets into bars and dealers can be seen exiting the premises carrying piles of cash wrapped in cling film. Illicitly traded gold is flown to Dubai through the porous international airport or trafficked into neighbouring Egypt, Ethiopia and Chad, according to industry experts.
Political upheaval has frustrated efforts to ensure Sudan's people benefit from its mineral endowment. Dictator Omar al-Bashir was toppled in a popular uprising in 2019, then a transitional government was overthrown in an October 25 (2021) coup as the military reasserted itself.
The security forces have set up road blocks between mining areas and Khartoum to combat smuggling. But controls remain woefully inadequate, according to Dafalla Idriss, the deputy chair of a panel in River Nile state set up to freeze assets plundered by the al-Bashir regime.
"There is corruption inside all government institutions," he said. "The gold that leaves the country is getting past everyone."
– A Bloomberg News report