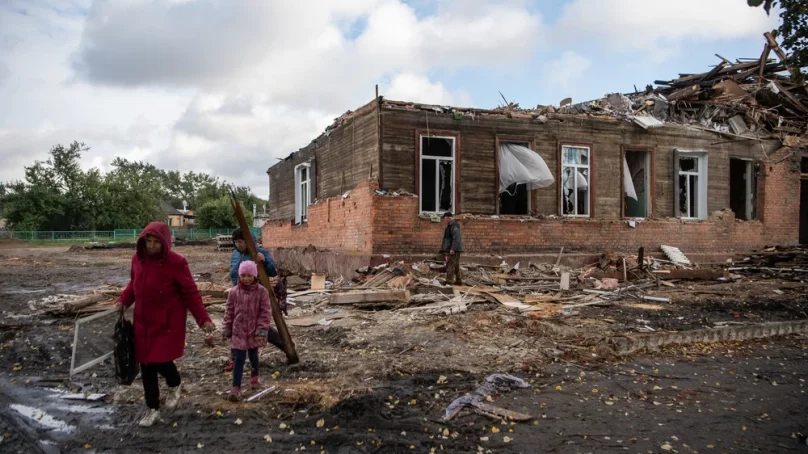 Much of the aid in east Ukraine is being provided to people who remain in recently liberated areas is distributed by a decentralised network of volunteers and ad hoc aid groups.
The groups – such as Volonter68 – started by husband and wife Serhiy and Galina Kharlamova, aged 52 and 50 respectively, are overwhelmed.
Based out of the northeastern city of Kharkiv, the organisation has about 40 volunteers and runs a hotline that people in need of aid or evacuation can reach out to. But its resources are limited, relying on financial and in-kind donations from individual donors online and foreign foundations.
Volunteers use their own vehicles to deliver donated items one to two van loads at a time. There is no way Volonter68 – and other similar groups – can keep up with the vast scale of needs across the Kharkiv region as winter sets in.
We accompanied Serhiy on an aid delivery to the town of Vovchans'k, about six kilometres from the Russian border to the northeast of Kharkiv. Vovchans'k, which had a pre-war population of about 17,000, was relatively unscathed by fighting. But only a fraction of inhabitants remained, emerging cautiously from their homes when they heard an aid delivery had arrived.
Families with children and the elderly stood in line waiting to receive packages of bread, vitamin bottles, and rations from World Food Programme (WFP) that Volonter68 was given by a larger, more established Ukrainian NGO: As a start-up, volunteer organisation it doesn't meet the WFP's criteria to be a direct partner.
As the distribution wound down, it became clear that the level of need in Vovchans'k exceeded what Volonter68 had on hand – dozens of people waiting in line were left disappointed.
Residents of Vovchans'k, Ukraine – just six kilometres from the border with Russia – receive aid packages from the volunteer group Volonter68. Need in the town outstripped what the volunteers had on hand.
In another recently liberated village where the group distributed aid, Serhiy said Russian soldiers took the residents' food, including their livestock, during the occupation. "People had to hide their chickens inside their homes," he said.
Many people who live in the countryside have their own vegetable plots, fruit trees and wells for drinking water. And Ukrainians – even in cities – frequently pickle and preserve fresh produce during the summer to save it for the winter.
These traditions have proved to be life-saving for many people who lost their sources of income and access to supplies.
In the tiny village of Hodoryava, we met an 84-year-old woman who gave her name as Baba Shura, or "Granny Shura".
The village was home to about 60 people before the war, but only around 15 remain. Her children live in a nearby small town and had urged her to leave for Kharkiv city. But like many Ukrainians who live in rural areas, especially the elderly, she refused.
After all, she said, she had worked three decades in a railway station to buy her home and land, so she wasn't about to leave it all behind.
When Ukrainian soldiers liberated the village, soldiers stopped by her house and asked to buy eggs and potatoes. She gave it to them for free. "It was like having your children come home," she said.
But homegrown vegetables can only go so far, and supplies will likely run low this winter, with planting, harvesting, and pickling interrupted by the war. Recently, when Volonter68 distributed aid to residents in liberated villages, "they trembled [with excitement] when they saw the bread we were giving them," Serhiy said.
Perhaps the single biggest concern in recently liberated areas – and across Ukraine – is how people will keep warm when winter begins to set in starting next month.
"The upcoming winter will be one of the harshest Ukrainians are ever going to face," European Commissioner for Crisis Management Janez Lenarčič warned last month. "In addition to Russia's ruthless attacks, Ukrainians will be threatened by freezing temperatures due to damaged housing and heating systems."
In normal times, people in rural areas burn firewood in stoves and furnaces for heating. But even the entrepreneurs who cut wood from forests and sell it by truckload aren't able to work this year: The forests are mined and likely littered with other dangerous unexploded ordnance.
To the east of Kharkiv, in the liberated village of Vasylenkove, Svitlana Vasilaynia, 59, and Serhiy Vladimirovich, 67, sat on a bench outside the walls of their home petting their cats, not far from the school where the Russian soldiers had set up their base in the town.
"We can't buy any wood because we don't have money, and no one is selling any because it's too dangerous. We are hoping for God's plan."
Before the war, the village had about 300 residents. Only around 100 remain, living without power. Surprisingly, the gas was still on. Svitlana and Serhiy said the Russian authorities had reconnected the gas lines after an outage early in the occupation. But they didn't know how long the supply would last.
"Our biggest problem is wood, because winter is coming," Svitlana said. "We can't buy any wood because we don't have money, and no one is selling any because it's too dangerous. We are hoping for God's plan."
In an attempt to help, international organisations are distributing winterisation kits containing blankets and other items. Volonter68, meanwhile, has partnered with a metal shop in Kharkiv making small, indoor wood stoves at cost. But the volunteer group has only been able to purchase five so far, and there's still no solution to the wood supply problem.
Even though authorities are urging them to leave, some villagers in liberated areas are determined to stay. "We survived under occupation, and we will survive now," said Vasily Pisarenko, a 74-year-old Izium native who remained in the town throughout the occupation. "This is my land. Where would I go? No one is waiting for me anywhere [else]."
The New Humanitarian report