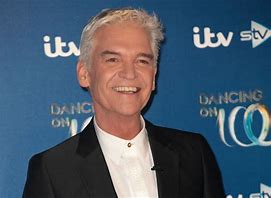 Britain's ITV has said it investigated "rumours" of an affair between Phillip Schofield and a younger employee but it was repeatedly denied by the pair.
Schofield, 61, quit ITV on Friday after admitting to an affair with a younger male employee at the corporation whilst still married to his wife of 30 years.
The former This Morning presenter said it had been an "unwise, but not illegal" affair and that he had lied to ITV about the relationship with the ex-colleague. ITV said it was "not provided with, and did not find, any evidence of a relationship beyond hearsay and rumour" when it looked into the matter in 2020.
Adding, "ITV can confirm that when rumours of a relationship between Phillip Schofield and an employee of ITV first began to circulate in early 2020 ITV investigated. Both parties were questioned and both categorically and repeatedly denied the rumours as did Phillip's then agency YMU."
The statement said, "In addition, ITV spoke to a number of people who worked on This Morning and were not provided with, and did not find, any evidence of a relationship beyond hearsay and rumour.
"Phillip's statement yesterday reveals that he lied to people at ITV, from senior management to fellow presenters, to YMU, to the media and to others over this relationship."
Schofield's statement continued: "I am painfully conscious that I have lied to my employers at ITV, to my colleagues and friends, to my agents, to the media and therefore the public and most importantly of all to my family," he told the paper.
"I am so very, very sorry, as I am for having been unfaithful to my wife. I have therefore decided to step down from the British Soap Awards, my last public commitment, and am resigning from ITV with immediate effect expressing my immense gratitude to them for all the amazing opportunities that they have given me."
The statement further said, "I will reflect on my very bad judgement in both participating in the relationship and then lying about it."
Schofield, who had co-presented This Morning with Willoughby since 2009, said last week he decided to leave the show because it had "become the story". He started at This Morning in 2002 as a temporary presenter before becoming a permanent fixture at the show.
Fern Britton, his original co-host, quit the programme in 2009, with Britton replaced with Willoughby.
Schofield's wife, Stephanie – who shares two children with Phillip – previously stood by him when he revealed in 2020 he was gay on ITV after 27 years of marriage.
An Evening Standard report