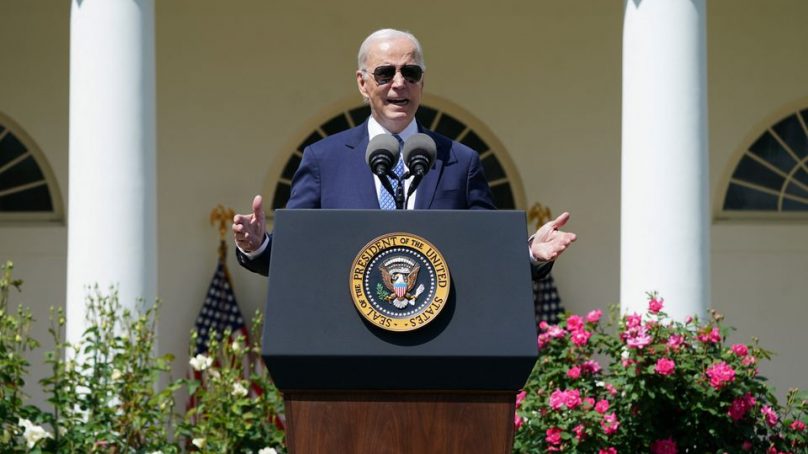 US President Joe Biden is pairing the veteran advisers who helped him win the White House once with a newer generation of diverse leadership for his 2024 re-election campaign.
Biden aides see former President Donald Trump as the early front-runner for the Republican nomination, as do most Republican voters, polls show.
Biden aides say they take the challenge of running against Trump seriously, but feel they have the playbook to beat him again, including courting the support of Black and Latino voters and winning states that once were Republican strongholds. Biden won 306 electoral college votes, 74 more than Trump, and over 7 million more popular votes than Trump when he beat him in the 2020 election.
The White House and Democratic National Committee (DNC) declined to comment on upcoming personnel announcements for the 2024 campaign.
Some key campaign staff and advisers are known:
Biden will appoint Julie Chavez Rodriguez, a senior White House official, to run his campaign. She will coordinate with White House senior advisers and oversee an operation likely to spend over $1 billion and hire hundreds of full-time employees.
A prominent Latina political adviser, she is a granddaughter of the late labour leader Cesar Chavez, was a deputy campaign manager for Biden in 2020, and advised Vice President Kamala Harris when Harris was seeking the Democratic presidential nomination.
She is currently the director of the White House Office of Intergovernmental Affairs. Latino voter outreach is essential, as Democrats worry the critical swing-state voter base is deserting the party.
Chavez Rodriguez' contacts with local and state governments will help the campaign build from scratch in more than a dozen key swing states.
Biden is pairing Chavez Rodriguez with deputy Quentin Fulks, who ran state campaigns in the crucial battleground of Georgia, a former Republican stronghold that helped cement Biden's 2020 election win. Fulks, who is Black, ran Georgia Senator Raphael Warnock's 2022 re-election campaign that handed Biden's Democrats control of Senate.
He has been a strategist for the abortion rights political action committee EMILY's List and worked for the primary Democratic committee that supports House of Representatives candidates.
A senior White House adviser and one of the president's longest-serving confidants, Mike Donilon was a top aide to Biden during his 2020 election and helped develop the message that Biden used to defeat Trump.
Then, Biden ran on "restoring the soul of the nation," warning of the threat he felt Trump posed to civility and American democratic norms.
That message, crafted nearly two years earlier, was pitched perfectly for US political dynamics in November 2020, Biden aides say in retrospect. In fact, Biden repeated it in a campaign video announcing his reelection plans Tuesday. Donilon is also an expert on polling and political advertising.
The White House counsellor to Biden, Steve Richetti, served as a legislative aide to former President Bill Clinton and as chief of staff to Biden during his vice-presidential years.
A long-time Washington lobbyist, his personal relationship with the president means he's likely to be part of a small group of people in the room when serious choices are made. He is likely to weigh in on policy given his role in congressional negotiations as well as personnel and organizational matters.
Former White House communications director Kate Bedingfield and current deputy chief of staff Bruce Reed, also part of Biden's inner circle during the campaign, are expected to advise the president.
Michael Tyler, a Democratic communications veteran who worked for one-time presidential contender Senator Cory Booker and the DNC, is being considered for campaign communications director.
He also advised a LeBron James-led political group focused on increasing Black voter engagement in the 2020 election. More recently, he was a leader of the close but ultimately unsuccessful bid by Atlanta to host the 2024 Democratic convention.
The deputy White House chief of staff Jen O'Malley Dillon, the campaign manager behind Biden's 2020 success, is expected to be heavily involved in the 2024 race.
The first female presidential campaign manager for a winning Democratic ticket, O'Malley Dillon reinvented the 2020 campaign for the Covid pandemic and mapped out Democrats' unexpected wins in Arizona and Georgia.
A senior White House adviser, long time Washington lobbyist and former communications director for President Barack Obama, Anita Dunn is expected to help direct strategy.
She is credited with helping Biden reboot both staff and direction after he was walloped in the first two primary races of the 2020 Democratic primary race, in Iowa and New Hampshire. She helped change the narrative from broke to inevitable after his decisive win over frontrunner Bernie Sanders in South Carolina.
Klain, the White House chief of staff until early this year, has run debate prep for every Democratic candidate since 2004. He is considered a key conduit to progressive groups and lawmakers, who have sometimes doubted the commitment of centrist Biden to issues they care about.
First Lady Jill Biden is expected to be a popular surrogate for her husband on the campaign trail and a close adviser on strategy, personnel and communications. Joe Biden's sister, Valerie Biden, is also expected to have the president's ear.
His chief of staff, Jeff Zients, who schedules his time as president, will likely play an important behind-the-scenes role.
Other names being discussed for roles in the campaign include White House digital strategist Rob Flaherty, 2012 Obama campaign veteran Mitch Stewart, Michigan Governor Gretchen Whitmer's 2022 campaign manager Preston Elliot, according to a person familiar with the matter.
Biden picked an initial list of seven campaign co-chairs, who are also prime spokespeople and advisers to the campaign. The list was dominated by lawmakers closely aligned with Biden, including Representatives Lisa Blunt-Rochester, Veronica Escobar and Jim Clyburn.
Clyburn's late endorsement of Biden's sagging primary campaign in South Carolina is credited as a key moment that helped him secure the party's nomination in 2020.
Biden is also tapping Senators Chris Coons, Tammy Duckworth and Michigan Governor Gretchen Whitmer. He had considered Duckworth and Whitmer as vice-presidential nominees during his last campaign. Former Disney executive Jeffrey Katzenberg, a major Democratic fundraiser, rounded out the list.