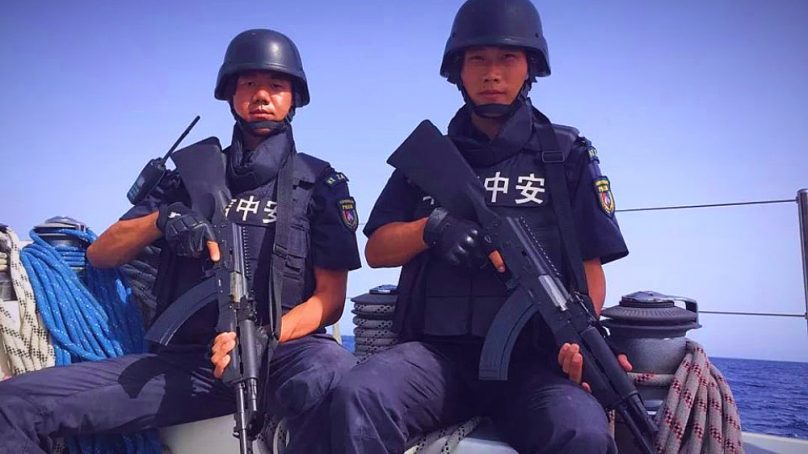 The Hong Kong-listed Frontier Services Group (FSG), one of the largest Chinese players in Africa, is wholly owned by CITIC Group, the Chinese state-run investment company.
But while Chinese private security companies (PSCs) have the support of the state, they remain a sensitive topic politically, something that was evident in the reporting of this article. The Globe contacted almost a dozen Chinese PSCs, which operate overseas, none of which would agree to an interview.
One representative said that "I would have talked to you immediately if you were Chinese media," but said an interview with a foreign reporter would have to be cleared by his superiors. They eventually chose not to comment.
This could be because of what Helena Legarda, a senior analyst at the Berlin-based Mercator Institute for China Studies (Merics), describes as the "interests of Chinese SOEs operating overseas [clashing] with the interests of the Chinese Communist Party."
"Blackwater comes up a lot in Chinese writing on the issue of [PSCs] as an example of what not to do," she said, referring to the Nisour Square massacre of 2007, when employees of the US military contractor Blackwater fired on a crowd while escorting a US embassy convoy in Iraq, killing 17 civilians.
The incident was devastating both for Blackwater's reputation (the company has since rebranded twice) and for US-Iraqi relations, sparking widespread condemnation and retaliatory attacks.
Disasters have still taken place involving Chinese security companies. In 2018, two Chinese guards were jailed in Zimbabwe for shooting and injuring the son of a lawmaker. That same year, authorities in Kenya arrested five Chinese nationals found in "possession of military equipment" deemed to be a threat to national security, according to local media.
The Chinese industry is far younger than its international rivals, and also draws on a shallower pool of veterans, particularly those with foreign combat experience. The lack of experience and sophistication within the industry creates a problem, especially as Chinese overseas increasingly "fall into the same high threat category as their US, Israeli and European counterparts," Mr Arduino wrote in a recent report.
"Chinese businessmen in Africa are at an increased risk of kidnapping, they have a huge target on their backs," he told The Globe. "There is this perception that every Chinese is a billionaire."
Ordinary Chinese workers are often far better off than the average resident of the countries they operate in. Just this year, two Chinese gold miners were kidnapped in Nigeria, with their captors demanding $30,000 for their release.
Mr He, the chamber of commerce representative, said there was a sense of impunity among many criminals. "They feel the Chinese can do nothing about them," he said. "I think the reason for the insecurity does not come from the lack of protection, but from the fact that we ourselves do not have the right to shoot. It is difficult to have a great deterrent effect on the bandits, and the local police will at most scare them and let them go."
His frustration spoke to a growing disconnect between how the Chinese government and its citizens overseas perceive the situation and Beijing's obligations, one that could eventually force a rethink in how China approaches security overseas.
"It's a huge problem and one that all Chinese private security companies talk about," said Mr Arduino. "There's a perception among many people in China that as soon as you wave the Chinese flag, people stop shooting, or they think they can just pick up the phone and the embassy will come save them."
Nonetheless, Beijing has heavily promoted its ability to protect Chinese overseas. A hugely popular propaganda film, Wolf Warrior II, ends with a picture of a Chinese passport and the text "Citizens of the People's Republic of China. When you encounter danger in a foreign land, do not give up! Please remember, at your back stands a strong motherland."
The contradiction is acute enough when Chinese citizens are targeted by criminals, but this could be a major problem for Beijing if there is some terrorist incident in the future, said Ms. Legarda.
"China and Chinese citizens have not previously been the targets of terrorism overseas," she said. "What happens domestically in China in terms of public opinion if we do start seeing such attacks and Beijing doesn't act?"