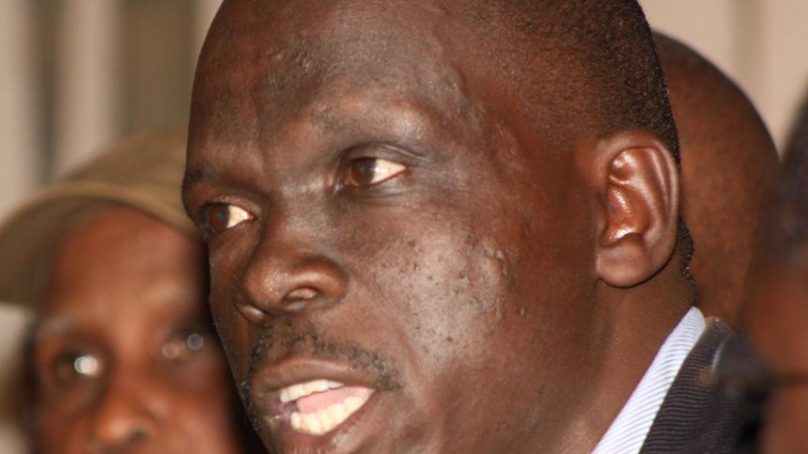 In the aftermath of Kenya political stalwart Raila Odinga losing a presidential election for the fifth time, political commentator Edwin Shivakale Skem took time to reflect on where the rain began beating the Azimio la Umoja – One Kenya Alliance flagbearer.
The absence of former political detainee and University of Nairobi student leader Wafula Buke deprived Raila Odinga of a meticulous strategist and ideologue who played a key role in the 2013 and 2017 presidential elections. In the two elections, Buke was in charge of intelligence strategy and ideology – qualities senior Orange Democratic Movement (ODM) officials agree were missing in the August 9, 2022 election campaign.
Narrow political and tribal interests at the ODM secretariat forced Buke – who had worked for months without salary – out of the party. Buke had warned that persistent haranguing of Luhya leadership by the Luo was harmful Raila Odinga's candidature. It came to pass.
Never the type to listen, Raila's righthand men and women – John Mbadi, Gladys Wanga, Junet Mohammed, Secretariat General Edwin Sifuna and others – took turns to insult Musalia Mudavadi and Moses Wetangula, both of whom were instrumental in delivering the western bloc to National Super Alliance (Nasa) in 2017.
The absence of Buke ushered in anarchy at ODM. Shivakale profiles Buke and pinpoints the deficiencies in Raila and Azimio's campaign. Read on:
Buke is the firstborn son of Timothy Wafula, at one time a councillor in Chiptuba. He hails from the Mt Elgon, Bungoma County, in western Kenya. He was named after American attorney-general and Sen Robert Kennedy, something he detests because he does not subscribe to his ideals. He preferred to be named Steve Biko or given a name of one of the Frelimo liberation fighters in Mozambique.
The Ambira High School alumnus joined the University of Nairobi in 1985 to pursue a degree in political science and philosophy. In his first year, he organised a successful demonstration in solidarity with Libyans following deadly air strikes by the United States in retaliation for the 1986 West Berlin discotheque bombing. He made national news.
As chair of the students' union, he, in 1987, sat down with his lieutenants who included Miguna, Samuel Kabereria, Munoru Nderi and Ngala Mwomu and painted to them a picture of what they were getting into as activists: that they might never complete their studies, and that they could be imprisoned, exiled or even killed. They understood and were determined to march on in pursuit of democracy.
Buke and his comrades including his Secretary General Kaberere Njenga, Munoru Nderi, Ngala Amuomo and Munameza Muleji arrested in 1987 and taken to Central Police Station before being transferred to Kasarani and finally the dreaded torture chambers at Nyayo House. His was the shortest tenure, having served as SONU chairman for only nine days.
At Nyayo House torture chambers, he was subjected to brutality. Determined that the physical pain, though immense, was more welcome that living in the hell created by then ruling party KANU.
Upon arrival at Nyayo House, he was stripped naked and blasted with water from a high pressure hosepipe. For several days, he spent time in the dark rooms at Nyayo House, standing in ankle-high water. Buke suspects that he was there with his comrades Kabereria and Nderi.
There was the usual transfer to the 24th floor for beatings and back to the dark chambers. He endured the humiliation of being stripped and being forced to admit to mistakes that were never his.
The reason for his arrest and that of his fellow student leaders was "engaging in acts that were pre-judicial to the interest of the Republic of Kenya", a charge bordering on treason.
After his stint at Nyayo House, he appeared before Chief Magistrate Joseph Mango who sentenced him to five years' imprisonment. He served two years in Kamiti and Naivasha Maximum Security Prisons and later Bungoma before being set free.
At Kamiti, he met Dr Oduor Ong'wen, Dr Odhiambo Olel, Prof Maina wa Kinyatta and Odindo Opiata – all political prisoners. Prison, the isolation and confinement emboldened him ideologically. They spent time composing and singing songs. He also learnt Kikuyu and reflected on his studies at UON.
In prison, his roommate was John Kiriamiti – a dangerous robbery prisoner, who at the time was writing his novel Son of Fate. The novel was first written on a milk packets, using pens smuggled into their cells with aid of warders.
Prison life was life-changing. it allowed him to reflect and focus but it also made him see injustice. The KANU reign was so bad that it was almost treasonable to be seen meeting Jaramogi Oginga Odinga. It was the same case if you were seen entering or leaving the Libyan Embassy.
President Moi accused Libya of working with Uganda to destabilise his government. For example, Aduol Ogonda was imprisoned for simply being Jaramogi's cook. He was an illiterate man the state forced to admit to having read a document that suggested that he was a willing member of underground Mwakenya movement. And so was Jaramogi's personal doctor Dr Odhiambo Olel.
Buke says the oath he took as SONU chair is what kept him going. He never agreed to be co-opted into the oppressive regime. He was never going to do that, even if it offered the comforts of government positions and wealth.
By the time he was being imprisoned, he had sired a son he named Brian Biko in 1985. The uncertainty of his life and commitment to freedom meant that at family level Buke was a broken man. Close family members died and suffered because of their association with him. A number of them had their dreams cut shattered by the oppressive Moi regime as they could not find jobs simply because they thought this was the best way to punish Buke for his ideals.
When he was finally released, he found out that the woman who bore him a son had moved on with another man. Both families had sat down and sanctioned it since nobody knew if Buke would ever return home. Their families made attempts to reunite them but he couldn't stand it. He reasoned that he could not remarry at a time he thought was unsuitable.
The did not want his spouse to go through the same experience as the struggle freedoms and civil liberties was still on. As he had a hunch, Buke would soon be forced to flee to Uganda.
"You cannot be married to two things. Even a polygamous man loves one wife more than the other(s). My marriage was to the struggle for liberation," says Buke.
By his admission, many of his comrades have suffered broken homes and families; have children who grew up not knowing their fathers; wives who lived lonely lives and were exploited or got married elsewhere.
"Some of the men we see looking happily married are just broken couples pieced together for the benefit of the public," he observes.
So when Barasa, the man who had "taken over" his wife while he was in prison died, Buke chose to keep away from the burial as a sign of respect to the man who took care of his wife and son.
While in exile in Uganda, Buke was trained as a guerrilla fighter by President Yoweri Museveni administration. He 'majored' in intelligence, which he put to good use while working for Raila.
He has been working for ODM after he returned from exile. In 2014 he masterminded the ejection of then ODM executive director Magerer Lang'at and installed himself. Prof Anyang' Nyong'o, then party secretary general, gave him 12 hours to rescind the decision.
In 2013 when current Kisii Governor James Ongwae was Raila's campaign manager, he had a spat with Buke and wrote him a "show-cause-why…" letter to discipline. Militant Buke ignored it, terming it a relic of the 19th slavery.
Previously, Buke worked as personal assistant of William Ruto when he was a minister in the coalition government. He claims he parted ways with Ruto, now president, when the then agriculture minister opposed the 2010 Constitution.
In the 1990s when he worked at Kenya Human Rights Commission, Buke took on then commission boss Willy Mutunga. Mutunga dared them to quit, which he did. His colleagues stayed on. He went hawking video tapes in the streets of Nairobi for two years.
In 2019 he was sacked as director for political affairs and strategy by ODM. This was after he fell out with secretary general Edwin Sifuna, Oduor Ong'wen and Judith Pareno.
Wafula Buke has been and is still a defiant human rights activist. To date, he hasn't understood how Moi didn't kill him and his friends instead of subjecting them to torture.
A Tell report / Shivakale Skem