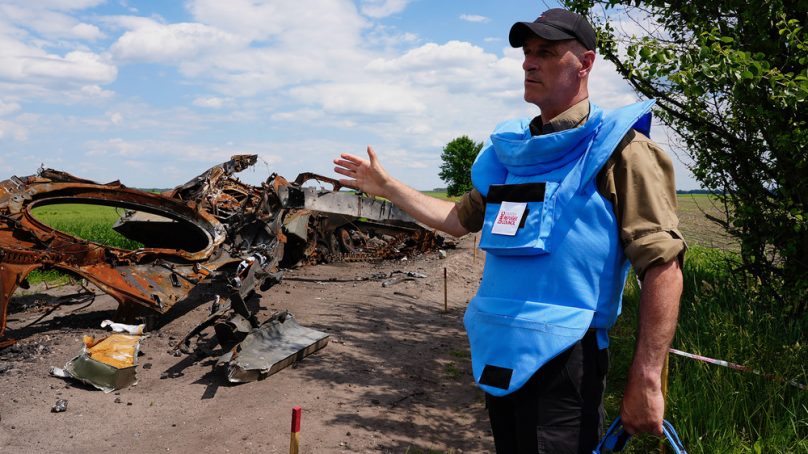 Four months into the Russian invasion, Ukraine is facing multiple humanitarian crises on several different fronts, with local and international aid responders girding for the long haul amid the expectation that needs are only going to grow and last longer.
Concentrated, brutal fighting in the east is preventing aid groups from reaching the most vulnerable communities, while millions who fled their homes to the country's west are preparing for long-term internal displacement with few options for work or shelter. Many who have returned to liberated areas around the capital, Kyiv, are struggling to rebuild their lives, having run out of money and found their homes reduced to rubble.
As the conflict drags on, people say they're running out of time and options for survival. In the west, where nearly two million people are internally displaced, the majority are living in centres such as schools and kindergartens. The government, aid agencies and displaced people said they were unsure where they'll go when school restarts in September. Others have moved into temporary mobile houses, which aren't equipped to house people when temperatures drop come winter.
"People can sustain themselves for now. But maybe in three months' time that's not going to be the case," said Karen Whiting, assistant representative for protection in Ukraine for the UN's refugee agency, UNHCR. "The situation is getting worse."
When Russia invaded on February 24, few predicted the war would turn into a protracted conflict as many suspected Kyiv could fall in days or weeks. But the international community is now warning of a three-to-five-year response, according to internal emails between aid agencies seen by The New Humanitarian.
Some five million people have lost their jobs, seven million are internally displaced and more than 10 million are in need of food and livelihood assistance, according to the UN.
While Ukraine is one of the best-funded emergencies in the world – receiving $1.6 billion, or more than 70 per cent of the requested funds so far, aid workers and Ukrainians say assistance is still not reaching people fast enough – at times not at all. Aid teams are also increasingly having to look beyond emergency response and plan with the Ukrainian government for the more expensive and longer-term tasks of sustainable housing, jobs and rebuilding.
The rapid outpouring of money can also have adverse effects. More funds means aid groups are expected to deliver more aid to more people, sometimes over unrealistic timeframes. Several aid workers, who spoke on condition of anonymity, say some larger agencies are too focused on speed of spending rather than quality programming that takes longer to implement.
However, humanitarian assistance has helped nearly nine million people. Almost two million have been given cash assistance, and more than 500 Ukrainians in need of urgent or continued medical assistance have been transferred to European hospitals, according to the UN.
Aid groups are expanding operations to the east from the west, where they were stationed at the start of the invasion, and are starting to figure out how to increase their access into more remote and harder-hit towns.
Outside the country, some five million refugees, the majority of whom fled to Poland, are receiving housing, employment and education opportunities. The EU has also granted immediate temporary protection to all people fleeing the war, meaning displaced people can benefit from the same rights across the 27-nation bloc for things such as residence permits, the ability to work and get housing, social welfare, and medical assistance.
But within Ukraine, even for those trying to resume some semblance of normal life in parts of the country with easier access and freer movement, there is still the constant threat of attack and lingering uncertainty.
After a month of relative calm, Kyiv was struck in early June by at least five missiles. Soldiers in towns near the capital say they've seen a build-up of military forces along the Belarus border – some 80 kilometres away – and that they're catching more Russian spies, according to Dmytro Korbut, who fights with the Territorial Defence Forces, a military reserve unit comprised mostly of Ukrainian civilians.
"We're living between these two states. On the one hand it's quiet, and on the other there's the threat of air alarms," Korbut said. "Right now, our lives mean sitting with bags packed and being ready to go."
While there are still attacks throughout the country, the frontlines have become more defined since Russia, in April, abandoned any short-term plans to encircle Kyiv, instead concentrating efforts in the eastern Donbas region.
The shift has allowed for freer movement in the centre of the country, particularly in the capital and surrounding towns where some 700,000 people – out of 2.5 million who fled – have returned, according to the government. When The New Humanitarian travelled to Kyiv in March, days after the invasion began, the road was lined with checkpoints, and the city was fortified and largely empty of people. Today, there are few barricades, and people stroll the streets and socialise on terraces.
The New Humanitarian report