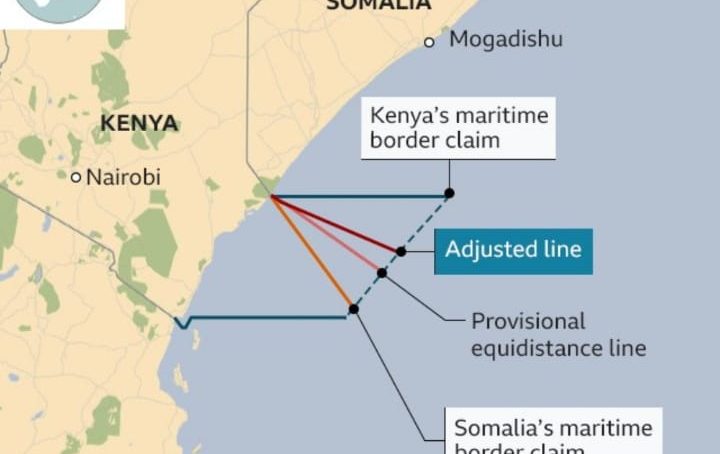 Kenya is paying a heavy price for its weak, ambiguous and even non-existent foreign policy, that has seen chunks of its territory "annexed" or claimed by all its neighbours, experts say.
Tuesday ruling by the United Nations' International Court of Justice (ICJ) that could alter the maritime border between Kenya and Somalia raised the red flag on Nairobi's foreign policy, which has failed to wad off challenges to its sovereignty and territorial integrity.
Other than going to war, according to experts warn, Nairobi has limited options of staying the ruling.
Kenya goes to the polls in 10 months, but foreign policy – important to its developing partners such as the United States, Great Britain and Germany – is secondary or non-existent in political parties' manifestos.
Consequently, the Tuesday ruling in favour of Somalia over the disputed maritime territory in the Indian ocean by ICJ has been perceived at home as an indictment of the Kenya government's preoccupation with domestic squabbles at the expense of its foreign interests.
Jostling for political power, headlined by systemic corruption and ethnic affiliation, have played a key role in weakening the East African country's foreign policy, to which ICJ indirectly referred when it pointed out that Kenya had not consistently maintained the disputed border.
The ICJ also took note of Somalia's civil war in its ruling that settled a dispute with neighbouring Kenya over a maritime boundary.
President Uhuru Kenyatta scoffed at the ruling, with the political class describing the it as unenforceable. However, in a social media post, Kenya's former representative to the United Nations Development Programme (UNDP) David Kikaya warns of dire consequences if the pervasive complacency that led to Nairobi failing to convincingly argue its case at the ICJ prevails.
Prof Kikaya, a foreign policy expert explains, "The Court's pronouncement is enforceable…through the UN Security Council as the last call for peace and stability". "Kenya should be cognisant of the powerful external forces who are behind Somalia, albeit clandestinely, some to which Kenya is indebted. Is Kenya prepared for piracy war in that area indefinitely?"
As it became clearer that Kenya had fluffed the push for a status quo in the border dispute, journalist and political analyst David Makali criticised Kenya's complacency in the dispute that also permeates its broad foreign policy.
In a Twitter post, Mr Makali says, "Kenya has been whining and running scared over this Indian Ocean border dispute with Somalia. Is it because it does not have a case or we bungled our defence with incompetent legal representation at the International Court of Justice? Unfortunately, we bangled the process and Ksh3 billion ($27 million) spent. GoK (government of Kenya) as currently constituted seems to have no redeeming (legal) quality. The only international maritime law expert in the region is Kenyan and GoK never engaged him."
In a swift response from New York where he addressed the UN Security Council on the same day, Kenya President Uhuru Kenyatta, known at home for his frequent run-ins with the judiciary and flagrant violations of court rulings, blasted ICJ as partisan and overreaching its mandate.
Hours to the ruling, Nairobi had announced it would abide by the court's decision, which it deemed as biased in favour of Somalia.
Said President Kenyatta, "The decision embodies a perpetuation of the ICJ's jurisdictional overreach and raises a fundamental question on the respect of the sovereignty and consent of states to international judicial processes. International tribunals have jurisdiction only to the extent of consent by a State."
In what critics cite as ironical, he said Kenya respects the rule of law, but left no doubt he was not going to entertain the ruling. At home, Kenyatta has often been at loggerheads with the judiciary for ignoring court rulings and subverting the rule of law.
"Kenya, as an avid supporter of the rule of law, accepted the court's jurisdiction through a declaration in 1965, with an objectively clear outline of certain excluded matters. At the time, Kenya never imagined that the ICJ would violate the declaration to the extent of imposing its mandate over expressly excluded matters," Kenyatta said in the statement.
For the past 20 years, Kenya's foreign policy has seemed to lose the robustness it had during the regimes founding president Jomo Kenyatta – Uhuru's father – and his successor President Daniel arap Moi. The two pursued something akin to a ruthless foreign policy, which placed territorial integrity at the top.
After independence in 1963, Jomo Kenyatta ruthlessly repulsed Somalia's claim to what was then known as frontier districts in the north inhabited by ethnic Somalis. Jomo's successor, Moi, too dealt ruthlessly with insurgency in north-eastern Kenya in what was in the 1970s and 1980s known as the Shift (bandit) War.
President Moi also routed the Ogaden Liberation Front and the Oromo Liberation Front – Somali and Ethiopian insurgents – out the Kenyan territory, restricted their separatist and expansionist ideologies to the neighbouring counties.
Jomo Kenyatta and Moi also ensured Uganda's rogue regimes in the west were kept out of Kenya in what the latter often referred to as "hot pursuit of Ugandan army" deep into the neighbouring county's territory. Under Moi Kenyan security forces pummelled warlike Ugandan herdsmen, the Karimajong, into their herding areas in north-eastern Uganda.
The exit of Moi from power created a foreign policy vacuum that neighbouring countries took advantage of to pose security threats to Kenya. More than 15 years ago during President Mwai Kibaki regime – Moi's successor – Uganda laid claim to a rocky Island in shared Lake Victoria waters, Migingo Island, sparking a diplomatic row that remains unresolved to date.
In the northwest, a "shoulder" of the Kenyan territory is a source of simmering dispute between Kenya and South Sudan. Not far from the "shoulder" – known as Elemi Triangle – the Toposa militiamen from Ethiopia often make incursions into Kenya, occasionally sparking a territorial row with Addis Ababa. In the south, Tanzania has on several occasions claimed Lake Jipe, located east Mt Kilimanjaro.
The potential annexation of some 100,000 square kilometres from what was hitherto Kenya's maritime territory is the culmination of Nairobi's ambivalent foreign policy that created loopholes foreign counties have exploit to turn Kenya into a playground for invading militaries – including terror organisations.
Foreign policy observers say Nairobi's foreign policy inconsistency has reduced it to a sitting duck.
ICJ sided primarily with Somalia in settling a maritime border dispute between Somalia and Kenya over territory potentially rich in oil and gas. In the dispute, Kenya had sought a claim of a maritime boundary along a parallel line of latitude, but the court said it found "no compelling evidence that Somalia has acquiesced" to the boundary claim.
The Hague-based court also noted that it "cannot ignore the context of the civil war" in Somalia that destabilised the country for years and limited its government functions and ability to enforce its boundaries.
"I thank Allah for…for the fruit of the long struggle made by the Somalis in preventing Kenya's desire to claim ownership of part of Somalia's sea," Somali President Mohamed Abdullahi Mohamed said in a broadcast posted to his office's Facebook page.
The ruling by the United Nations' highest court is legally binding, though the court has no enforcement powers.
The court rejected Kenya's claim of the maritime boundary it sought, saying Kenya had not consistently maintained it. Instead, it leaned closer to Somalia's claim of a straight line into the Indian Ocean from their border. But the court rejected Somalia's pursuit of reparations after the country alleged that some of Kenya's maritime activities had violated its sovereignty.
"Congratulations to the Somali people, we have succeeded in capturing our seas," Somalia's minister of information, Osman Dubbe, tweeted. The director of the Somali Maritime Administration, Hassan Mohamed Afrah, said he cautiously welcomed the ruling, and he hoped it would peacefully settle the dispute once and for all.
Kenya last week said it would not recognise the court's judgment, however, alleging that the judicial process had "obvious and inherent bias." Its statement acknowledged that the judgment would have "profound security, political, social and economic ramifications in the region and beyond," while urging Kenyans to remain calm.
"The unravelling of relations has already negatively impacted efforts by Nairobi and Mogadishu to confront [extremist group] al-Shabab's lethal insurgency. Far better than more confrontation would be talks to agree on a mutually accepted way to implement the judgment," International Crisis Group researcher Meron Elias said in a statement.