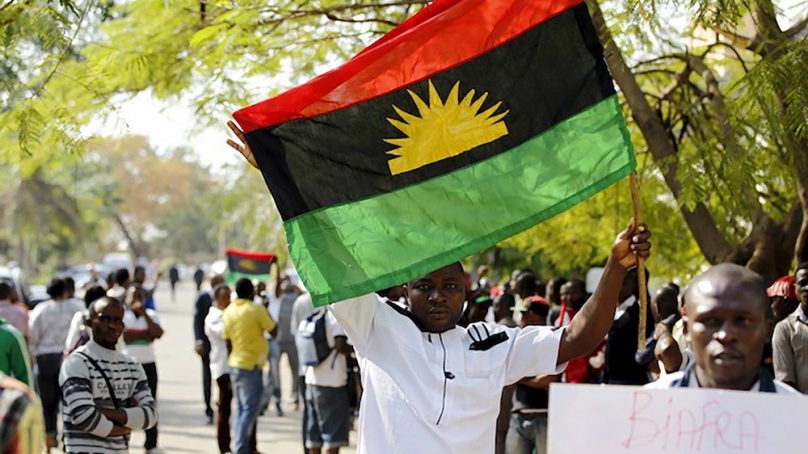 When President Muhammadu Buhari flew into southeastern Imo State last week to commission a handful of development projects, he was greeted by deserted streets and shuttered businesses: Residents were demonstrating against his leadership by staying at home.
Dressed in traditional Igbo attire, matching the outfit of his host, Governor Hope Uzodinma, Buhari made no mention of a nascent secessionist insurgency that seeks to pull 30 million Igbo people out of the federation – and has been met by a violent crackdown by the security forces.
"The stay-at-home [in response to Buhari's visit] was basically people saying, 'We reject the way you're treating us – and we want a turnaround'," said Clement Nwankwo, executive director of an Abuja-based rights group, the Policy and Legal Advocacy Centre.
Agitation for secession – previously just polemical – has increasingly turned violent, especially in Imo. Early this year, the Eastern Security Network (ESN), the armed wing of the pro-separatist Indigenous People of Biafra (IPOB), began a series of attacks against the security forces that has killed more than 20 police officers.
In April, the federal prison in Imo State was raided and over 1,800 inmates set free. A few weeks later, Uzodinma – a member of Buhari's ruling party who was eased into office by a disputed Supreme Court ruling – was the target: His country home was raided and Rolls Royce destroyed by rocket-propelled grenades.
The federal government's response has been "ruthless excessive force", according to Amnesty International. It has documented the deaths by the security forces of at least 115 people between March and June and believes there could be hundreds more – with many of the victims unlikely to have had anything to do with ESN.
Soldiers are out in force in the southeast, staffing checkpoints on the potholed roads, scrutinising drivers and passengers as they filter slowly past sandbagged positions. The air force has also been in action, strafing alleged ESN hideouts in a densely populated region.
With the army deployed in all 36 states, Nigeria's problems are at root about a crisis of governance, noted Idayat Hassan, director of the Centre for Development and Democracy, an Abuja-based think tank.
"It's time for Nigeria to sit back and ask if force is the solution to all these problems," she told The New Humanitarian.
In June, the government announced that IPOB leader Nnamdi Kanu was in custody. Seen as a skilled propagandist and cult figure by some, in exile since 2017, he was seized in Kenya in circumstances that remain unclear.
"It's time for Nigeria to sit back and ask if force is the solution."
Kanu has been a particularly nettlesome figure for Buhari. A British citizen, he set up Radio Biafra and live-streamed incendiary anti-Nigeria commentary to a growing audience. Arrested in 2015 for treasonable felony, he managed to jump bail and fled Nigeria in 2017 – keeping up his combative oratory.
He peddles a conspiracy theory that Buhari, a Fulani, heads a plot aimed at the "Fulanisation and Islamisation" of Nigeria. The vanguard of the scheme is said to be the well-armed Fulani pastoralists, heading deeper into the south as a consequence of climate change, where they are clashing with local farmers.
It's a notion shared well beyond the southeast, but Kanu has increasingly called for violence as a response in broadcasts described as hate speech.
His arrest has become a rallying point. Sit-at-home demonstrations are held each time he appears in court, and even some within the traditional Igbo political establishment – upstaged by his radicalism – have called for his release.
"IPOB is a creation of Buhari's failures in governance," Nwankwo told The New Humanitarian. "If you have a central and state governments that are delivering on development, on the people's needs, IPOB would be irrelevant."
The unrest adds to the list of violent conflicts pulling at the unity of Nigeria, including the Islamist insurgency in the northeast, widespread banditry in the northwest, farmer-herder clashes in the central region, and armed attacks in the oil-rich Niger delta.
Separatist sentiment in the southeast is driven by the region's perceived "marginalisation". It feeds on nostalgia for the rebel republic of Biafra, which broke away in 1967 and fought a bloody 30-month war for independence that left more than a million people dead – mostly from disease and starvation following a blockade by the federal government.