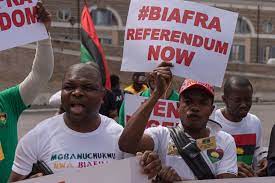 As disaffection mounts in southeast Nigeria, many Igbos, who waged the Biafra secessionist war in the 1960s after independence, say they still feel as if they are treated as second-class citizens more than 50 years on – a sentiment they say has been aggravated by an aloof and unsympathetic President Muhammadu Buhari.
President Buhari is widely viewed as favouring his northern Muslim constituency and, as an ex-military officer who fought in the southeast, as being reflexively anti-Igbo.
"Igboland has been under siege since the end of the civil war," Nigerian academic Emmanuel Ejiogu says. "A significant majority of the people in the southeast are fed up with Nigeria."
But the region has rebounded from the devastation of the civil war, with Igbo people – who dominate retail trade – re-establishing themselves throughout Nigeria. It is the north, Buhari's home region, that is the country's poorest, according to the National Bureau of Statistics.
Nevertheless, pro-separatists argue that the five core Igbo southeastern states – Abia, Anambra, Ebonyi, Enugu, and Imo – would do better on their own, independent from the rest of Nigeria, a so-called "Biafraexit".
Indigenous People of Biafra (IPOB) has repeatedly demonstrated its influence. Following Kanu's detention, the group called for weekly sit-at-home protests each Monday across the southeast, freezing business activity in cities, towns and even village markets. The economic impact persuaded IPOB to rescind the order a few weeks later.
A threat of violence by the militants lurks, as attacks against people considered "saboteurs" of the struggle have been carried out. At least three people were beheaded near the Imo city of Orlu in July, with one head displayed in the market square.
"A significant majority of the people in the southeast are fed up with Nigeria."
A potentially worrying sign of things to come, should the conflict deepen and sides be chosen, are the growing numbers of unemployed and angry youths flocking to join IPOB – and fears over their discipline.
Kenneth Uzoma reflects some of that unease. A driver who takes passengers from Owerri airport to destinations in the region, he says that despite IPOB cancelling the weekly sit-at-home, it's wise to be cautious.
"The government can't protect us from IPOB and IPOB can't protect us from the government," he says. "Even IPOB can't protect us from some of their own members who don't obey their directives."
Buhari is deeply unpopular in the southeast – a region that has rejected him four times at the ballot box, even though on two of those presidential bids he had Igbo running mates.
When he finally won power in 2015, he pointed out that a region that gave him just five per cent of the vote could not expect to be treated in the same way as one where he had scored 95 per cent.
Within a year of taking office, more than 150 people had been killed in a military response to peaceful secessionist agitation, according to Amnesty International.
Until his trip to Owerri last week, Buhari had done little to try and win over the region. In late May, he dismissed the southeast as a landlocked "dot in a circle" and threatened to speak to people "in the language they understand" – a veiled reference to the violence of the civil war.
There is a demographic split in Igbo opinion over unity. Support for separatism is strongest among the poor and unemployed but falls away among the more successful, according to Cheta Nwanze, the head of research at the Lagos-based SBM Intelligence consultancy.
"All of Nigeria's [insecurity] problems are actually the result of poor economic performance," Nwanze explains. "It manifests in different forms in different regions: In the southeast it has manifested as IPOB."
Chukwuemeka Ojukwu, the leader of the defunct Biafra, who died in 2011, is still idolised by IPOB – even though he disavowed the further pursuit of secession on his return from exile three decades earlier.
He formed a regional party, the All-Progressives Grand Alliance, to articulate Igbo interests. His home state of Anambra is governed by the party, which has maintained its distance from IPOB.
"We understand IPOB's grievances but have reservations about their style," C. Don Adinuba, the Anambra commissioner for information, told The New Humanitarian.
IPOB has also failed to outline what the borders of a new Biafra would be, raising concerns of Igbo domination among minorities – as during the civil war. Port Harcourt, the nearest port to the southeast, is made up largely of Ikwerre, Ijaw, and Ogoni people, who have resisted IPOB.
Nwankwo sees separatism as a symptom of a deeper problem. "I don't think Nigerians want a broken country," he said. "They think the country is already broken, and they're protesting it."