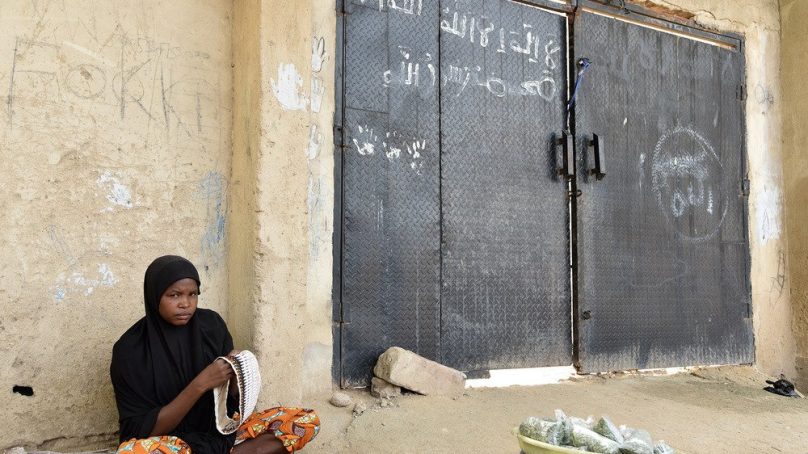 Editor's note: This story was based on six months of reporting and research. Government officials, former jihadists, analysts, journalists, displaced people, and civil society workers were interviewed, but nearly all asked to have their names withheld or altered due to security concerns.
Malam Aliyu* lives in a neat, two-bedroom house in Nigeria's northern city of Kaduna. Squeezed into the small living room is a large, brand-new sofa set, still in its plastic. A plasma TV is on the wall. Outside, in the yard, is an area where he plans to raise poultry.
It's the home you might expect of a mid-level public servant, maybe a teacher – probably not that of a senior ex-jihadist commander.
A top-secret programme, known as sulhu, is encouraging senior jihadist commanders to defect and providing them with government benefits. Some have almost certainly committed atrocities but are unlikely to be prosecuted.
The Bama massacre in 2014 killed hundreds of civilians, but one of the commanders involved is now living free on the government's payroll. Security officials believe sulhu could open the door to a peace deal, ending a stalemated conflict that is now in its twelfth year.
Critics argue such a deal would reward mass killers.
Aliyu has a new life now. The old was the decade he spent fighting with Boko Haram and then with the breakaway Islamic State of West Africa Province (ISWAP) in the scrubland of the northeast. It's the two wives and four children he left behind when he defected, and the power he once wielded as a jihadist rijal – literally a "man" – in zones under the insurgents' control.
In his early thirties, with a wispy goatee, Aliyu has remarried to a forthright woman from the northeastern city of Maiduguri. She is also former Boko Haram, and they have been set up with the rent-free house in Kaduna, a business license and a small monthly stipend provided by Nigeria's domestic spy service, better known as DSS.
The price of this largesse: to work for DSS to turn other jihadists under a clandestine project known as sulhu – Arabic for peace-making. It's so controversial that no government representative would go on record to discuss it, and given Abuja's increasing hostility to independent reporting on security matters, few Nigeria-based civil society figures wanted to be named either.
Sulhu is applauded by its supporters as smart warfare – a means to remove senior jihadists from the battlefield more effectively than the stuttering orthodox military campaign. "We have a proof of concept; it's working," said an Abuja-based analyst, who wouldn't agree to be identified beyond that description. "It's depleting the enemy's fighting force."
But the men on the sulhu programme are almost certain to have been involved in atrocities. They have not been granted a formal amnesty, but neither have they been held to account for any crimes committed in a brutal conflict that is now in its twelfth year. It's a war that has killed 35,000 people – 350,000 if you include the victims of the accelerating humanitarian crisis – and upended the lives of millions more, according to the UN.
"These are mass killers, yet on a programme sponsored by Nigerian taxpayers," explained a former government-Boko Haram intermediary. He has been in touch with the movement almost from the start, when it was still a local religious sect led by a young cleric, Mohammed Yusuf, before it declared war on the Nigerian state in 2009.
Sulhu grew out of the behind-the-scenes attempts to free the more than 270 Chibok schoolgirls seized by Boko Haram in 2014. After years of painstaking contact-making through a network of mediators, it dawned on the negotiators that not only did they have an opening to secure the release of some of the schoolgirls, but there were also mujahideen signalling they might be open to dialogue – a potential breakthrough in a deadlocked conflict.
A total of 150 mujahideen have surrendered their weapons and crossed over since 2019, according to people familiar with the programme. In the last few weeks, there has been a separate surge, related to internal feuding within the jihadist movement following the death this May of Abubakar Shekau, who had led Boko Haram since 2009.
Some of those mujahideen, like Aliyu, were commanders, known as qaid – in charge of several districts. Such was the importance attached to the initial group that they were invited to Abuja, where they met representatives of President Muhammadu Buhari.
Under sulhu, defectors are enrolled in a six-month "deradicalisation" course in the military's demobilisation and reintegration centre in Mallam Sidi, in northeastern Gombe State. After promising to renounce violence and be good citizens, they are issued with a graduation certificate, signed by a high court judge – and some have then gone on to set up businesses, from cap-making to chicken-rearing.
The New Humanitarian report