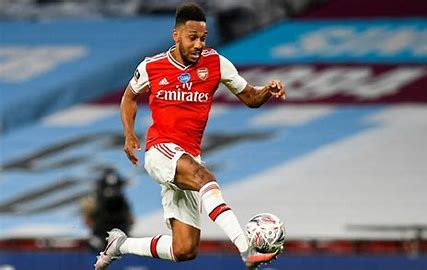 Former Manchester United and England striker Andy Cole feels Pierre-Emerick Aubameyang can no longer play the way he did as a youngster and needs to operate in his favoured position to be effective.
Aubameyang, 32, joined the Gunners in January 2017 as Arsene Wenger looked for a prolific marksman. The Gabon international had scored goals for fun during four-and-a-half seasons with Borussia Dortmund. He bagged 141 from 213 appearances in all competitions.
And the French-born forward carried his BVB form to the Emirates, with 31 goals in 2018-2019 and 29 the following season. However, he was less prolific last term, notching just 15 goals from 39 outings.
Cole feels he has the answer. The 49-year-old knows a thing or two about finding the back of the net.
The former England man scored 121 goals for United, winning five Premier League titles at Old Trafford. He is still a keen observer of Arsenal's fortunes, having started his professional career with the north Londoners.
And he believes that Mikel Arteta needs to use the veteran wisely if he is to get the best out of Aubameyang. The ex-Saint-Etienne scored his fifth goal of the campaign against Tottenham last weekend but failed to find the net against Brighton on Saturday.
And Cole feels it is no coincidence he was on top form against Spurs.
"With Aubameyang, play him in his right position – he will score goals. But you can't have one of your best players playing on the left, chasing back," he told Kelly and Wrighty Show, via The Boot Room.
"You take away why you signed him. On Sunday, he played in his position. That was his best game for Arsenal for some time. He wants to do well."
Aubameyang still has a keen eye for goal and has also scored 27 for his nation. He has two in the league this season and Arsenal will need him to keep finding the net if their resurgence is to continue.
Three straight wins propelled them into the top half before the draw with Brighton. And Cole feels the former Monaco loan man now needs to do what he is paid for and let others put in the hard yards.
"Aubameyang has adapted his game. Now at 32, he needs to conserve his energy and be intelligent enough to use it wisely," he added. "At Dortmund and in his early time at Arsenal, he still had the legs to chase the channels, hassle lost causes and win the ball back. Now, he doesn't do that – or he shouldn't. He can initiate a press, but only when he has legs around him. On Sunday, he had that."
"The three behind him are a combined age of 63, in Bukayo Saka, Martin Odegaard, and Emile Smith-Rowe. They can help Aubameyang press. But his best trait is his finishing. His goal on Sunday was a tricky one to finish; he made it look easy. Aubameyang is a different version of himself."