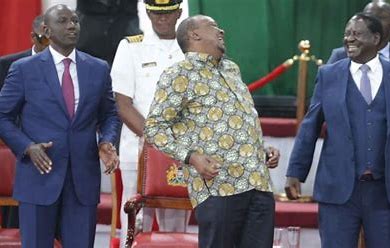 Kenya's President Uhuru Kenyatta's kitchen cabinet is reportedly divided on who should succeed him, with concerns growing that the president's choice of Raila Odinga will hand Deputy President William Ruto a rollercoaster run to the helm.
With family and community interests at stake, President Kenyatta is said to be re-evaluating how he will hand over power after the unilateral decision to back former Prime Minister Raila Odinga. He is reportedly in a dilemma about whether or not to support former Finance Minister Musalia Mudavadi after attempted 'reconciliation' with his preferred choice aborted twice.
So far, President Kenyatta has openly expressed support for Raila, who he controversially defeated in the 2017 presidential election. The three camps in the inner cabinet are said to be keen on swaying the president's favour, after twice failing to whip the former opposition allies into shelving their ambitions to endorse his preferred successor.
To deflate some of the pressure from his backyard and Raila's support base, the president has relocated from Nairobi office to Mombasa, where he has been operating from for more than two months now. He occasionally flies to Nairobi for meetings with foreign leaders.
The three camps are each trying to influence the president to back their preferred aspirant for next year's presidential election to be held on August 9. The prime mover in succession tussle is Baringo County Senator Gedeon Moi, whose close allies say he is ready to bankroll Raila on the understanding that he will be a one-term president. That would in turn pave the way for him to take over in the 2027, according to the schemers.
However, Mr Moi is equally hesitant, citing the possibility of Raila abandoning him or worse, the ODM leader teaming up with Ruto to put paid to his presidential ambitions. As a result, he has declared interest in the presidency in next year's elections.
The second group wants the president to ditch Raila for Musalia Mudavadi. The push for Mudavadi is informed by fears that the president's preferred successor may not upstage Ruto in Mt Kenya region. They say Mudavadi, has no enemies, and is an attractive proposition for business investments, foreign relations and national security.
Against the backdrop of these credentials, they say, he can easily beat Ruto in a two-horse race. The group argues that Raila is a non-starter in the region despite the support he enjoys from wealthy business community led by Royal Media owner SK Macharia, Equity Bank Group Chief Executive James Mwangi, former banker Stanley Munga and Keroche Breweries CEO Tabitha Karanja, among others.
They also argue that Raila is yet to gain traction with the electorate, hence the fear that he will be outpolled by the deputy president. Mt Kenya region boasts of over six million voters and historically registers the highest voter turn out in the country.
The third camp coalesces around State House comptroller Kinuthia Mbugua, Uhuru's younger brother Muhoho Kenyatta and remnants of the Mwai Kibaki administration, who in the 2013 general election were pushing for Mudavadi to fly the presidential flag instead of Uhuru.
Also said to be in Mudavadi's camp, but is side-lined, is former presidential ideology strategist Nancy Gitau. Interior chief administrative secretary Winnie Guchu roots for Raila.
The president's allies say that as things stand at the moment the Mudavadi, is gradually gaining a foothold in Mr Kenya region at the expense of Raila and Ruto in central Kenya. Mr Mbugua has been discreetly inviting ruling party Jubilee MPs to State House, who openly tell Kenyatta that the ground is hostile to Raila in Mt Kenya.
The MPs who attend the State House parleys say Mbugua has also been nudging governors in Mt Kenya region and neighbouring counties to welcome Mudavadi in his tours of the region. In the past two months, Mudavadi has toured Mt Kenya region eight times and has been hosting delegations from the region, touching off speculation that he is shopping for a running mate.
In a National Intelligence Service (NIS) monthly opinion poll report, which the president has, Raila showing in the region has stagnated at below 30 per cent, while Ruto who has been on the road campaigning since falling out with the president three years ago, dominates his potential competitors with 41 per cent. The NIS director of operations office, however, predicts a tightening of the race by February, which makes a Ruto presidency a sure bet.
"This gives us three scenarios: "If Raila is pitted against Ruto, the deputy president will win easily. Even if Mudavadi pulled out in favour of Raila, there are chances his supporters would cast their lot with Ruto or boycott the poll. The other permutation is, if Mudavadi competes against Ruto in a two-horse race, Mudavadi would prevail. In a Mudavadi-versus-Raila race, the Mt Kenya vote would tilt the balance against Raila. Mudavadi wins" according to the secret service.
Part of the report has already been leaked to the Kenyan media, with scenarios of how the candidates are shopping for running mates.
The data and permutations were the agenda of the two meetings President Kenyatta held with the opposition leaders, who in the 2017 elections coalesced under National Super Alliance banner or Nasa.
Nasa was made up of Raila, Mudavadi former vice president Kalonzo Musyoka, former Bomet Governor Isaac Ruto and Bungoma Senator Moses Wetangula.
During the heated Mombasa meetings to arm-twist Mudavadi and Kalonzo into supporting Raila, but the latter made it clear they would no longer accept invitations where they are "treated like children."
Interviewed after the second meeting Mudavadi could only say, "We have our own minds and can make decisions." The response alludes to more headache for Kenyatta.
The response informed the decision by Raila to switch to the campaign mode, despite government ban on public rallies to manage the spread of the ravaging Covid-19 pandemic. Raila, like Ruto has been hosting delegations – mainly from central Kenya – at his Karen home and party offices in Lavington, Nairobi. He has also been to Nyanza, western Kenya, Nakuru, Kajiado and Mombasa to mop up support, although he has not officially declared his candidacy.
On his part, Mudavadi has visited Nyeri twice, Murang'a, Nakuru and Githunguri in Kiambu as he faces Mt Kenya for the critical presidential vote. In Nyandarua, Mudavadi was in the company of Mbugua and Governor Francis Kimemia.
Two weeks earlier, Mr Mbugua reportedly sneaked central Kenya leaders to State House Nairobi for a meeting with the president without the knowledge of Murathe. At the State House meeting, the lawmakers and civic leaders were reportedly candid with Uhuru about Raila candidature in Mt Kenya. They warned that Ruto would win with a clear majority against the ODM leader.
They warned that decision to make Raila the 2022 presidential candidate would cost them their seats, hence the decision by some to defect to the "Hustler Movement".
To counteract Raila's inroads in Mt Kenya, the president's men say, Mudavadi has been holding court with leaders from the region at Windsor Hotel in Nairobi, during which they complain the pressure on them to support Raila.
The allies have even challenged the president, who has in the past two months has opted to operate from Mombasa State House, to pitch tent in Mt Kenya and personally campaign for Raila.
Also said to be uncomfortable with the president's choice is Interior Principal Secretary Karanja Kibicho, Kirinyaga Governor Anne Waiguru, while Interior Cabinet Secretary Fred Matiang'i, who was initially against Raila, has relented.
On the family front, Uhuru's brother, Muhoho, although initially backing Raila, has switched camp on account of ODM leader being a hardsell in Mt Kenya. Muhoho is concerned about the family's business empire if they support Raila, then he goes on to lose to Ruto. He younger Kenyatta argues if they are not careful, they will for the first time in their life time have unfriendly president in power.
This after Mathira MP Rigathi Gachagua warned in interview with a local television station that a Ruto presidency would demand accountability on land matters since independence. The Kenyatta family owns hundreds of thousands of acres of land in Nairobi, Kiambu, Rift Valley, Western Kenyatta and the coast. The sentiments were echoed by Kiambu woman representative Gathoni Wamuchomba.
Muhoho, now argues, if they allow Ruto to take the presidency, all their businesses would collapse in the first year of his administration.
Away from Raila and Ruto, Uhuru is under pressure to support a business-friendly candidate. The two names on the table are Kalonzo and Mudavadi. If the duo can accept to share power, Gideon Moi would be amenable to the idea. The dilemma the president faces is a scenario where the hardliners pushing for Mudavadi and Kalonzo candidature would agree to deal.