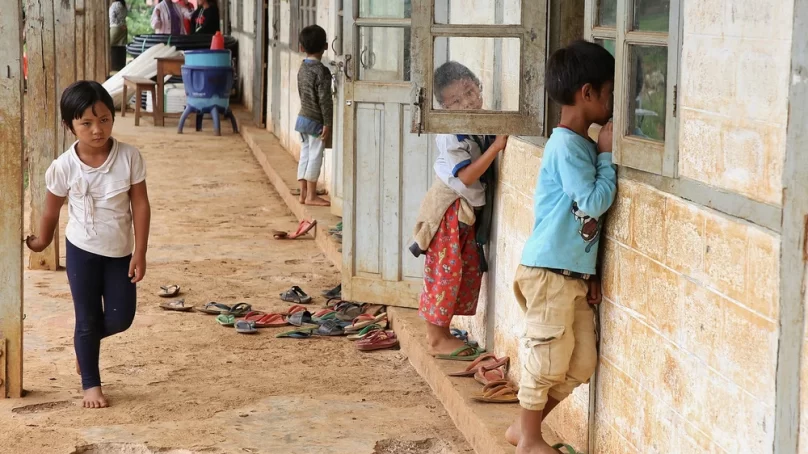 When Biak* walked into a classroom on June 1, the first day of Myanmar's school year, it bore no resemblance to the one he had last set foot in more than two years prior, when he was in fourth grade.
Then, he wore a green-and-white uniform and sat at a wooden desk at a government school in Yangon. Now, he has no uniform and studies inside a tarpaulin tent located at a community school for people displaced by war.
In between, Biak experienced one hardship after another. On February 1, 2021, the military seized power and within a week the country had erupted in protests. By April, soldiers had shot hundreds of people dead, and in May Biak left Yangon with his mother and sister, travelling about 1,000 kilometres northwest to Thantlang, Chin State to stay with his grandfather, who had fallen sick.
By then, civilians across the country were rapidly moving from cities to rural areas and taking up arms. The military responded by attacking entire communities. In September it set fire to Thantlang for the first of what have since been at least 30 times, displacing all of its 10,000 residents.
Now, most of the mountainside town lies in smouldering ashes, but in nearby displacement camps and villages a township education committee made up of striking civil servants and local volunteers is running 51 schools, attended by more than 7,000 students.
One of them is Biak, who is trying to make up for lost time in the classroom even as he copes with the trauma he endured. "I heard and witnessed shootings and bombings," he says. "I saw bullet holes and shattered windows," he said. "My English skills have dropped, and my Burmese speaking skills are also getting worse because of the military coup and because now I am displaced by war."
Biak is one of more than eight million school-aged youth in Myanmar who lost two years of formal education – first to the pandemic and then to the coup, which prompted mass boycotts of schools under the military administration.
Although Myanmar remains in the throes of civil war and a deepening humanitarian crisis, ethnic revolutionary organisations and new independent administrative bodies are now operating extensive school systems across the country as they strive to ensure that children don't miss a third year of classes.
When former government schools opened last June under the State Administration Council (SAC), the official name for Myanmar's junta, only 10 per cent of eligible students enrolled. At the time, a civil disobedience movement had gained widespread popularity, including a campaign against participating in a "military slave education", and more than 100,000 teachers were on strike.
Safety concerns also played a role in the low enrolments: As of last March, military forces had occupied more than 60 education facilities, according to a joint statement by UNICEF, Save the Children, and UNESCO. Save the Children also documented more than 100 violent attacks on schools as of last June.
The military and anti-coup groups traded blame for most of these attacks, which occurred within a broader pattern of explosions targeting military-linked infrastructure.
But students who refused to attend military-run schools had few alternatives at the time. The National Unity Government (NUG), which is running in opposition to the junta and seeks to establish a federal democracy, endorsed the strikes and pledged to build a parallel education system, but little had materialised by then.
Enrolments shot up in school systems that ethnic revolutionary organisations have been running for decades along the country's borders, but demand far exceeded capacity and some schools had to turn students away.
A year later, although the military claims that 5.2 million students enrolled in its schools – more than five times as many as last year – these enrolments are primarily concentrated in urban areas where the military exerts its greatest control, according to Saw Kapi, an ethnic Karen who has been working on education reform in Myanmar for the past eight years.
A dramatically different picture is emerging in areas, mostly rural, where an intense fight for territorial control is playing out, and where the military has inflicted some of its most horrific violence. As resistance groups gain ground, longstanding ethnic revolutionary organisations have expanded existing school systems in their territories, while administrative teams made up of striking civil servants, elected politicians, civil society groups and local volunteers have established school systems from the ground up in contested areas and areas where armed resistance groups now claim territorial control.
"The people are ready to establish their own education systems and provide education services to communities where they are," said Saw Kapi. "We are seeing significant enrolment in newly established schools in [rural] areas, and also a desire not to recognise the SAC as a legitimate government providing public services."
The New Humanitarian spoke with educators and students in three areas of the country where ethnic revolutionary organisations and so-called "people's administration teams" are running education systems in the midst of war, serving tens of thousands of students.
"We are afraid that a bomb will drop on our school while we are teaching," said Khu Oo Reh*, a teacher in Demoso township in southeastern Karenni State, also known as Kayah State. "When we hear bombing or shooting in the distance, it gives us a chill and unsafe feeling, but we have to continue teaching for the children's education and future."
The New Humanitarian report