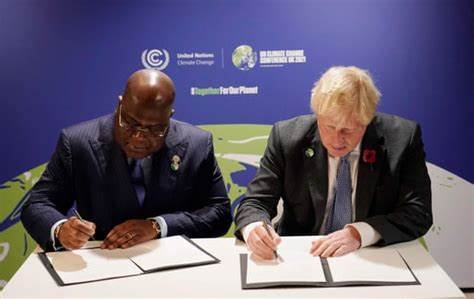 The Democratic Republic of Congo, home to one of the largest old-growth rainforests on Earth, is auctioning off vast amounts of land in a push to become "the new destination for oil investments," part of a global shift as the world retreats on fighting climate change in a scramble for fossil fuels.
The oil and gas blocks, which will be auctioned in late July, extend into Virunga National Park, the world's most important gorilla sanctuary, as well as tropical peatlands that store vast amounts of carbon, keeping it out of the atmosphere and from contributing to global warming.
"If oil exploitation takes place in these areas, we must expect a global climate catastrophe, and we will all just have to watch helplessly," said Irene Wabiwa, who oversees the Congo Basin Forest campaign for Greenpeace in Kinshasa.
Congo's about-face in allowing new oil drilling in environmentally sensitive areas comes eight months after its president, Félix Tshisekedi, stood alongside world leaders at the global climate summit in Glasgow and endorsed a 10-year agreement to protect its rainforest, part of the vast Congo Basin, which is second in size only to the Amazon.
The deal included international pledges of $500 million for Congo, one of the world's poorest nations, over the first five years. But since then, the world's immediate priorities have shifted.
Russia's invasion of Ukraine sent oil prices soaring and led to US and British bans on Russian energy and, last week, a call to ration natural gas in Europe.
At the same time, Norway, a leading advocate of saving forests, is increasing oil production with plans for more offshore drilling. And President Biden, who pledged early in his term to wean the world from fossil fuels, travelled to Saudi Arabia recently where he raised the need for more oil production. Back home, Mr Biden's ambitious domestic climate agenda is largely doomed.
Congo has taken note of each of these global events, said Tosi Mpanu Mpanu, the nation's lead representative on climate issues and an advisor to the minister of hydrocarbons. Congo's sole goal for the auction, he said, is to earn enough revenue to help the struggling nation finance programmes to reduce poverty and generate badly needed economic growth.
"That's our priority," Mpanu said, in an interview last week. "Our priority is not to save the planet."
Congo announced the auction in May, with a video posted on Twitter that showed a shining river nestled in a deep bed of lush rainforest. The video quickly cut to a close-up of a filling station pump, where yellowish gas gushed into an automobile tank. The American and French oil giants Chevron and TotalEnergies were tagged in the post.
Environmental groups were outraged. Last week Congolese officials doubled down, expanding the number of blocks – vast parcels of land – up for grabs, from 16 to 30, comprising 27 oil and three gas blocks. TotalEnergies said it did not intend to bid, and Chevron did not respond to a request to comment. Other oil major producers also declined to comment.
The auction highlights a double standard that many political leaders across the African continent have called out: How can Western countries, which built their prosperity on fossil fuels that emit poisonous, planet-warming fumes, demand that Africa forgo their reserves of coal, oil and gas in order to protect everyone else?
And it raises a question asked by many communities whose very survival is based on cutting trees for sale or for cooking fires: If they protect carbon stocks of incalculable value to the whole world, what do they get in return?
"Maybe it's time we get a level playing field and be compensated," Mpanu said.
Many Congolese officials believe that after decades of colonialism and political mismanagement, their country's needs should be prioritised against those of the world. For President Tshisekedi, casting his nation as a bulwark against global warming has met with political realities.
The country's next presidential election is 18 months away, but the jostling has already begun with Tshisekedi running for another term. In 2018, he was declared the winner in a highly contested election. He cut a deal with his predecessor, the unpopular but still powerful Joseph Kabila, whom western officials have labelled corrupt.
The pair's arrangement fell apart in 2020, but some analysts caution that Kabila or his cronies could wind up on the ballot at a time when foreign investment is pouring into the country.
Just how much compensation is at stake for Congo is something that will not be known until seismic surveys are carried out – by itself a very destructive process, according to scientists.