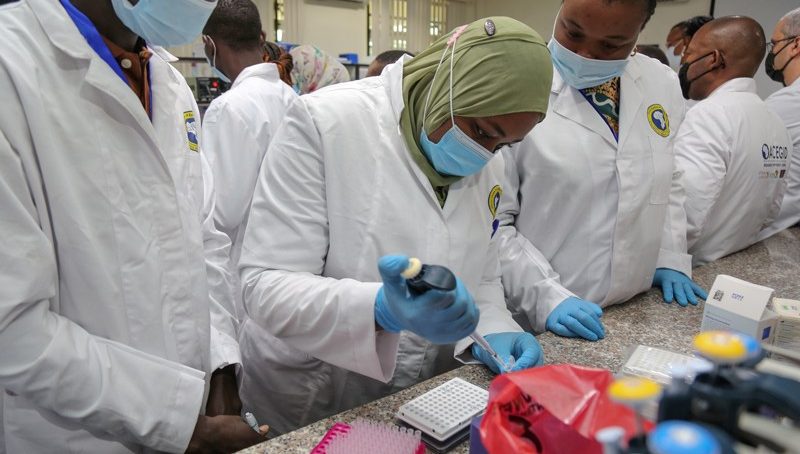 Africa's Covid-19 management proved that building regional control and capability will be key to containing future disease outbreaks.
This means strengthening national public-health institutions, such as the Nigeria Centre for Disease Control and the Zambia National Public Health Institute in Lusaka.
It also means strengthening and empowering the Africa CDC and its five Regional Collaborating Centres. These are the 'Africa-owned institutions' that are crucial to prevent, detect and respond to public-health threats.
Ultimately, both national public-health institutions and regional centres must be the command centres for the control of disease outbreaks.
In addition, there is to accelerate translational research and development. Currently, Africa imports 70-90 per cent of its drugs; there is almost no biotechnology sector. For comparison, China and India, with comparable populations, import five per cent and 20 per cent, respectively. There is also a severe shortage of human resources.
There are currently only around 1,900 epidemiologists in Africa – far fewer than the 6,000 needed, as stipulated by the Global Health Security Agenda.
The Global Health Security Agenda is an international effort to accelerate the implementation of health regulations, particularly in developing countries, to improve capacity in preventing and responding to infectious-disease threats.
Governments, philanthropists and the private sector, such as the African Export-Import Bank and Africa Development Bank, must provide sustainable funding for research and development, with a focus on diagnostics, therapeutics and vaccines for infectious and non-communicable diseases.
Such investment will be crucial to lure back the thousands of African scientists, clinicians, nurses and other skilled medical health-workers who have gone overseas for training or employment.
Accelerating translational research and development will also require continued investment in the existing genomics hubs of academic excellence in Africa.
Invest in early-warning systems. Ultimately, Africa – and the world – needs effective surveillance to detect and characterise deadly pathogens before they spread across the globe.
Some promising initiatives are being developed in Africa, such as SENTINEL, which one of us (CTH) is leading. To be effective in the long term, such schemes must be integrated into Africa's public-health institutions.
Too many projects on health and disease in Africa are pursued in silos and funded only for as long as the principal investigator spearheading the project can persuade investors.
The Regional Integrated Surveillance and Laboratory Network (RISLNET) was launched by the Africa CDC in 2017 to enable the rapid detection and prevention of emerging public-health threats. Surveillance networks consisting of genomics laboratories and National Public Health Laboratories have already been established in Central Africa, and efforts are ongoing to expand these in southern, eastern and western Africa.
In principle, systems such as SENTINEL could be incorporated into RISLNET to ensure that they are in line with what the African Union members envision for the continent, and that they have institutionalized and politicized backing.
Such systems must integrate the surveillance of disease in people, animals and the environment. Since February 2020, those involved in the One Health programme at the Africa CDC have been trying to foster this holistic approach – mainly by bringing together people working in these different areas.
Build centralized governance. An African Pandemic Preparedness and Response Authority, as proposed by the African Union in October 2021, could empower the Africa CDC to coordinate pandemic responses across borders. This agency could be modelled on the European Health Emergency preparedness and Response Authority (HERA).
A signed treaty would mean leaders have to cooperate, share data and so on. Likewise, the continent could capitalize on practices and tools born out of the Covid-19 crisis. The African Union Covid-19 Response Fund, established in March 2020, has enabled countries to pool funds to buy medical commodities, such as personal protective equipment.
In principle, this could be upgraded to an African Disease Threat Fund. Similarly, AVATT could be used as a platform for acquiring other vaccines for the continent.
Unlike in previous disease outbreaks, during the Covid-19 pandemic, Africa has been a key player in the acquisition of scientific knowledge that has guided the global response.
For two years, hundreds of geneticists across the continent have worked seven days a week, often through the night, to sequence strains of SARS-CoV-2. And companies worldwide have used these data (most of which are available in public repositories such as GISAID) to develop Covid-19 vaccines and therapeutics.
For those contributing so much to the global effort to curb this pandemic, it is galling to watch Africa continue to struggle in the acquisition and roll-out of Covid-19 vaccines.
The new way of doing public health that we set out here offers a different future. Embracing it is an imperative for Africa's security and economic survival. It will also benefit the world – as so powerfully demonstrated in November 2021 by the discovery of the Omicron variant.