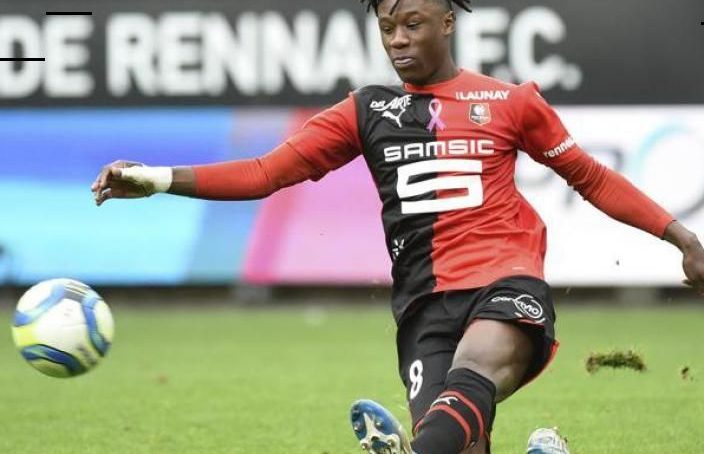 European Champions League winners Chelsea FC, which has been relatively quiet in the current English Premier League transfer window, is reported to have ramped up interest in the Rennes midfielder Eduardo Camavinga, who is said to be in his last year with the French Ligue 1 team.
The Chelsea Chronicle reports that Chelsea manager Thomas Tuchel is a long-time admirer of the "strong Rennes midfielder Eduardo Camavinga in his Paris Saint-Germain team – and now he might have the opportunity to sign him at Chelsea."
The 18-year-old whose contract at Rennes expires in 2022 is reportedly set for a summer move to another club and apart from Chelsea, the player has been linked with a transfer to Arsenal FC, Manchester United, Manchester City and Real Madrid.
On July 7, Manchester Evening News appeared to por cold water on Chelsea's push to sign Camavinga. The newspaper reported that "Manchester United are 'ahead of the competition' in the hunt to sign Rennes midfielder Eduardo Camavinga…."
"French newspaper L'Equipe states that United's interest in the teenager is not dependent on Paul Pogba's future at Old Trafford, with the World Cup winner's future under scrutiny as he enters the final 12 months of his contract. Paris Saint-Germain and Juventus have been attributed with an interest in landing Pogba but, crucially, a move for Camavinga could happen even if Pogba remains at the club," per Manchester Evening News.
Le Parisien sportswriter Julien Laurens says Chelsea have emerged as strong contenders to get the signature of the young midfielder, who if the move materialises, is expected to add dynamicity to the Londoners midfield that is already teeming with talent – N'Golo Kante, Christian Pulisic, Jorgihno, Kai Havertz, Mason Mount, Mateo Kovacic and Callum Hudson-Odoi.
Luarens writes that the London club has been in contact with the player's agent Jonathan Barnett, but no details were made public on the progress of the talks. PSG values Camavinga at €40-50 million (47.3-59.1 million)
"Obviously, despite his talent, many would still question whether Chelsea really need him, especially at given his reported €40-50 million price tag. Bear in mind, they have recently sent Billy Gilmour, who is arguably as talented, on loan to Norwich City. But if it was down to Tuchel, he would likely not hesitate to pull the trigger – at least if he has not changed his mind," according to The Chelsea Chronicles.
It is said that back in September 2020, just a few months prior to his arrival at Chelsea, Tuchel had already set his eyes on the France international.
"Would I like to have him on my team? Yes, of course," Tuchel said about the rumours about Camavinga's potentially joining PSG last summer (via Goal).
"But I can't talk about other players, who are not from my team. He's one of the best players in Ligue 1. He's a great player, very strong, with a great future. But he also plays in a great team, which plays in the Champions League. But that's not how it goes, it's not Monopoly! I'm not going to say 'No' to recruit him, but that's not how it goes," the current Chelsea boss said at the at time.