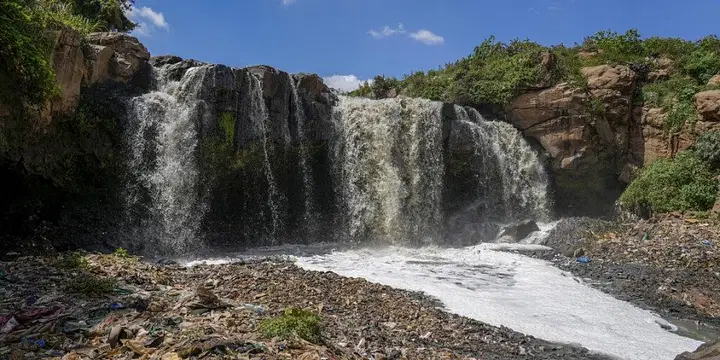 Vultures scavenge for dead animals along a river-turned-sewer conduit in Kenya's capital Nairobi. Its waters turn from clear to black as it traverses informal settlements and industrial hubs.
The river and its tributaries cross Kibera, Kenya's largest slum with close to 200,000 residents, and other informal settlements. It skirts dozens of factories that manufacture textiles, liquor and building materials.
Many residents have been accused by environmentalists of discharging raw sewage and other pollutants like oil, plastic and glass into the water.
Experts and locals alike fear the water is harming plants in nearby farms that feed residents. Some community-based organiations help clean up the river and the government is also hoping to ramp up efforts. But families in the rapidly growing downstream suburb of Athi River, some 30 kilometres (19 miles) away, say they can no longer rely on the water for basic needs.
Twenty-five-year-old Anne Nduta uses the river's dark waters to wash her babies' clothes by hand. "When it rains, the Athi River water is usually full of garbage, and when it clears a bit we use it to wash clothes," said the mother of two. "But as the dry season continues, the water becomes darker in colour and we have to start buying expensive borehole water."
A 20-litre (5-gallon) jerrican of borehole water sells for 20 shillings ($0.16), and Nduta would need four of them to wash her babies' clothes every three days. Her problems start upstream, where informal settlements have directed some of their sewer lines straight into the Nairobi River.
The new national government, installed after the August election, says it's on a mission to clean up the Nairobi River. Nairobi is one of Africa's fastest-growing cities and is struggling to balance the needs of creating jobs and protecting the environment from pollution.
The government has formed a commission whose mandate is to clean up and restore the river basin. No deadline has been announced yet, and no budget. The commission has yet to meet.
Ecologist Stephen Obiero said that sewage in the river used to irrigate farmland can cause "the possibility of contamination of the plant products with bacteria, viruses, protozoa … if not properly handled by the end users."
Morris Mutunga grows kale, spinach and amaranth on his five-acre farm in the Athi River area but has watched crops like French beans wither when irrigated with water from the river. "I wish those polluting this river upstream in Nairobi could stop for the sake of food security in our country," he said. The region is the source of many vegetables sold in Nairobi markets.
Upstream, some residents of informal settlements, like 36-year-old Violet Ahuga in Korogocho, cannot afford to pay to use modern toilets, so they defecate in bags and throw them in the river-known the slums as "flying toilets" . The slum has more than 35,000 adults, according to the 2019 national census.
"My children are too young to go to the bushes alone, so I usually tell them to poop in a bag and I toss it into the river," said the mother of four. "I know what I'm doing is pollution, but there's no other way because I cannot afford the 850-shilling ($6.85) monthly toilet fee."
Toilets in the settlement are privately run by individuals and organisations.
Most informal settlements, which house labourers and their families, are not connected to sewer lines and have open trenches where residents pour dirty water that flows into the river. But Ahuga also relies on the river's water for her daily income. She uses it to wash plastic bags, which she sells to traders who make reusable baskets with them. As she splashes the black water on the bags and scrubs them with her feet, she remembers fondly how as a child she used to swim here.
The National Environment Management Authority, which is responsible for managing the river's water quality standards and issuing discharge licenses, has been accused by some Kenyan parliament members of laxity that has let industries get away with polluting the river.
Industries along the river include paint manufacturers, dairy factories and solar or lead acid batteries producers among others. Some industries have in the past been closed down for discharging raw sewage into the river. Heavy metals like lead, barium, iron, aluminium, zinc and copper among others have been found in high levels at different sampling points along the river by various research organisations, including the University of Nairobi's public health and toxicology department.
Alex Okaru, a public health expert at the University of Nairobi, said high levels of heavy metals in the water, particularly lead and barium, could cause health effects such as liver and kidney damage if consumed. "It is important to take necessary steps to minimize the release of these two metals into the environment," Okaru said.
In a parliament committee hearing in 2021, NEMA was accused of not taking action against a distillery that residents said was releasing waste in the Athi River area.
In an interview with The Associated Press, NEMA boss David Ongare acknowledged that few entities are being prosecuted these days but said that's because the government has been changing its approach to encourage collaboration instead of being combative, which could lead to resistance.
He said that since the changes were introduced, businesses are coming forward asking for assistance to comply with the body's directives.
"The cost of non-compliance is becoming very costly because if your enterprise is shut down, by the time you come back to production, you've lost customers and your market share," Ongare said.
He asserted that the environmental body has been constantly monitoring companies with past non-compliance issues and said if any are playing games it would soon catch up with them and action would be taken. The environmental body also said it acts on all incidents of pollution that are reported by whistle-blowers through its various platforms.
Locals and community organisations say another approach to cleaning up the river would be providing modern toilets at little or no cost. The NEMA boss said he hopes the national government's programme to build affordable housing will reduce the number of people living in areas without good sanitation.
In Kibera, a community-based organisation called Mazingira Yetu, or Swahili for Our Environment, is trying to address the problem by building 19 modern toilet blocks in collaboration with a government agency, Athi Water.
The organisation's co-founder, Sam Dindi, said they also wanted to prevent plastic and other waste from being dumped in the river. "The waste is collected and sorted into plastic waste, which is sold to recyclers or upcycled into baskets, and organic waste which is transformed into compost manure," Dindi said.
The manure is sold to people who have gardens, and some are used to grow tree seedlings that the organization sells. Money generated from Mazingiza Yetu projects is distributed to the youth who work with the organisation. "The idea of introducing a circular economy has worked here," he said, referring to the group's small-scale but successful reuse of waste products. "It just needs to be replicated."