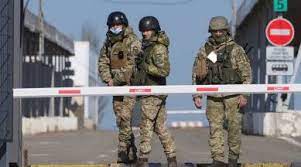 The threat of a Russian invasion of Ukraine is causing food prices to fluctuate, and risks pushing families across the Middle East and North Africa into severe hunger.
Russia is the largest exporter of wheat in the world, while Ukraine has significantly climbed the ranks in grain exports over the last decade.
Families who already face skyrocketing food prices could see the cost of staple items climb even higher if supply chains are disrupted, experts have warned.
Abeer Etefa, spokesperson for the World Food Programme, said, "We've had volatility in the market even in the past few days, because of worries of potential conflict. The price of grains has started to fluctuate."
Ms Etefa added, "Food prices are already at a high. We're worried that people in the Middle East and Africa could become even more vulnerable if supplies are disrupted."
In the Middle East and North Africa food prices are at a 10-year high, reaching levels comparable to those during the Arab Spring, according to the US Department of Agriculture.
An extensive conflict or a blockade of the Black Sea would mean that supplies from Ukraine would need to be replaced by those from another source, resulting in a hike in prices.
With Lebanon going through what the World Bank says could be one of the deepest economic collapses since the mid-19th century, local bread producers told The Telegraph that any increase in wheat prices could have a dramatic impact.
"Because of the economic crisis in Lebanon, we would definitely suffer big time if there was to be war in Ukraine," said Ghassan Bou Habib, the CEO of Wooden Bakery, a chain with 50 branches across Lebanon.
Mr Habib added, "We're already suffering, if it happens, I'm sure it will be a lot harder to maintain the business."
Timothy Lang, emeritus professor of food policy at City of London, explained, "We're now in the era where food prices are volatile. Unlike 50-90 years ago when we had literal stocks, our food security now comes from financial markets. This means political volatility can push large numbers of people quickly into food insecurity."
In Egypt, the world's largest importer of wheat, past increases in the price of bread have caused riots. "Bread, freedom and social justice" was a staple chant of Egyptian protesters during the 2011 uprising which brought down former president Hosni Mubarak.
Bread in Egypt is heavily subsidised and its price a highly sensitive issue.
With higher wheat prices forecast to add $763 million to Egypt's already hefty $3.2 billion bread subsidies bill this year, Prime Minister Mostafa Madbouly announced on Wednesday plans for the first price increase of a loaf of bread since 1988 but said the government aims to do so without harming poor Egyptians.
Prof Lang said, "Egypt is a tinderbox waiting to go up. It's a very dangerous situation that's being tested by Ukraine-Russia."
The Black Sea region is the most important in the world for grain exports. This year, Ukraine is predicted to account for 12 per cent of global wheat exports, 16 per cent for corn, 18 per cent for barley and 19 per cent for rapeseed. Forty per cent of its annual corn and wheat shipments head to the Middle East or Africa.
Prof Lang added, "We can no longer assume that food is somehow apart from the political impacts of conflict."
Ms Etefa said the world cannot afford another man-made conflict. "Conflict drives hunger, war will lead to greater food insecurity. We're already facing an all-time high for humanitarian needs – just look at Afghanistan, South Sudan and Yemen. We cannot cope with another humanitarian crisis," she said.