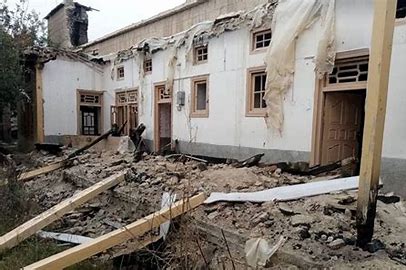 When the Taliban won back control of the eastern Afghan province of Nangarhar last month, they set out to settle a score with an old foe.
As they searched for prominent local politician Ajmal Omar, who had helped drive the militants out of a Nangarhar district a year earlier and tried to dissuade young Afghans from joining them, Taliban members detonated explosives at his ancestral home.
They also looted gold and cars, and detained and whipped several of his relatives to try and establish his whereabouts. The events were recounted by two relatives who say they were targeted in the reprisals, 10 local officials and residents who witnessed or were familiar with the incidents and a former Afghan intelligence official.
Images from the sources, which Reuters could not independently verify, show a badly damaged property and family members with injuries they say were from Taliban beatings.
Omar, 37, has gone into hiding. He declined to comment for this story, citing security concerns. Soon after the Taliban seized power on August 15, the Islamist movement sought to reassure the international community and its former opponents by saying there would be no reprisals. Omar's family said their experience contradicted that commitment.
"None of us had imagined we would be targeted like this," said one of Omar's relatives, requesting anonymity. "The Taliban said they will not punish anyone who had worked with the previous regime but they did the exact opposite in our case."
Taliban spokespeople did not respond to questions about events described by Omar's family and local residents or about his efforts to help defeat them.
A Taliban cabinet minister said that commanders across the country had raided former government officials' homes and offices to seize weapons and armoured vehicles, but he was not aware of punishment meted out to Omar's family.
The group's defence minister, Mullah Mohammad Yaqoob, issued a rebuke last week over the conduct of some fighters following the Taliban's victory. He did not go into specifics.
"Miscreants and notorious former soldiers" had joined Taliban ranks and committed offences ranging from occupying ministries and government offices to two to three incidents of reported killings, he said.
"You all are aware of the general amnesty announced in Afghanistan; no mujahid has the right to take revenge on someone."
The Taliban brutally enforced their version of Islamic law during their previous rule from 1996-2001, carrying out public stonings and amputations and banning women from work and girls from school.
They have said they would respect people's rights this time around and not go after enemies, yet tens of thousands of people, fearing for their safety and future, fled the country in a chaotic evacuation from Kabul. Many more are in hiding.