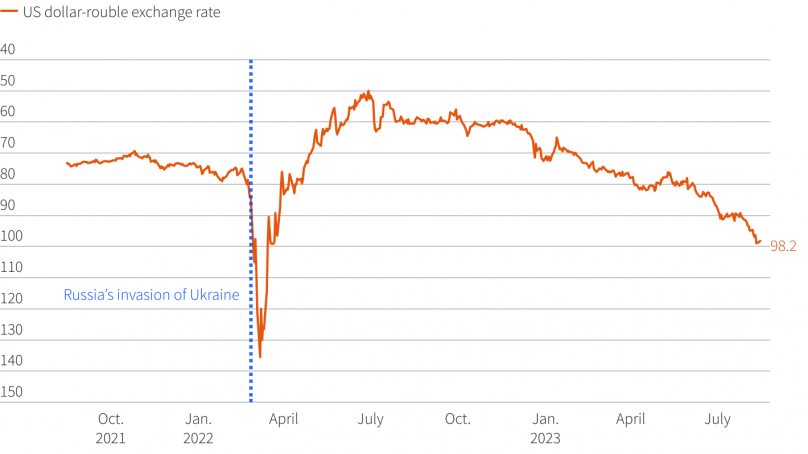 In Russia, what Vladimir Putin wants, Vladimir Putin gets. So it's no surprise that a day after prodding by a Kremlin official, the central bank announced an emergency rate increase of 350 basis points to 12 per cent. The move was designed to halt a plunge in the rouble, but the currency hardly moved. That leaves the president with tougher choices ahead.
Before the hike, the rouble had sunk by more than 30 per cent against the dollar this year. Tuesday's rate increase did little to reverse the slide – the rouble rose by less than 1 per cent against the greenback in morning trading. A weaker currency will add to inflation by increasing the cost of imported goods.
That will heap pressure on Russian households' already fragile finances. But Putin only has bad options to solve the problem. Stricter fiscal or monetary policies would hurt an economy weakened by the war effort and Western sanctions.
The main cause for the rouble's meltdown is the massive shrinkage in the country's current account surplus. After a record high in 2022, it fell 85 per cent in the first seven months of the year, to some $25 billion, according to the Russian central bank.
Last year was marked by bumper export revenue due to higher energy prices, while sanctions reduced imports. This year, exports have fallen because of European oil and gas embargoes and lower energy prices while imports are picking up as Russian businesses buy from Asian countries that have not imposed sanctions.
Before the plunge in the currency, the central bank forecast prices rising five per cent to 6.5 per cent this year, above its four per cent target. Worse still, Governor Elvira Nabiullina is losing the expectations game. Russians now expect prices to rise by more than 11 per cent in the next year.
Meanwhile, fiscal spending is up 20 per cent this year, both because of the rise of the military budget and of higher pension and welfare expenses ordered by Putin. One way to help the rouble would be to cut spending – but Putin can't reduce supplies for his troubled military and has pledged to increase state pensions. The central bank could also keep raising interest rates. But they have gone from 7.5 per cent in July to 12 per cent on Tuesday without stemming the currency's fall.
Runaway inflation is not unknown in war-time economies and Putin, who is certain to be re-elected next year, does not face the same political constraints as Western leaders. But the falling rouble indicates that Russians are getting poorer and that sanctions are biting, as shown by a 41 per cent fall in oil and gas revenue this year. As such, it could encourage the US and Europe to tighten sanctions further.
Russia's central bank hiked its key interest rate by 350 basis points to 12 per cent on August 15, an emergency rate move aimed at halting a slide in the rouble after a public call from the Kremlin for tighter monetary policy.
The extraordinary rate meeting came after the rouble had plummeted past the 100 mark against the dollar on August 14, dragged down by the impact of Western sanctions on Russia's balance of trade.
President Vladimir Putin's economic adviser Maxim Oreshkin on August 14 rebuked the central bank, blaming what he called its soft monetary policy for the weakening rouble.