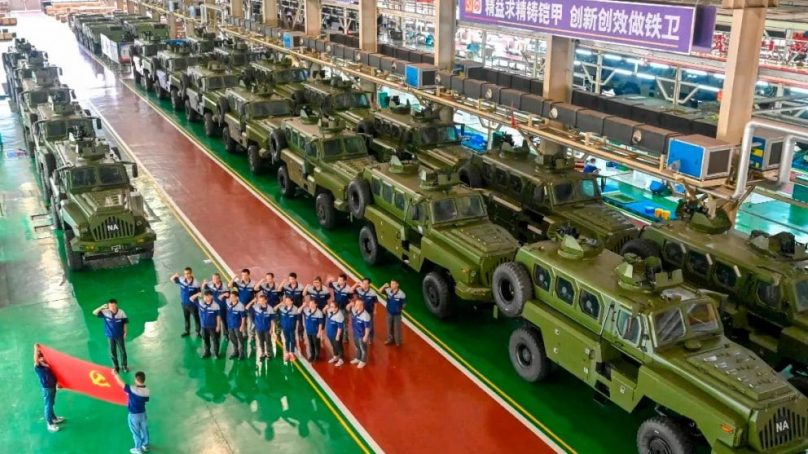 The Nigerian army is facing a crisis. National and regional security dangers posed by the al Qaeda-supported terror group Bolo Haram has forced the West African economic giant to reinforce in defence infrastructure in preparation to repulse the militia group that has forced more than one million children out of school.
Consequently, the Nigerian Army has acquired 100 additional CS/VP3 armoured personnel carriers (APCs) from China's Poly Technologies and Type 89 tracked infantry fighting vehicles (IFVs) from Norinco in response to the escalating internal and external security threats.
The public came to learn of the "upgrade" from photos have emerged online of dozens of CS/VP3 vehicles lined up at a factory in China prior to delivery – these are painted green and feature the initials NA on their grilles that match the appearance of CS/VP3s previously delivered to the Nigerian Army.
Unconfirmed reports said the 100 vehicles arrived in Nigeria in early last month (September). The Nigerian Army has been operating Poly Technologies' CS/VP3 since at least 2014, making it the vehicle's second known export customer after Uganda. Prior to that, Nigeria had apparently acquired an initial 120 of the vehicles to bring the total number of APCs to 220.
The CS/VP3 has a road speed of around 100km and a range of some 800km. It can be fitted with two turrets on the front and rear above the crew compartment, and fitted with 7.62- or 12.7mm machineguns.
The vehicle has a V-shaped hull and all welded steel armour for protection against landmines and small arms. The vehicle can resist a 16kg TNT blast under each wheel or 8kg TNT all round. A total of 12 personnel, including the driver and commander, can be accommodated.
Video has also emerged of tracked IFVs being transported through what is apparently Nigeria. More than half a dozen of the vehicles were seen being moved on the backs of trucks – they were apparently delivered in late August.
Although the vehicles seen in the videos are covered with tarpaulins, their silhouettes match Norinco's Type 85/89/90 series of IFVs, and feature a small machinegun turret towards the rear of the vehicle.
The Type 89 (ZSD-89) APC/IFV was developed in the 1980s as an improved version of the earlier Type 63 armoured fighting vehicle and over 1 000 were supplied to the Chinese military. The export version is known as the Type 85 and was sold to countries such as Bangladesh, Myanmar, Sri Lanka and Thailand.
The vehicle is powered by a license-built Deutz 320 hp diesel engine giving a top speed of 65 km/h, and can carry 15 soldiers plus crew. The main armament of the basic APC version was a QJC88 12.7 mm anti-aircraft machine gun, protected by a cradle-type shield/open turret. All-around armour provided protection from rounds up to 12.7mm. Twelve variants were built.
The Type 89 was also exported to Ethiopia, Sri Lanka and Zimbabwe. The Type 90 APC (YW535) was derived from the Type 89 and intended for export.
Nigeria has previously acquired other equipment from China, including VT-4 main battle tanks, ST-1 8×8 tank destroyers and SH-5 105 mm self-propelled howitzers. The first batch of hardware was delivered from Norinco in April 2020 and is believed to have been order under a $152 million 2019 contract.
At the time, Nigerian Army Chief of Policy and Plans Lieutenant General Lamidi Adeosun this was the tip of the iceberg, with more deliveries still to come.