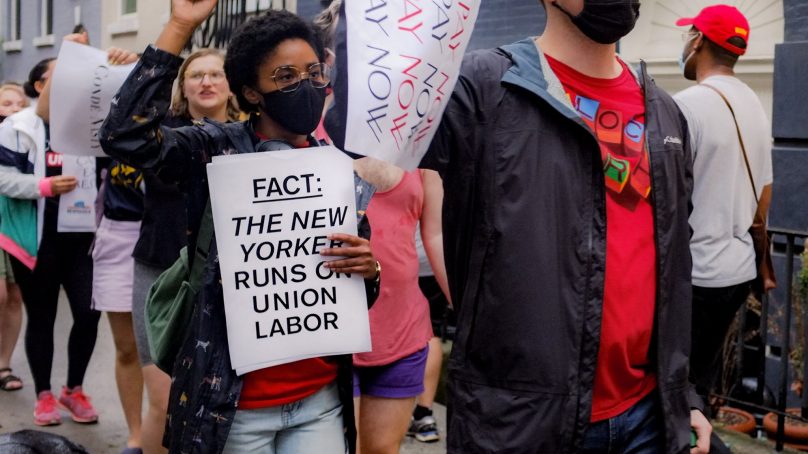 Successful unionisation campaigns among journalists in the US have seen record numbers of media workers win new rights in newsrooms across the industry over recent.
The International Federation of Journalists (IFJ) congratulates US unions on the wave of new union agreements won and the formation of dozens of new workplace branches – and urged unions across the world to redouble efforts to build stronger journalists unions.
Union organising and securing rights to collective bargaining are the best way to defend jobs and guarantee media workers' rights. Official figures from across the world show that workers in unionised workplaces earn higher salaries, have better working conditions and enjoy greater health and safety protections and equality.
In early 2015, an article in the Washington Post asked, "Why do Internet journalists don't organise?" A few months later, the editorial staff of Gawker Media, an American online company, voted to unionise with the Writers Guild of America. Since then, the wave of new journalists' unions has grown rapidly, challenging the negative trend of the general unionization movement.
Since then, there have been at least 142 successful union drives in the US alone, 37 in the first six months of 2021, according to Poynter reports. The big majority of these movements were led by IFJ American affiliates, the Newsguild, the National Writers Union and SAG-AFTRA and also affected freelance journalists
There are several reasons that explain the unionisation wave in the media. First of all, the journalism sector is often precarious, with low wages and job insecurity. Media workers are therefore seeking to secure their labour rights by collective bargaining agreements that guarantee decent and fair labour conditions for all.
Media sector instability has grown during the pandemic, which accelerated precariousness in journalism. In this context, it is likely that the unionization wave will continue growing in the future.
Second, the digitalization of journalism has led many media workers to have more responsibilities and bigger workloads, finding themselves forced to work longer hours without fair compensation. Once again, media workers have seen unionization as the only way to achieve fair pay and equity in the newsrooms.
In addition, digitalisation has also created new roles and professions in the media, bringing new workers who also need union representation.
The protection of journalistic integrity is another strong argument for unionisation. At a time when media outlets are often being bought out, unionisation is a way to protect editorial independence and to draw a clear line between sponsored content and information.
Finally, there also seems to be a change in mentality. Interviewed by Angela Fu for a Poynter article entitled "Not just a wave, but a movement: Journalists unionise at record numbers," Mary Cavallaro, Chief Broadcast Officer for our affiliate SAG-AFTRA, explains that "Journalists are increasingly viewing unionisation as a positive thing. They're eschewing old expectations that unionising means discontent with the workplace and instead organising because they want to help their colleagues and have a positive impact on their workplace".
All the updates on successful unionisations processes and news can be found at the Newsguild site and in this timeline.
IFJ General Secretary Anthony Bellanger said, "We congratulate our US affiliates on their successful campaigns. Organizing can bring real improvements in protecting the rights of media workers, especially when the industry is in crisis such as the instability following the Covid-19 pandemic. Collective bargaining and unity among media workers are the only way to secure a fair future of our profession."